SI-UK Global has been 'highly commended' in the Student Counselling Organisation of the Year category at the 2021 PIEoneer Awards.
The PIEoneer Awards celebrate innovation and achievement across the global education industry and individuals and organisations who are pushing professional standards are recognised.
SI-UK is the leading provider of free, independent advice and support to international and EU students applying to study in the UK. Since 2006, SI-UK has built a reputation as an industry leader, and each year we assist tens of thousands of international students join UK universities across 73 offices in 35 countries.
Learn more below about how SI-UK can benefit your future by helping you join your dream UK university. Arrange a free consultation with SI-UK India today to get started.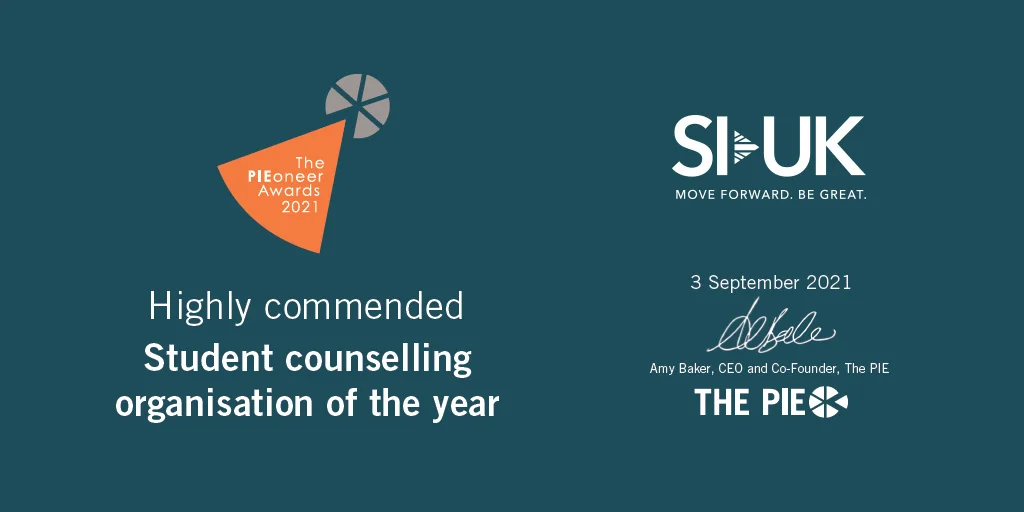 Applying with SI-UK India
SI-UK's consultants are trained by UK universities and the British Council, and will guide you through each step of the UCAS application process to get you to your desired university.
1. First consultation
Expert consultants will explain the process of applying to a UK university and discuss your study and career goals. Our multilingual team includes staff from over 30 countries, all with extensive experience and practical knowledge of UK higher education and overseas qualifications.
2. Choose what and where to study
Your consultant will assess your academic background and suggest three universities where you will be able to secure offers. Browse the latest UK university rankings and subject guides to learn more about each individual institution and popular degrees.
3. Create and submit your UCAS application
We will review your personal statement, CV, reference letters and application forms prior to submission, ensuring there are no mistakes.
4. Receive your university offer
You will receive conditional or unconditional offers, and we will assist you in making the right choice.
Benefits of SI-UK Services
- University Visits and Fairs
UK university open days take place at our offices across India and online and focus on specific subjects, institutions and application periods.
International admission officers and academics from UK universities regularly visit each of our global offices, meeting students and training staff on the latest course updates, entry requirements and available scholarships.
- Extensive Course Search
Over 65,000 undergraduate and postgraduate courses are available to search in our extensive higher education course search database for international students. Whatever type of UK qualification you are looking for, we have it covered.
- Application Services
Whatever your goal and however much support you need, we can help you receive an offer from a UK university with our wide range of UK university application services. The Premium Service will guarantee you an offer from at least one UK university, while specialist services in Medicine, Art and applying to Oxbridge are also available.
Study in the UK
Begi your UK study journey by arranging a free consultation with SI-UK India today.