Choosing the right university for your bachelor's or master's in business administration at a UK university is a pivotal decision that can profoundly shape your future. One institution that has consistently been excellent in this field is the University of Manchester, home to the Alliance Manchester Business School. With a legacy dating back to 1965, it has established itself as one of the top business schools in the UK, offering a fantastic educational experience.
The institute takes pride in the triple accreditation from AACSB International, AMBA, and EQUIS, which underscores the unwavering dedication to providing a world-class, industry-focused education to students from around the globe.
Located at one of the UK's most prestigious universities, Alliance Manchester Business School offers undergraduate, master's, and master's degrees in business administration in the UK and a highly respected PhD programme. The diverse faculty and research expertise and an extensive network of over 60,000 alumni in 176 countries demonstrate the institution's global impact and reach.
Learn more about why the University of Manchester is the perfect place to boost your business career below. If you have any questions or wish to begin your application, contact SI-UK today.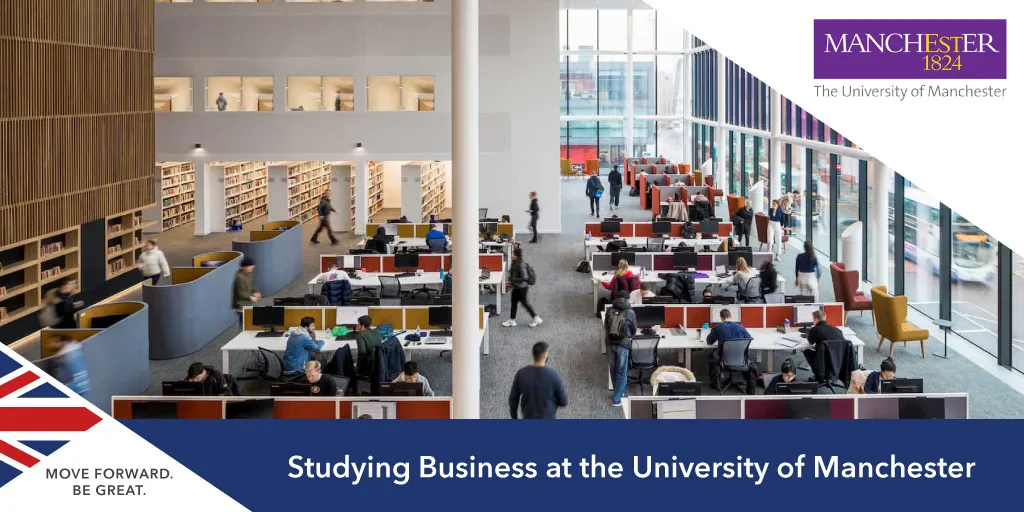 Why Study Business at the University of Manchester?
1. In-depth course curriculum
Alliance Manchester Business School's comprehensive curriculum fosters well-rounded, industry-focused business leaders. The course content encompasses various disciplines, including accounting and finance, entrepreneurship and innovation, masters in management and strategy, marketing and operations, data, AI, analytics, leadership, people and organisational leadership, and digital transformation and information technology.
Core courses provide a strong foundation in global leadership, management decision-making, business accounting and finance, strategy, and competition.
The MSc management programme's unique feature is its applied learning component, where students engage in projects like not-for-profit consultancy, mergers & acquisitions, commercial business consultancy, and international business consultancy. These projects offer invaluable real-world experiences and foster critical thinking and problem-solving skills.
2. Ranking and reputation
Alliance Manchester Business School holds an outstanding reputation and ranks prominently in various global and UK-based rankings.
In the Financial Times 2023 Global MBA Ranking, it stands 5th in the UK, 13th in Europe, and 46th globally. It's also distinguished for its commitment to Environmental, Social, and Governance (ESG), ranking 1st in the UK and 7th globally. Furthermore, the Careers Service is 1st in the UK and 13th globally, reflecting the strong support provided to students in launching their careers.
The Times Higher Education (THE) World University Ranking places Alliance Manchester Business School at 5th in the UK for accounting and finance and 6th in the UK for business and management.
The University of Manchester rankings demonstrate Alliance Manchester Business School's commitment to delivering top-quality education and its recognition as a prominent institution in the UK and worldwide.
- Led by experienced faculty
Alliance Manchester Business School boasts an experienced and diverse faculty led by the Head of School, Professor Ken McPhail. This dedicated team plays a pivotal role in shaping the institution's strategic vision. Among the accomplished faculty members, Dr. Nikolay Mehandjiev is the Director of Research, and Mario Kafouros leads the Division of People, Management, and Organisations. Anna Goatman excels as the Director of Teaching and Learning. The team includes heads of various divisions and activity areas, such as MBA, Executive Education, and Research, ensuring that students benefit from the knowledge and expertise these seasoned professionals bring to the School.
3. Placement and internship opportunities
At Alliance Manchester Business School, students enjoy exceptional placement and internship opportunities, which serve as real-world job tryouts and allow them to apply their learning in practical settings. The school's strong industry connections facilitate valuable work experiences and networking. Whether pursuing internships during studies or opting for a placement year, these opportunities prepare students for successful careers, enhance their skills, and provide a glimpse into the professional world.
Additionally, the school offers a comprehensive five-stage career journey, including personal branding, research, planning, and launching job applications, backed by weekly career workshops, specialist career practitioners, networking events, and student clubs, fostering employability and career development.
4. Accreditation
Alliance Manchester Business School boasts triple accreditation from three prestigious international bodies: AACSB International, AMBA, and EQUIS. AACSB (Association to Advance Collegiate Schools of Business) focuses on the highest standards in business education. AMBA (Association of MBAs) recognises excellence in MBA degrees in the UK. EQUIS (EFMD Quality Improvement System) emphasises internationalisation and continuous improvement. This triple accreditation reaffirms the school's commitment to offering world-class, industry-focused education across its programmes.
5. Scholarship opportunities
The University of Manchester offers a range of scholarships and bursaries to support students pursuing business courses at Alliance Manchester Business School. These financial support packages aim to assist students with their educational expenses.
Social Responsibility Scholarships: The school will award five undergraduate social responsibility scholarships to UK students and three scholarships to international/EU students. Valued at £2,000 per year for three years, these scholarships are for students achieving AAA at A-level or equivalent. Winners will also have access to mentorship and opportunities to become socially responsible student champions.
International Stellar Scholarships: Two international stellar scholarships, valued at £2,000 per year for three years, will be awarded to exceptional international students from Singapore, Malaysia, or Norway.
BSc (Hons) Business Accounting Scholarship: All students who complete the first year of the BSc (Hons) Business Accounting programme will receive a scholarship in years 2, 3, and 4, totalling £7,450. This scholarship is available to both UK/EU and international students.
BSc (Hons) Business Accounting Bursary: Students joining the BSc (Hons) Business Accounting 'Flying Start' programme in autumn 2024 and meeting the eligibility criteria will receive a £10,000 bursary disbursed across the four years of the degree.
6. Great facilities
Alliance Manchester Business School offers state-of-the-art facilities to enhance the student experience. The campus features modern lecture theatres, collaborative learning spaces, cutting-edge research centres, and a vast library with extensive resources. Students benefit from advanced technology, including access to industry-standard software and databases. These facilities provide an ideal environment for learning, research, and networking, ensuring students have the tools they need to excel in their academic and professional endeavours.
- Accommodation
The University offers residential campuses in three prime locations for students:
City Campus: Located in the heart of the academic hub, City Campus provides easy access to lectures, libraries, and the Students' Union. It's just 0.3 miles from campus, making it a convenient 10-minute walk, 3-minute cycle, or 5-minute bus ride away.
Victoria Park Campus: Situated in a quieter, leafy area, this campus is approximately 1.1 miles from the academic centre. It's an 18-minute walk, 5-minute cycle, or 6-minute bus ride from the popular Curry Mile and Birchfields Park.
Fallowfield Campus: This vibrant suburb offers a mix of shops, cafes, and bars and is conveniently close to sports facilities at the Armitage Centre. It's about 1.9 miles from campus, taking 30 minutes on foot, 8 minutes by bicycle, or 15 minutes by bus.
- Library
The University of Manchester Library is one of the UK's best-resourced libraries, offering over four million printed books, 50,000 electronic journals, 800,000 electronic books, and numerous databases. The Alan Gilbert Learning Commons provides students a 24/7 study environment featuring modern decor and cutting-edge learning technology. Additionally, there are specialist libraries across the campus. The John Rylands Research Institute and Library houses rare books and offers free exhibitions.
Entry Requirements and Tuition Fees
Entry requirements for the University of Manchester Business School include:
A-levels: You need to achieve grades AAA, and it's better if you complete three A-levels in one go to show you can handle a high level of study.
International Baccalaureate (IB): You should aim for 36 points overall, with 6,6 and 6 in Higher-level subjects. If you don't have GCSE/IGCSE Maths at grade B, you need a 5 in certain IB subjects.
International students will pay £29,000 per year for undergraduate tuition fees, which will stay the same throughout their course. This makes it easier to plan their finances while studying at the university. The University of Manchester MBA fee is £48,000.
Study at the University of Manchester
If you want to learn more about studying at the University of Manchester, contact SI-UK for a free consultation today.
University of Manchester Business School FAQ
What is Manchester Business School known for?
Manchester Business School is known for its excellent business education and world-class faculty. It's respected for its triple accreditation from international bodies and a strong focus on industry-relevant programmes, including business management master's, undergraduate, MBA, and executive education.
What is the reputation of Manchester University's business programmes in India?
University of Manchester's business programmes enjoy a good reputation in India. They are recognised for their quality and global outlook, attracting students from India and worldwide. The university's heritage, research excellence, and industry connections enhance the appeal of its business programmes.
Are scholarships available for Indian students at Manchester University?
The University of Manchester offers various scholarships to Indian students, including Social Responsibility Scholarships.
Can I work part-time while studying business at Manchester University as an Indian student?
Indian students at Manchester University can work part-time during their studies. However, the specific hours and regulations may vary.
Can students avail themselves of post-study work opportunities in the UK after graduation?
Students who graduate from UK universities, including the University of Manchester, can often take advantage of post-study work opportunities in the UK. The UK government has introduced favourable policies encouraging international students to stay and work after their studies.