The University of Warwick is one of the UK's most reputed centres of higher education. Established in 1965, the university is located on the outskirts of Coventry. Warwick is home to over 16,000 undergraduate and 10,000 postgraduate students from over 120 countries, making it one of the largest in the country. It also has over 2,600 academic and research staff.
The University's main campus in Coventry is spread over 290 hectares, with a satellite campus in Wellesbourne. A member of the Association of Commonwealth Universities, Russell Group, and AACSB, Warwick University has produced several bright minds, including Nobel Laureates, Turing awardees, and Emmys winners.
Study at University of Warwick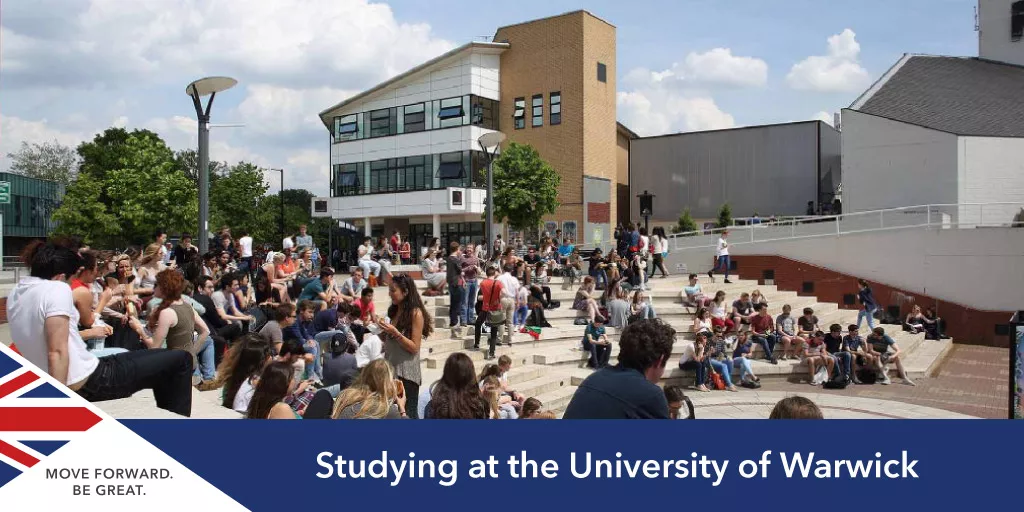 Five Reasons to Choose Warwick University
1. Rankings and reputation
The 6th-best university in the UK (Guardian 2023) has several subjects within QS World University Rankings' global top 30. These include Statistics (14th), Mathematics (23rd), and English Literature (26th). The Times University Guide 2023 ranked Warwick 9th in the UK. Talking about global rankings, the university is the 61st best in the UK, according to QS 2023.
The university's research and teaching standards have always been praised worldwide. It was ranked 7th in the UK and 1st in the Midlands for research standards, according to the 2021 Research Excellence Framework (REF). About 87% of Warwick's academic staff were rated as being "world-leading" or "internationally excellent.
2. Graduate employability
The University of Warwick is known for its astonishing graduate employability records. In 2017, Warwick University was named the joint second-best in the UK for graduate employment rate, with 97.7% of its graduates in work or further study after 3.5 years of graduation. Thanks to the university's deep association with the industry, students get multiple opportunities to interact with market professionals and learn about how to succeed in the professional world. The programme curricula are designed keeping in mind modern industry requirements.
3. English language support
One of the major reasons international students prefer Warwick is its English language support. It offers in-sessional English programmes to help international students improve their skills in the language during the course. This support is provided by the Centre of Applied Linguistics (CAL) and is completely free of charge. The classes are taught at lunchtime and in the evening so that students don't miss their regular classes. Students also get online resources for English for Academic Purposes. This includes recommendations on reference materials, dictionary usage, and grammar support. Students can improve their listening, reading, and writing skills in the English language.
4. Industry and partnerships
Warwick University has deep collaborations and partnerships with various research organisations, businesses, and institutions. While working the global business giants, SMEs, and startups, the university applies its cutting-edge research facilities. In the past, it partnered with Dow AgroSciences to find crop protection solutions and built the National Automotive Innovation Centre working with Tata Motors. Some of the other major industry partners include Allied Vehicles, Fluxsys, and Sevcon Ltd. Along with promoting innovation and research, these collaborations help students get internship and employment opportunities with some of the best in the world.
5. Great location
The University of Warwick's main campus is on the outskirts of Coventry, just half an hour from Birmingham, the second-largest city in the UK. Students can visit the city and explore multiple centres of arts, science, and sports centres. Coventry is considered one of England's most beautiful and tourist-friendly cities, with a lot of museums and natural parks to explore, from Coventry Transport Museum to Coombe Abbey Park to Brandon Marsh Nature Reserve. The Midlands region is blessed with incredible cultural and historical architecture from which students can learn a lot. You can also explore the educational heritage of Oxford, Cambridge, Manchester, and London, all located within 100 miles of the university.
Study at the University of Warwick
Are you considering studying at the University of Warwick? Arrange a free consultation with SI-UK India to get all your questions answered regarding university programmes, graduate opportunities, and entry requirements.