The University of Liverpool is located in the beautiful city of Liverpool, known for its historically-significant buildings, football culture, and educational environment. The University of Liverpool's ranking is consistently excellent, and it is considered among the top universities in the UK, with world-class academic courses, state-of-the-art facilities and an excellent placement record.
The university was established in 1881 as University College Liverpool and has been a thriving centre of higher education in England. Having received its Royal Charter in 1903, Liverpool is known to be one of the six 'red brick' civic universities. The University of Liverpool acceptance rate is around 15%, making it highly selective due to steep academic standards.
Learn more about the University of Liverpool ranking, campus and courses below and begin your application by arranging a free consultation with SI-UK India today.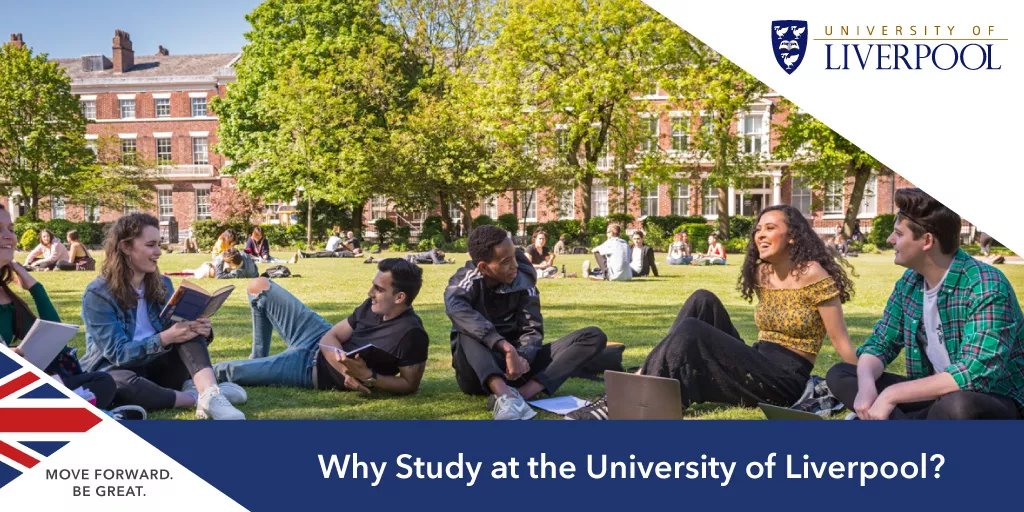 Five Reasons to Choose the University of Liverpool
1. Ranking, awards and reputation
The University of Liverpool's ranking is formidable, with a global reputation for academic excellence and quality, meaning that it regularly performs well in domestic and international league tables.
Liverpool University is ranked 190th in the QS World University Rankings 2023 and 176th in the Times Higher Education World University Rankings. According to the Guardian University Guide 2023, Liverpool is the 40th best university in the UK.
The University of Liverpool is a member of the distinguished Russell Group, a collection of 24 research universities in the UK. It is renowned for its robust connections with the industry, as evidenced by its partnerships with numerous leading companies and organisations. It is consistently ranked amongst the top universities in the UK for research excellence, with the majority of research rated 4* (world-leading) or 3* (internationally excellent) in REF 2021.
2. Quality of academic courses and student experience
Liverpool University courses are known for their high standards, maintained through a rigorous academic framework that emphasises research-led teaching, academic excellence, and student engagement. The university's teaching staff consists of world-class academics and practitioners who bring a wealth of experience and knowledge to the classroom. Its Computer Science programme is ranked 22nd in the UK (QS 2023). Because of the high academic standards, the University of Liverpool's acceptance rate is 14%.
Located in the historic city of Liverpool, the university is considered among the most astonishing places to live and study. Over 25% of students are from outside the UK, offering an inclusive environment. The university houses a crown place, Dover court, and state-of-the-art sports facilities.
3. Liverpool is a great student city
The city of Liverpool is located in North-west England on the Irish Sea coast, presenting a horde of scenic beaches, historical monuments, popular eateries, and many more. It is also home to iconic bands like The Beatles and football clubs such as Liverpool and Everton. In addition to several museums, theatres, and galleries, the city has earned a global reputation for its music, architecture, and culture.
Located just two-hour from London, Liverpool has a range of places to explore, including the Royal Albert Dock, Liverpool Cathedral, Walker Art Gallery, and Merseyside Maritime Museum. Music lovers can find solace in visiting the Beatles Story Museum and get inspired by experiencing the life-sized chronological walkthrough of the growth of The Beatles. If you are interested in sports, LFC's iconic Anfield Stadium can enthral you.
4. International scholarships
The University of Liverpool is quite a popular destination for international students, thanks to its advanced level of academic teaching and the wide range of scholarships available to foreign students. Popular University of Liverpool scholarships include the Vice-Chancellor's International Attainment Scholarship (PGT), the Duncan Norman Research Scholarship, the Postgraduate Progression Award - International Students, and the University of Liverpool International College Excellence Award.
There are also many country-specific scholarships. These scholarships' worth ranges from £2,500 tuition fee to a complete tuition fee waiver, ensuring students from all economic and social backgrounds can study at the University of Liverpool.
5. Career prospects after graduating
Graduates from the University of Liverpool are placed all around the world in different fields, from healthcare to education and from law to business. Considered one of the world's most research-intensive universities, Liverpool offers highly reputed degrees, well-respected by employers worldwide. Nine Nobel Prize winners have been associated with the University of Liverpool as its alumni and past faculty.
Its alumni went on to lead several global business giants, including GlobalFoundries, ARM Holdings, Tesco, Motorola and The Coca-Cola Company. After completing a programme, the university provides career guidance to students. Thanks to its deep association with the industry, Liverpool organises several workshops and seminars to help aspirants meet industry professionals and get the hang of the professional world.
Study at the University of Liverpool
Are you considering studying at the University of Liverpool? Arrange a free consultation with SI-UK India and get all your questions answered regarding programme selection, entry requirements, and scholarship opportunities.