The University of Leeds is a world top-100 university (QS World University Rankings) and one of the UK's most prestigious Russell Group universities.
The University is highly ranked and consistently places in the top 25 universities in the UK. Leeds offers a wide range of academic programs, with over 50 undergraduate and 200 postgraduate courses available. Its diverse international student population from over 150 countries and excellent career prospects are provided with a strong track record of graduate employability. The University of Leeds has an acceptance rate of 77%.
The University also offers a range of scholarships for domestic and international students looking forward to studying master's or bachelor's degree. University of Leeds scholarships include those based on academic excellence and disadvantaged students
Study at University of Leeds
Learn more about studying at the University of Leeds or book a free consultation with SI-UK to begin your application for the upcoming intake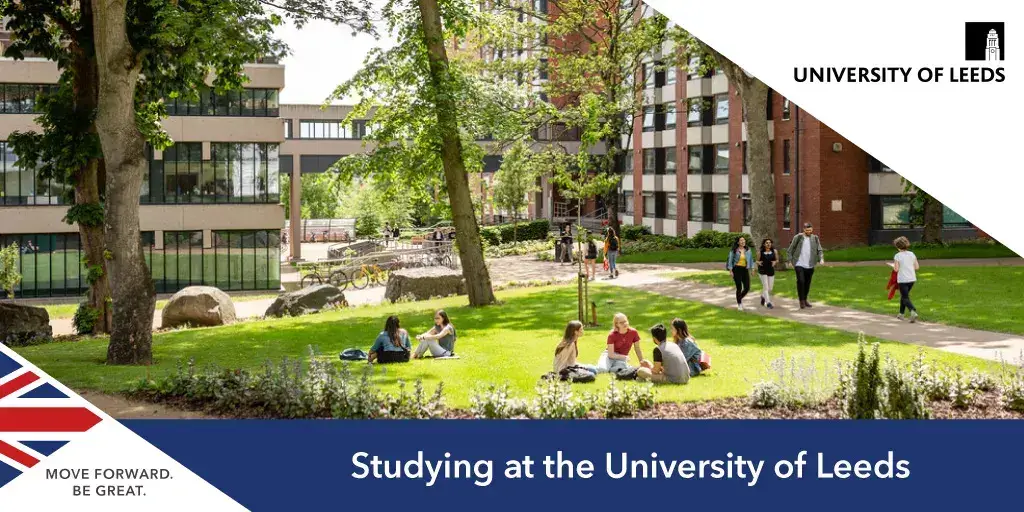 Five Reasons to Choose Leeds
1. One of the best universities in the world
The University of Leeds is consistently ranked as one of the top universities in the UK and the world.
According to the 2023 QS World University Rankings, it is ranked as the 86th in the world, while the 2023 Times Higher Education World University Rankings placed Leeds at 128th. Additionally, the University is highly ranked for specific subjects such as Engineering, Law, Medicine, Arts and Humanities, Business, and Social Sciences.
In the UK, the University of Leeds ranking is 23rd in the Times University Guide 2023.
2. Exciting student-centred city
Leeds is often considered to be a student city, due to the large number of students who study at the universities and colleges located in the city. Together they have a student population of over 60,000, meaning that around one in five of the city's population are students.
Due to the high student population, Leeds has a lively and diverse atmosphere, with a wide range of shops, bars, clubs, and restaurants catering to students. The city also has a strong cultural scene, with several museums, art galleries, and theatres. Leeds is also well-known for its nightlife, with many bars and clubs to choose from. Additionally, the city has good public transportation and it's easy to get around. All these features make Leeds a great place for students to live and study.
3. Great graduate outcomes
The University of Leeds has a strong reputation for graduate employability, with many of its graduates securing well-paying and rewarding careers. According to the university's own data, 96.5% of its graduates are employed or further studied within six months of graduation.
The University's dedicated employability team provides students with support and guidance on finding internships, work experience, and graduate jobs. The team also organizes events such as career fairs, networking opportunities, and workshops to help students develop the skills they need to succeed in the job market.
Many of the university's programs include opportunities for work experience, such as internships, placements, and projects with external organizations, which can help students to gain valuable skills and make industry connections. Additionally, the university has a wide range of career services and resources to support students in their job search, including career counselling, mentoring and networking opportunities.
4. They take sustainability seriously
The University of Leeds is committed to sustainability and has implemented various initiatives to reduce its environmental impact and promote sustainable practices. Key facts and initiatives include:
The university has set a target to reduce its carbon emissions by 80% by 2028
The university has invested in renewable energy sources, including solar panels and a biomass boiler, to reduce its reliance on fossil fuels
The university has a sustainable travel plan in place to encourage staff and students to use more sustainable modes of transportation, such as cycling and public transport
The university has several green spaces on campus, including a wildflower meadow, a community garden, and an orchard, which provide habitats for wildlife and opportunities for students to learn about sustainable agriculture
5. A vibrant international student community
The University of Leeds has a diverse and vibrant international community, with students from over 150 countries. A dedicated international office provides support and guidance to international students, including assistance with visa applications, enrollment, and orientation. The office also organises events and activities to help international students settle in and integrate into the university community.
A range of student societies, clubs, and groups, reflect the cultural diversity of the student population and provide opportunities for students to meet and interact with people from different backgrounds.
Study at the University of Leeds
If you are interested in studying at the University of Leeds, arrange your free consultation with SI-UK India today.