One of the UK's most popular Russell Group universities, the University of Birmingham has recently opened a large campus in Dubai. With excellent teaching led by academics who are experts in their field, the Dubai campus is an excellent and upcoming place to study at.
The University of Birmingham Dubai offers you a first-class learning experience, outstanding facilities, lucrative scholarships and leads to a qualification that is respected the world over. A range of undergraduate and postgraduate programmes and professional development courses are offered in subjects like Business, Computer Science and Economics.
At the University of Birmingham Dubai, you'll be studying in a forward-looking, globally connected city full of opportunities. A young and exciting city with a very diverse population, you will get to experience different cultures in Dubai like no other place on earth.
Learn about why you should study at the University of Birmingham below. If you are interested in studying at the University, arrange your free consultation with SI-UK India today.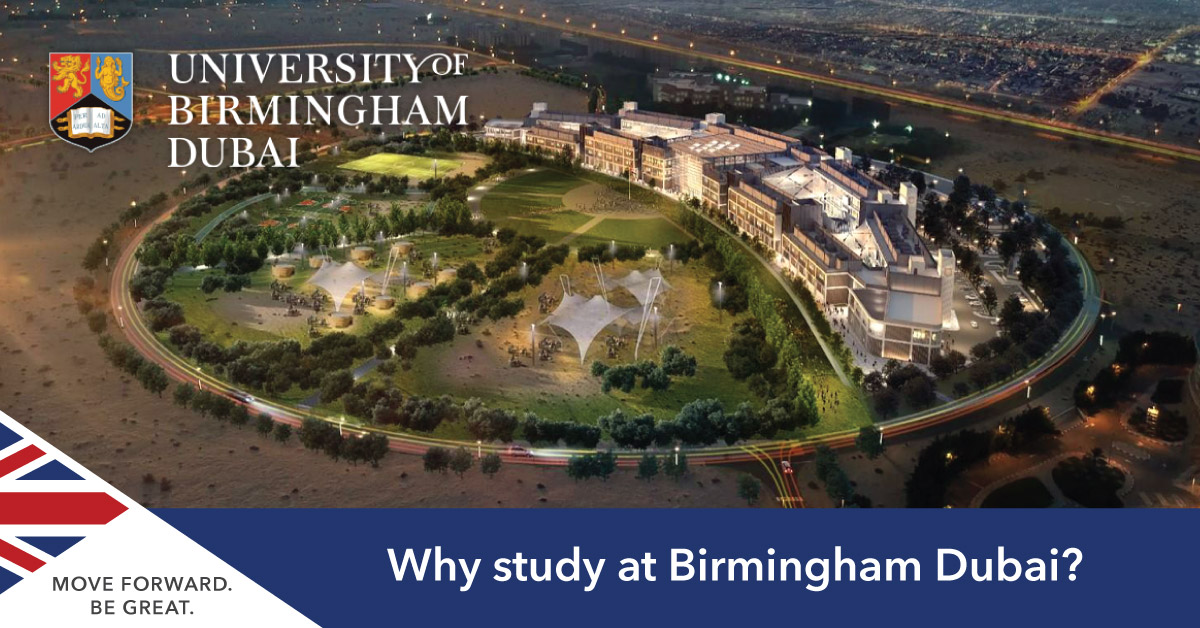 Top Five Reasons to study at the University of Birmingham Dubai
1. State of the Art Campus and Facilities
At the University of Birmingham Dubai (UoB Dubai), you'll study in a 50,000m2 campus located in the Dubai International Academic City surrounded by several famous global institutions. A new campus, it includes state-of-the-art facilities including a soundproof library, auditorium, large and small classrooms, fully equipped computer and engineering labs and large green open spaces.
2. Lucrative Scholarships
UoB Dubai offers scholarships worth up to 50% of the tuition fees to international students applying to study at the UAE campus. These scholarships are designed to reward academic excellence and can be carried forward through the entire programme at foundation, undergraduate and postgraduate levels. Dubai students enjoy the exceptional opportunity to use the acquired Dubai scholarship at UoB's UK campus if they decide to study there in Year 2.
3. Get a UK Degree in Dubai
At the University of Birmingham Dubai, you will receive a University of Birmingham UK degree certificate when you graduate. UoB Dubai is not a franchise, a branch or partner university, they are the University of Birmingham. Hence students will avail of the exact standard of teaching, staff, curriculum, student support and values as in the UK Birmingham campus.
Moreover, students can save on the flights, accommodation and living expenses as these will cost leader in UAE as compared to the UK.
4. Large Alumni Network
As a student of UoB Dubai, you will be part of a network of more than 300,000 University of Birmingham alumni across the world including UAE, India, Singapore and China. The vast network will allow you to connect, learn and share experiences, knowledge and opportunities in and beyond this network.
5. Closer to Home
Dubai is a globally connected city that is rapidly becoming established as an international education hub. Moreover, it is a short three or four hour flight from most cities in India. You will be closer to home and given the current post-Covid scenario, you'll enjoy easy access to your home country in case the need arises to travel back and forth. Also with over 200 nationalities living harmoniously within the UAE and embracing each other's cultures, you will feel safe, accepted and at home.
Other Reasons to Study at Birmingham Dubai
The University of Birmingham is a global top 100 university (QS World University Rankings 2021)
UoB is recognised all over the world for its excellent research and industrially focused degrees
UoB has a Gold rating in the Teaching Excellence Framework (TEF)
UoB has been rated as the top two most targeted universities by leading employers (High Fliers 2020)
11 of UoB's former staff and students have been awarded Nobel Prizes
Holistic student experience including a dedicated Student Wellbeing Officer and Students Association team
Strong emphasis on practical education and tackling the problems faced by the world today
Flexible degree where you have to option to upgrade from a PG diploma to an MSc course
You can gain further international experience by electing to study your second year in several courses in Birmingham, UK
Programmes offered both in the traditional disciplines and with in-depth focus on a particular field
Study at the University of Birmingham Dubai
If you are interested in studying at the University of Birmingham Dubai campus in September 2021 or January 2022, arrange your free consultation online or at one of our offices near you today.
Related Articles