The South West of England is an attractive region for international students, with its dynamic cities, beautiful coastlines and quality of life. The area is also known for its excellent educational institutions and reasonable cost of living, making it a great choice for those studying abroad.
Apart from its picturesque surroundings, the region is also home to some of the UK's leading universities, including Russell Group universities.
Learn more about why you should choose South West England to study in the UK below, or contact SI-UK India to book your free consultation and begin your application today.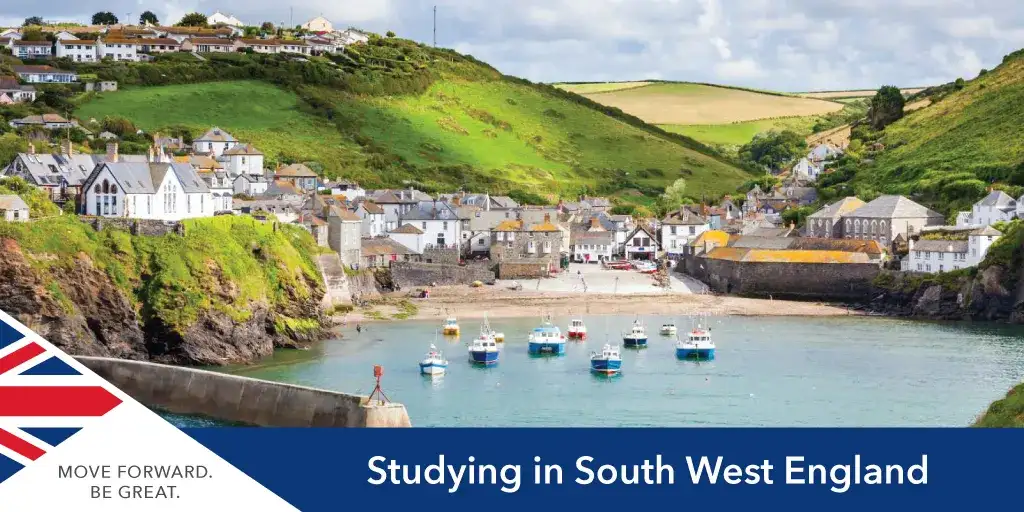 Universities in South West England
University of Bath
The University of Bath is ranked highly in the top university league tables for its student satisfaction, overall performance and graduate employment. The University was founded in 1966, and since then, it has grown to be one of the top universities in the UK and the best in SW England.
Top courses at Bath include engineering, design, science, management, humanities, and social sciences.
UK ranking: 8th
Bath acceptance rate: 10%
University of Bristol
Known for being one of the original 'red brick' universities, the University of Bristol is also a member of the prestigious Russell Group. The University holds an international reputation for high-quality research and offers a combination of academic excellence with an independent and forward-thinking spirit.
UK ranking: 15th
Bristol acceptance rate: 67.3%.
University of Exeter
Another member of the prestigious Russell Group, the University of Exeter is a research-intensive university with 82% of its research rated world-leading or internationally excellent.
The University has excellent teaching and research facilities for various disciplines, including science, technology, engineering, mathematics, medicine, humanities and science. Their campuses are equipped with the latest amenities, and their staff are some of the best in their field.
UK ranking: 13th
Exeter acceptance rate: 87.5%
Falmouth University
Falmouth University is an internationally renowned institution for Art and Design and often ranks in the top 20 UK university subject rankings. In fact, during the most recent International Student Barometer, Falmouth was ranked first in the UK and second in the world for international student experience.
UK ranking: 42nd
Falmouth acceptance rate: 26%
UWE Bristol
UWE Bristol offers a variety of highly respected courses that will give you an edge in the job market. With over 29,000 students and 3,000 staff, UWE is a large and well-established university in one of the UK's most vibrant cities.
The University's 250,000 alumni prove that their methods work - who are employed and enjoying successful careers, all because of the quality education they received at UWE Bristol.
UK ranking: 61st
UWE Bristol acceptance rate: 23%
University of Plymouth
The staff at the University of Plymouth are friendly and approachable, and they're always happy to help students with any questions or concerns about critical aspects of student life.
These include funding, budgeting, career advice, additional academic support, mental health, disability and dyslexia requirements, and immigration advice for international students. No matter what you need help with, the staff at the University of Plymouth will be more than happy to assist you.
UK ranking: 74th
Plymouth acceptance rate: 85%
Arts University Bournemouth
Arts University Bournemouth (AUB) is a higher education institution specialising in arts and design courses. With a student body of just 3,000, it has close ties with Bournemouth University, sharing some facilities and resources.
UK ranking: 76th
AUB acceptance rate: 35%
Bath Spa University
Bath Spa University is the perfect place for students who want to explore a wide range of creative and humanities-based courses with an enterprise focus. The unique course mix and structure provide exciting opportunities to try different subjects and figure out what interests you the most.
UK ranking: 77th
Bath Spa acceptance rate: 12%
Plymouth Marjon University
All programmes at Plymouth Marjon University involve work placements to help students gain practical experience and training in critical graduate-level skills such as presentation, job application, interview management, and influencing others. The university has strong partnerships with key employers, providing students with a network of contacts and opportunities to help them in their future careers.
UK ranking: 80th
Plymouth Marjon acceptance rate: 83%
Bournemouth University
Bournemouth University offers a variety of work placement opportunities for undergraduates and postgraduates. This allows students to put their learning into practice and build an invaluable network of professional contacts.
UK ranking: 89th
Bournemouth acceptance rate: 50%
Royal Agricultural University
The Royal Agricultural University has been a leading provider of agricultural education for 175 years and is a crucial contributor to the land-based sector. Today, the RAU is home to over 1,100 students studying agriculture, business, environment, equine science, farm management, food, real estate and rural land management.
UK ranking: 102nd
RAU acceptance rate: 70%
University of Gloucestershire
The University of Gloucestershire is known for its excellent teaching practices and was recently praised for its integrated approach to student placements and work experience. This allows students to engage more with businesses and industries and learn essential skills for their future careers.
UK ranking: 112th
Gloucestershire acceptance rate: 71%
Benefits of Studying in South West England
1. Academic excellence
The South West of England boasts of being home to some of the most prestigious universities in South West England that regularly rank within the top 150 in the UK across leading league tables.
2. Things to do
It is no great surprise that the South West of England is the country's most popular region for tourism - with its magnificent beaches and secluded coves, the picturesque coastline region of England is popular among tourists all year round.
3. Lower cost of living
Your monthly living expenses as a student will vary depending on which city in the South West of England you choose to study. For example, Bristol is one of the most expensive cities for students in the UK, whereas Plymouth is one of the cheapest. The average student in the South West region of England will need between GBP 550 and GBP 750 per month to live and study comfortably.
Study in England
Contact SI-UK India today if you are interested in learning more about studying in South West England or want to begin your application for the upcoming intake.