A modern Scottish university situated on the east side of Edinburgh, Queen Margaret University has a rich history dating back to 1875. The University aims at addressing the pressing needs of society and improving quality of life with its wide range of undergraduate, postgraduate and continuing professional development programmes.
QMU's areas of expertise include health and rehabilitation, creativity and culture and sustainable business. Among these flagships, it is known for teaching hearing and speech sciences and global health and development.
With a friendly and supportive campus environment, renowned staff, excellent learning facilities and high graduate employability, there are many reasons for you to choose to study in Scotland at Queen Margaret University.
Learn the top reasons why you should study at Queen Margaret University below or begin your application by booking your free consultation to study in the UK today.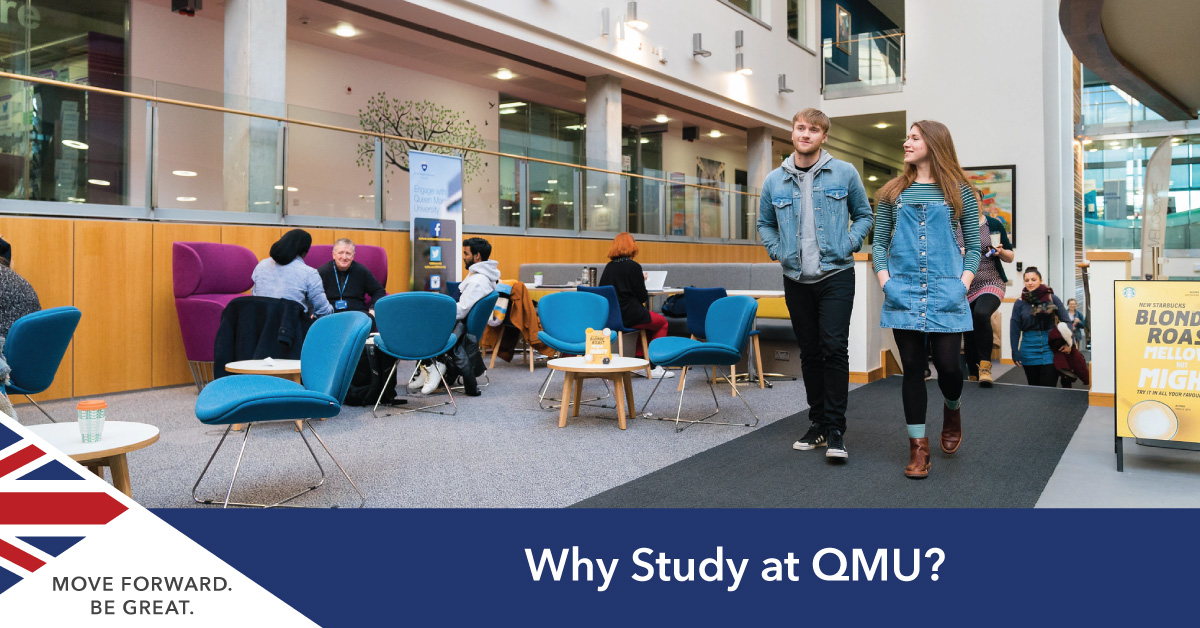 Eight Reasons to Study at QMU Edinburgh
1. Exchanges and Study Abroad
QMU believes in inculcating in students a broad global perspective and skills that will enable them to live and work in any part of the world. They offer student exchanges and study abroad opportunities in several of their undergraduate and postgraduate programmes.
With great links across the world, students can study a semester in places like Europe, USA, Canada or Australia.
2. Placement Opportunities and Accreditations
Offering the perfect blend of both theory and practice, many of QMU's courses include practical work placements and many others are accredited by professional bodies. Placements offered include undergraduate school experience placements and clinical placements.
3. Excellent Facilities
QMU's modern campus offers students everything needed to have an exciting and complete student experience. The purpose-built facilities consist of impressive and innovative spaces for teaching and learning.
The University has an active students' union, a plethora of extracurricular activities, state-of-the-art sports facilities, a learning resource centre, an on campus Business Gateway located within its Business Innovation Zone and many cafes and eateries, all within easy reach in one vibrant academic village.
4. On-Campus Accommodation
Plenty of student accommodation is available at QMU on campus, offering students secure and comfortable living as well as the convenience of being just a few minutes away from classrooms. The Student Village accommodates over 800 students in excellent en-suite standard and premium rooms.
5. Central Location
QMU has a vibrant campus located near the city's town centre and is within six minutes of Edinburgh, Scotland's capital city. Edinburgh has a rich history and a vibrant cultural scene and is one of the 'must see' destinations of the world. The city is home to many higher education institutes and is full of international students from all over the world.
6. Inclusivity
QMU prides itself on inclusivity and diversity. There are over 5000 students from across 80 countries studying at the university. An outward looking university, QMU engages with local, national and international communities and works with partners in many different countries.
7. Careers and Employability
QMU offers industry relevant courses and is in the top three universities in Scotland for the employment of graduates. The University's Careers Support service helps students improve their CV and organises recruitment fairs and connects students with potential employers. 97% of QMU graduates are in employment or further study within six months from graduating (HESA 2018).
8. Student Support
QMU provides a comprehensive range of student support services, including assigning every student a Personal Academic Tutor (PAT) to support, advise and guide regarding their academic studies. The PAT will also refer students to other support services if needed during their time at QMU.
Study in Edinburgh at Queen Margaret University
If you are interested in studying at Queen Margaret University in September 2021 or January 2022, hurry and arrange your free consultation online or at one of our offices near you today.
Related Articles