The North West of England consists of Cheshire, Cumbria, Great Manchester, Lancashire, and Merseyside administrative counties. It is home to some of the most recognised football clubs in the world, as well as incredible landscapes and historic villages.
Manchester and Liverpool are the two biggest student hubs in the North West of England. Because of its bustling and diverse-students environment, it is a popular region for international students. The North West of England is also home to some of the students-favourite universities in the UK, including Lancaster, MMU, Chester, and Liverpool.
Learn more about studying in the North West of England or contact SI-UK India today for a free consultation to begin your application for the upcoming intake.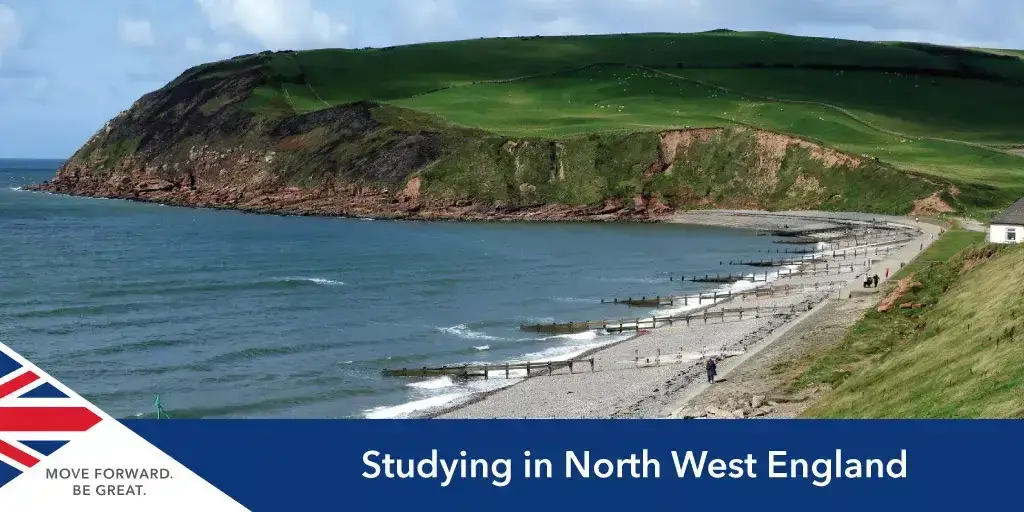 Universities in North West England
Lancaster University
Lancaster University has a flourishing community of students from over 100 countries that deliver courses with the opportunity to build a solid network of academics and professionals that cross borders and cultures.
Currently, the University offers 375+ full-time courses across four faculties: Arts and Social Sciences, Health and Medicine, Management School, and Science & Technology.
UK ranking: 12th
Lancaster acceptance rate: 18.69%
University of Manchester
The University of Manchester has a reputation for innovation and pioneering research and is consistently targeted by the UK's top employers. The University also offers funding to Indian students across multiple disciplines, including STEM, Engineering, Humanities and more.
UK ranking: 24th
University of Manchester acceptance rate: 56.1%
University of Liverpool
The University of Liverpool is the original 'redbrick' university. A founding member of the prestigious Russell Group, one of the top 24 research-led institutions in the UK, the University is associated with nine Nobel Laureates. Liverpool is a global university with pioneering partnerships all over the world.
UK ranking: 33rd
Liverpool acceptance rate: 14%
Manchester Metropolitan University (MMU)
Manchester Metropolitan University is one of the oldest and largest universities in the UK, ranked in the UK top 60 by the Times University Guide rankings 2023. 85% of MMU research was rated 'world-leading' and 'internationally excellent' in the REF 2021.
Leading departments at MMU include the Department of Computing and Mathematics, the Department of Natural Sciences, the Department of Engineering, and the Department of Life Sciences.
UK ranking: 60th
MMU acceptance rate: 80%
Liverpool John Moores University (LJMU)
95% of Liverpool John Moores University students are in work and/or further study within six months of graduating (HESA 2018). The main LJMU campus is ideally located to provide students with the world-class facilities and cutting-edge technology they need to complete their studies.
UK ranking: 71st
LJMU acceptance rate: 29%
Liverpool Hope University (LHU)
Liverpool Hope University offers students the chance to study and live on a safe and friendly campus with a solid academic reputation. Whilst studying at LHU, students will receive academic and personal support equally.
The University offers undergraduate and postgraduate courses across 11 faculties, including LHU Business School, the School of Creative and Performing Arts, the School of Education, the Department of Geography, and the School of Health.
UK ranking: 80th
LHU acceptance rate: 85%
University of Chester
The University of Chester is the fifth oldest university in England and holds a silver award in the Teaching Excellence Framework. Thanks to its excellent infrastructure and intensive teaching methodology, it receives thousands of applications yearly. The university has produced some notable names throughout its illustrious history, including Tracey Neville, Sir Walter Winterbottom, and Alan Emery.
UK ranking: 97th
Chester acceptance rate: 25%
University of Central Lancashire (UCLan)
UCLan offers a mix of undergraduate and postgraduate courses for those who want to learn and develop their academic, personal and professional skills. The University has been ranked in the top 20 universities in Europe by Times Higher Education.
UCLan students benefit from short-notice application deadlines, flexible admission processes, and a wealth of support and advice from the Student Support Centre.
UK ranking: 107th
UCLan acceptance rate: 22.4%
University of Salford
Initially, the University of Salford was established as Pendleton Mechanics Institute. The University is one of the UK's leading educational centres for nursing, engineering and sports medicine.
Salford was one of the first universities to offer a 'sandwich' degree, a year-long work placement. According to the 2021 National Student Survey, 83% of Salford graduates were satisfied with their time at the University.
UK ranking: 88th
Salford acceptance rate: 62%
University of Bolton
The University of Bolton offers one of the best educational experiences for students wishing to study in the North West. Bolton recently opened a campus in the UAE, and its student population is one of the most ethnically diverse in the UK, with around 25 per cent coming from minority communities.
UK ranking: 124th
Bolton acceptance rate: 48%*
University of Cumbria
The University Of Cumbria is one of the most popular universities in North West England, with its main campus located in the city of Carlisle. Being near Scotland, students experience a taste of the Scottish culture, along with a high standard of education and research facilities at the University.
The University of Cumbria drew its history back to 1822. It was established in 2007 as a merger of St Martin's College, Cumbria Institute of the Arts and the University of Central Lancashire's Cumbria.
UK ranking: 129th
Cumbria acceptance rate: 46%
Benefits of Studying in North West England
1. Academic excellence
Eight of the ten universities listed above rank within the top 100 universities in the UK. Despite being a small region, the North West of England is filled with quality universities known worldwide for their quality of teaching and academic excellence.
2. Things to do
From vibrant nightlife to music and cultural festivals, one lifetime is not enough to explore the things to do while studying in North West England. And thanks to the extensive public transportation system, moving around North West England is cheaper than most cities in the UK.
3. Lower cost of living
Studying in the UK can turn out to be an expensive experience. But thanks to the lower living costs, studying in North West England will save you a lot of money. You can save lots of money if you study at places such as Manchester, Leeds, Newcastle or Sheffield.
Study in England
If you want to apply at one of the universities in the North West of England, contact SI-UK India today to book your free consultation and begin your application for the upcoming intake.