The University of Edinburgh MBA is a business programme built for the future's top leaders, ideal for students with management experience who want to become even better at leading big businesses.
On this programme, you'll dive deep into innovative ideas, learn how real businesses work today, and work on practical projects. The Edinburgh MBA helps you become this kind of leader. It focuses on three important things:
Strategic Leadership: You'll learn how to make big decisions and lead your team to success.
Professional Development: It helps you grow in your career, making you a valuable leader.
Personalised Approach: This programme tailors to your needs and goals.
Learn more about why the University of Edinburgh is the perfect place to boost your business career below. If you want to study an MBA in the UK, enquire today.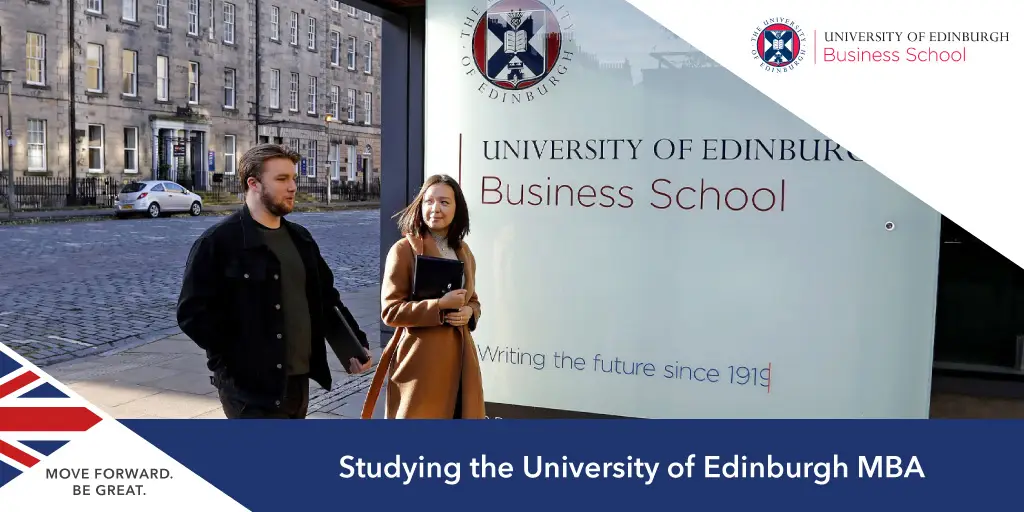 Six Reasons to Choose the University of Edinburgh MBA
1. In-depth course curriculum
The Full-time MBA programme at the University of Edinburgh is structured to provide a comprehensive education in strategic leadership and business management. Here's a summary of the course structure for the 2023/24 academic year:
Induction (September):
Introduction to the programme
Building High-Performance Teams activities
Introduction to Strategic Leadership
MBA Orientation and Study Skills
Semester 1 (September-December):
Core business disciplines
Compulsory courses: Accounting, Organising for Effectiveness, Professional Development, Strategic Leadership, Strategic Marketing, Understanding Economies
Semester 2a (January-March):
Integration and electives
Compulsory courses: Business Transformation in the Digital Age, Finance, Operations Improvement, Professional Development (continued), Strategic Human Resource Management, Strategic Leadership (continued)
Option courses (choose 2 from): Data and Analytics for Leaders, Economics of Strategy, Ethics and Sustainable Governance, Financial Analysis, Negotiations, New Venture Creation and the Entrepreneurial Process
Semester 2b (April-June):
Electives (continued)
Option courses (choose two from): Business Strategy for Environmentally-Suitable Futures, Financial Aspects of Mergers and Acquisitions, Global Strategy, Marketing Communications and Branding, Negotiations, Supply Chain Management
Summer Term (June-August):
Capstone project - MBA Capstone
This structure provides a well-rounded education focusing on strategic leadership and the flexibility to choose electives that align with individual career goals and interests.
2. Ranking and reputation
The University of Edinburgh is a prominent institution in the UK and worldwide. It ranks 9th in the UK for business and management, per the Guardian University Guide 2024, and 14th overall. The University of Edinburgh MBA is ranked 56th place globally and is 8th in the UK, as per the QS Global MBA Rankings of 2023. The Edinburgh MBA is also ranked 12th in Corporate Knights' 2022 Better World MBA.
- Led by experienced faculty
Knowledgeable and experienced professors guide the Edinburgh MBA. These experts have a lot of wisdom in the business world and can share their real-life insights with the students. They help students thoroughly understand complex ideas and provide practical advice. This means that students learn from the best, gaining valuable skills and knowledge to excel in their careers. With such experienced faculties, the Edinburgh MBA ensures a top-notch education for its students.
3. Placements and internship opportunities
The University of Edinburgh Business School offers comprehensive career development services to MBA students. These include access to the central careers service, sector-specific presentations, and guest speaker events. The school also provides job platforms, webinars, and skills workshops and organises business engagement treks with industry visits to companies like Amazon, NatWest, and the NHS.
The Employability Conference helps students understand what employers seek and create effective career strategies. Furthermore, MBA students engage in real-world consultancy projects with companies like Amazon, NatWest, and the NHS, putting their learning into practice. Access to a vast alumni network of over 20,000 global professionals is also available, aiding career advancement.
4. Accreditation
The University of Edinburgh Business School holds prestigious triple accreditation from AACSB, EQUIS, and AMBA, reflecting its high-quality teaching and research. Additionally, the school's commitment to diversity and gender equality has earned it a Silver Award from Athena SWAN, recognising its outstanding efforts in promoting inclusivity among its staff and students.
5. Variety of scholarships
The University of Edinburgh offers scholarships for the Full-time and Executive MBA programmes. Scholarships can help pay for your studies. They come from the university and also from companies and former students.
Scholarships can be worth £5,000 or more. To get one, they evaluate your education, work experience, and answers on the scholarship application. There are different kinds of scholarships, like the Somewhere MBA LGBT+ Scholarship, MBA Leadership Scholarships, MBA Merit Scholarships, MBA Achievement Scholarships, and MBA Diversity Scholarships. Each has its own rules.
6. Great facilities
The University of Edinburgh Business School offers a range of modern facilities for students and staff. Their state-of-the-art building at the heart of the campus features eight lecture theatres, multiple meeting rooms, an executive education suite, and a café. Additionally, students have access to the university's impressive meeting rooms and historic venues, some dating back to the 18th century, creating an inspiring environment for learning and events. Beyond the campus, Edinburgh offers a diverse selection of venues for various programmes, with the school working closely with clients to ensure the right setting for each event and its learning goals.
- Accommodation
The University of Edinburgh offers different housing options for its students, catering to various needs and preferences. Some choices include:
Baird House: Located at Pollock Halls, about a 20-minute walk from George Square and 35 minutes from King's Buildings. Prices start at £8,311 per year.
Blackwood Crescent/Causewayside: Approximately 10 minutes from George Square and 25 minutes from King's Buildings, with prices starting at £4,942 per year.
Brae House: This property is near The Royal Mile, Holyrood Palace, and Arthur's Seat. Prices start at £6,784 per year.
Buccleuch Place/Buccleuch Place Lane: Right beside the central campus and main library, twin-room prices start at £5,215 per year.
Chancellors Court: Part of the Pollock Halls complex, approximately 20 minutes from George Square and 35 minutes from King's Buildings. Twin rooms start at £5,919 per year.
Darroch Court: Located next to Holyrood Park and the University of Edinburgh Centre for Sport and Exercise, single room prices start at £5,812 per year.
- Library
The University of Edinburgh is committed to supporting students with excellent library and IT resources, fostering a great learning environment. They have an extensive library with 1.8 million printed books and tons of online resources like articles and e-books. You can access these from anywhere, on or off campus. There are ten specialised subject libraries with study areas, computers, and helpful staff. The Main Library at George Square is one of the world's most extensive academic libraries, and it's open 24/7 with 2,300 study spots. Plus, they make it easy for you to use their computers, your own devices, or even borrow laptops, making learning more convenient and flexible.
Entry Requirements
The University of Edinburgh, MBA entry requirements include a UK 2:1 honours degree in any field or an equivalent qualification from another country. If you don't meet this academic requirement, you still have options:
Professional Qualifications and Work Experience: You may still be considered if you have professional qualifications and substantial work experience.
Strong Employment Record: A strong employment history showing significant responsibility could make you eligible even if you don't have a degree or professional qualifications.
If your academic record doesn't meet the minimum requirement, you might be asked to take the Graduate Management Admissions Test (GMAT). You'd typically need a minimum score of 600 to qualify for the MBA programmes. However, if you're applying for the Focus edition, a score of 555 would be sufficient. This score corresponds to performing at the 51st percentile in each test format.
International Tuition Fees
The international tuition fee for the programme is £40,900.
Study the Edinburgh MBA
If you would like to begin your application to study the Edinburgh MBA, contact SI-UK for a free consultation today.
University of Edinburgh MBA FAQ
What is the reputation of the University of Edinburgh's MBA in India?
The University of Edinburgh is recognised as a prestigious institution with a history of academic excellence. Graduates from this programme often find opportunities in India and abroad, and the university's global reputation can be a valuable asset when pursuing a career in India.
Is the University of Edinburgh's MBA accredited internationally?
Yes, the University of Edinburgh's MBA programme is internationally accredited. It holds triple accreditation from respected organisations like AACSB, EQUIS, and AMBA, ensuring the programme meets high global standards for business education.
Can I work part-time while pursuing my MBA at the University of Edinburgh?
You can work part-time while studying for your MBA at the University of Edinburgh. Typically, international students on student visas can work up to 20 hours per week during term time and full-time during university holidays. This provides an opportunity to gain practical experience and supplement your finances.
Are there any Indian student associations or support services on campus?
The University of Edinburgh supports Indian students through various associations and services on campus. Indian student associations and cultural groups can help you connect with fellow Indian students and provide a sense of community.
How does the University of Edinburgh assist Indian students with visas and immigration processes?
The university assists Indian students with visa and immigration processes. It may offer guidance, resources, and advice on visa application procedures and requirements. It's advisable to check with the university's international student services for detailed information and support throughout the visa application process.