Cyber security safeguards digital systems, networks, and data from unauthorised access, breaches, and disruptions caused by malicious digital activities. Among the advanced roles within the field, a cyber security engineer, also known as an information security engineer or network security engineer, plays a pivotal role in this mission.
The MSc in Cyber Security Engineering at the University of Warwick delves deep into the multifaceted realm of cyberspace and will help you understand the cyber threat landscape, manage resources, implement solutions and effectively communicate these to senior decision makers.
If you are considering studying the MSc Computer Science Engineering at Warwick, contact SI-UK today for a free consultation.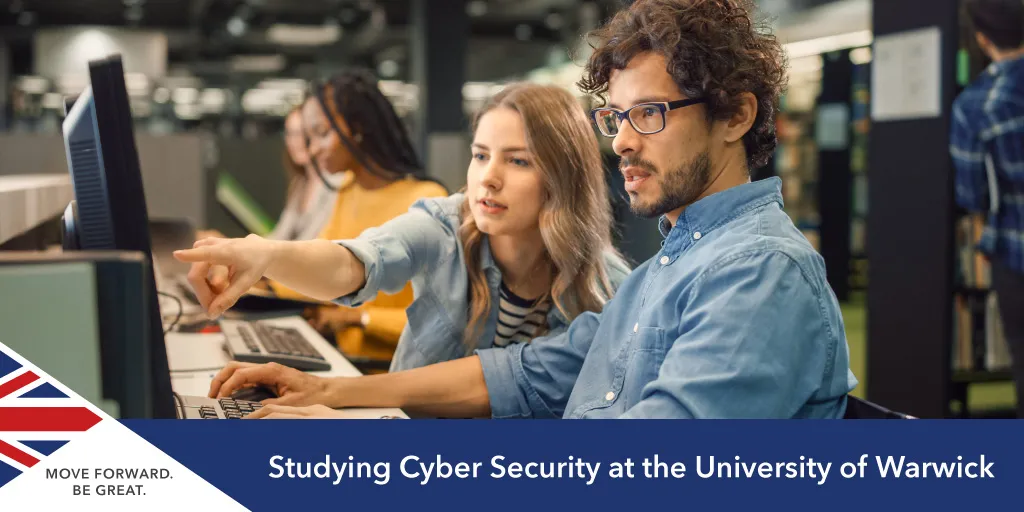 Why study a Master's in Cyber Security Engineering at Warwick?
1. In-depth focus
The MSc in Cyber Security Engineering at the University of Warwick offers an immersive and comprehensive exploration of the dynamic world of cyber security.
With a strong emphasis on the technical aspects of cyber security and their multidisciplinary applications, Warwick ensures students are well-versed in both practical implementations and abstract analytical thinking. Moreover, students benefit from unparalleled exposure to industry throughout.
Recognised and certified by the National Cyber Security Centre, a part of GCHQ, and affiliated with CIISec, the MSc in Cyber Security Engineering at Warwick offers a unique opportunity to develop coherent thinking and action in cyberspace. Graduates can expect to leverage their deep understanding to tackle real-world cyber security challenges effectively.
2. Accessible entry requirements
To qualify for the MSc in Cyber Security Engineering at the University of Warwick, applicants should hold a 2:1 undergraduate degree in IT, Computer Science, or a related field. However, candidates with a UK 2:2 degree or equivalent may be considered if they can demonstrate relevant professional experience. Additionally, applicants must achieve an IELTS overall score of 6.5, with no component score falling below 6.0, if they are in Band A for language proficiency requirements.
3. Curriculum excellence
The MSc in Cyber Security Engineering curriculum at the University of Warwick offers a comprehensive set of core modules that provide students with a solid foundation in the field, covering crucial areas such as cyber security research methods, managing cyber risk audit and compliance, network security, applied cryptography, digital forensic investigation, ethical hacking, and proactive cyber defence.
In addition to the core modules, students can tailor their education by selecting elective modules from diverse options. These elective modules, including enterprise cyber security, cyber-physical systems, cloud security, cyber incident management, and data science and machine learning, allow students to explore specialised areas, ensuring that graduates are well-prepared to meet the evolving challenges of the cybers ecurity landscape.
4. Rankings and reputation
The University of Warwick, known for its commitment to excellence, is consistently ranked among the top universities in the UK and globally. It consistently achieves top 10 status in UK league tables and is recognised as a leading institution worldwide.
Warwick's impact extends locally and globally, with high rankings in influential guides like The Times and Sunday Times Good University Guide 2024 (9th in the UK), Times Higher Education's World University Rankings 2023 (11th in the UK, 104th globally), and QS World University Rankings 2024 (among the top 10 in the UK and top 20 in Europe).
5. State-of-the-art facilities
The University of Warwick offers fantastic facilities for students. There are modern libraries with lots of books and online resources for studying. You can also find places to eat on campus, from cafes to restaurants. If you like sports, there's a big sports centre with a gym and swimming pool. Plus, there are many clubs and societies where you can meet new people and have fun. And if you need help with your studies or personal issues, there's a support team ready to assist you.
6. Scholarships opportunities
The University of Warwick offers several prestigious scholarships to support students in their academic pursuits:
Excellence in STEM Scholarships: These scholarships are awarded to exceptional applicants enrolling in one of the one-year taught Sustainable Futures MSc courses. There are six scholarships available, with a value of £10,000 for overseas students (including EU) and £5,000 for Home Students. These scholarships recognise excellence in STEM fields.
Albukhary Undergraduate Scholarships: These competitive scholarships are based on academic merit and financial need. They are made possible through the generous donation of the Albukhary Foundation, a charity in Malaysia dedicated to facilitating access to world-class education. Recipients can receive up to £20,000 towards living costs for their undergraduate course.
Chancellor's International Scholarships: Warwick offers up to 42 Chancellor's International Scholarships to the most outstanding international Ph.D. applicants. These scholarships provide significant financial support to enable top-tier international students to pursue their doctoral studies at the university.
7. Career prospects
Graduates from the MSc in Cyber Security Engineering program at the University of Warwick's WMG have many career opportunities. They find employment with prestigious organisations like Accenture, PwC, KPMG, Deloitte, IBM, the Ministry of Defence, HP, Cisco, and Tata Consulting Services. Graduates secure roles such as cyber security consultant, information security analyst, technology analyst, it security and governance officer, security project manager, network consulting engineer, it risk and resilience manager, and senior investigation officer. The university's dedicated Senior Careers Consultant provides guidance, workshops, and events, ensuring that students are well-equipped to embark on successful careers in the cyber security field.
8. Competitive salary
Students can expect a competitive salary after completing an MSc in Cyber Security Engineering in the UK. On average, graduates in this field earn around £60,397 per year. Additionally, they may receive extra cash benefits, with an average of £7,147, although this can vary from £3,439 to £14,852.
9. Student-centric environment
The University of Warwick remains dedicated to nurturing a diverse and inclusive campus community that empowers individuals to excel and realise their full potential. The institution continually seeks to enhance the campus environment, making it both inviting and enriching for all who participate.
Warwick FAQ
Does a Master's in Cyber Security require coding?
Yes, a master's in cyber security may require some coding skills. While not all programs demand extensive coding knowledge, having a basic understanding of programming can be helpful for tasks like analysing malware or creating security solutions.
What is the acceptance rate of the University of Warwick?
With a 14% acceptance rate for undergraduate and graduate programs, it reaffirms the university's reputation for competitive admissions. Aspiring students should be prepared to submit strong applications to secure a place at this prestigious institution.
What are the best courses at the University of Warwick?
Some of the best programmes offered by the University of Warwick include renowned computer science, business, engineering, mathematics, and social sciences courses.
Who are the University of Warwick's famous alumni?
The University of Warwick boasts a notable list of alumni, including politicians like Priti Patel, academics like Janet Beer, and business leaders like Cyrus Mistry. Their accomplishments span various fields, reflecting the university's commitment to producing influential graduates.