Leicester is the perfect student city. Centrally located in the East Midlands, it is approximately 143 kilometres from London, offering excellent connections to other major cities in the UK as well.
With its two acclaimed universities in Leicester and a large, diverse student population, let's explore what makes this city student-friendly.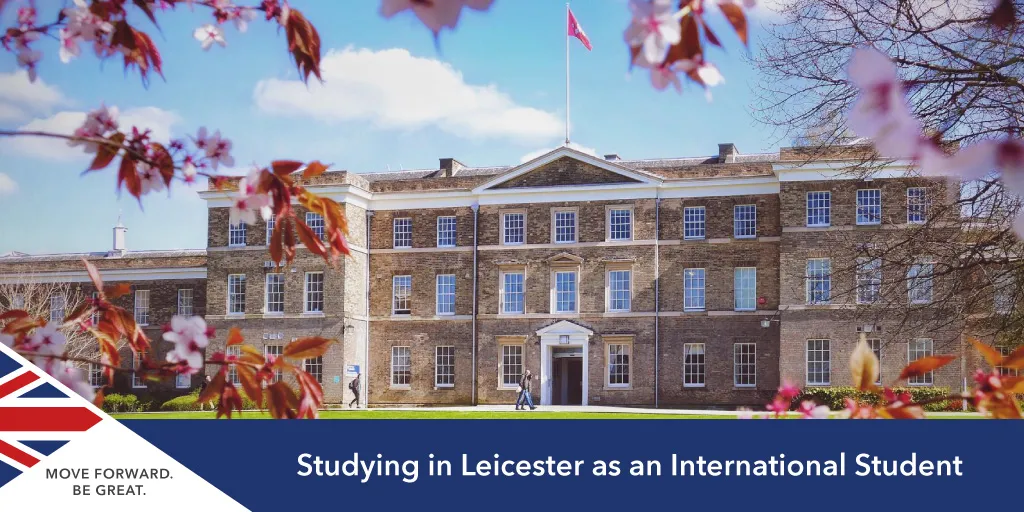 Five Reasons to Study in Leicester
1. The India Connection
Leicester's love story with India is evident in the 'Golden Mile' on Belgrave Road—a vibrant and colourful street where you can buy everything from gold jewellery to sarees, spices, and samosas. In fact, did you know that murals of iconic Indian actresses like Madhubala and Rekha also grace some of the buildings in the area?
Not just for South Asians, the Golden Mile is also a popular shopping destination for Leicester residents and visitors, and the area's lively ambience and delicious offerings make it a 'must visit' on everyone's list.
Leicester is an inclusive city with a long history of welcoming many ethnic communities and cultures. It goes all out to welcome them and celebrates various festivals, including Diwali. The city lights up with beautiful decorations, vibrant performances, and a grand fireworks display, making these celebrations one of the largest outside of India.
2. Top Rated Universities
Leicester is home to two prominent universities offering a range of undergraduate and postgraduate courses in streams such as Science, Arts, and Business.
The University of Leicester was founded in 1921 as Leicester, Leicestershire, and Rutland University College before receiving its Royal Charter and becoming a university on 1st May 1957. It was founded to create a living memorial for those who made sacrifices during the First World War, and it has since grown into a well-respected research-led university in the UK. The university, like the City, prides itself on its inclusivity and diverse student community. The students are called Citizens of Change and encouraged to hope for a better future and make the world a better place.
Known for its research in various fields, including space sciences, archaeology, genetics, and astrophysics, its famous alumni include Sir Alec Jeffreys, a geneticist who discovered DNA fingerprinting and renowned broadcaster and natural historian Sir David Attenborough.
The University of Leicester is one of the few universities in the UK with a working observatory in Manor Road.
De Montfort University (DMU) is rooted in the Leicester School of Art, established in 1870. Over the years, it underwent various mergers and name changes before becoming De Montfort University on 26th June 1992.
DMU strongly emphasises creativity and enterprise and is known for its strong ties with industry. It provides students with opportunities to gain real-world experience and sends out work-ready graduates with professional experience and industry skills. DMU is known for its courses in fashion, textiles, engineering, and business-related subjects and a strong media and arts presence.
The university is known for its "Square Mile" project, where students and staff actively contribute to community projects. Its DMU Square Mile India project, involving more than 300 De Montfort University students, has significantly impacted communities. The university takes pride in nurturing a sense of social responsibility among its students, inspiring them to make positive changes locally and globally.
3. Fabulous Food & History
Leicester's food scene is a delightful fusion of various cuisines, reflecting the city's diverse population.
Apart from the plenty of South Asian options available around the city, like the award-winning Kayal, Leicester is full of affordable, student-budget-friendly restaurants. From the fabulous Turtle Bay, serving up Caribbean-inspired flavours, to the absolutely divine Dough What, known for its Neapolitan & Deep Dish Pizzas, there is a lot of delicious dining in the city.
Another go-to spot for students looking for a quick bite or a meal with friends is Highcross, a modern shopping centre in the city's heart, offering a wide range of eateries, including popular chain restaurants, cafes, and fast-food outlets.
The UK is steeped in history, and Leicester is no exception. It has a long and fascinating history dating back to Roman times, and there is much more to explore in the city than you'd imagine.
Not to miss are the King Richard III walking trail that takes you around the key sites in the city and the gorgeous Victorian and Edwardian buildings that add a charming touch to Leicester's architectural landscape.
The Leicester Comedy Festival, now in its 30th year, has become one of the UK's most anticipated and celebrated comedy festivals, drawing thousands of attendees every year.
4. Football & Fun Ways To Stay Fit
Staying fit and active in Leicester is easy, thanks to the wide range of sports facilities, fitness centres, and outdoor spaces available. If you are a football fan, there is no way you have yet to hear about Leicester City FC and their spectacular win in the Leicester City Premier League title in the 2015/16 season. You can feel the excitement firsthand by watching their matches live at the King Power Stadium and cheering for the Foxes.
From jumping on trampolines to indoor climbing and axe throwing to mini golf, residents of Leicester have a lot of fun ways to keep fit and hang out with friends.
5. Career Possibilities
Leicester is one of the best places in the East Midlands to live and work. The city is strongly associated with producing textiles, clothing, and shoes, and now it is home to a diverse range of industries. Advanced engineering, manufacturing, healthcare, technology, and creative sectors offer ample career opportunities for professionals in various fields.
KPMG, British Gas, Walkers and Morningside Pharmaceuticals are some of the companies that have a presence in Leicester's diverse and thriving business landscape.
Study in Leicester
Leicester is a remarkable city offering abundant opportunities for personal and professional growth and a unique and memorable student journey that will undoubtedly leave a lasting impression. Book a free consultation with SI-UK today to learn more about studying in Leicester as an international student.
Five Reasons to Study in Leicester FAQ
Why is Leicester good for international students?
The University of Leicester is home to numerous students from around the world. Out of 13,000 students pursuing their higher studies at the university, over 25% of them are international students. Apart from being a student-friendly city, the city attracts scores of students every year as it is much cheaper as compared to other UK destinations.
What kind of city is Leicester?
Leicester is a city of diverse art and culture and a hub for world-class academic institutions. It is a great location for international students in terms of low-cost living, fun, and food.
What is the Indian area of Leicester called?
The Indian area of Leicester is called The Golden Mile.
What is the Indian population of Leicester?
According to Indian ethnic group: facts and figures by gov.uk, Leicester is home to the largest Indian population, which comes up to 6.6% of the total population. Leicester is closely followed by Birmingham (4.6%) and Harrow (4.5%) in terms of Indian student population.
What course should I study at Leicester University?
If you are indecisive about the course that you should opt for, the following are highly pursued courses:
Accounting & Finance
Aeronautical & Aerospace Engineering
Archaeology
Biological Sciences
Biomedical Sciences
Chemistry
Classics
Communication & Media Studies