Located in Lincoln's historic and beautiful city, Bishop Grosseteste University is a 150-year old university that was originally founded as a teacher training college. Today, it is one of the biggest providers of teacher education programmes in the UK.
Bishop Grosseteste University, or BGU, has three main areas of academic study - Humanities, Social Sciences, and Teacher Development. The University offers more than a hundred courses and popular subjects to study at BGU include Education, Sociology and Drama.
A small and friendly university, BGU has a close-knit community of over 2000 students studying a range of foundation, undergraduate, postgraduate and research programmes.
Learn more about studying at BGU below and if you want to apply to study in the UK, arrange a free consultation online with SI-UK today.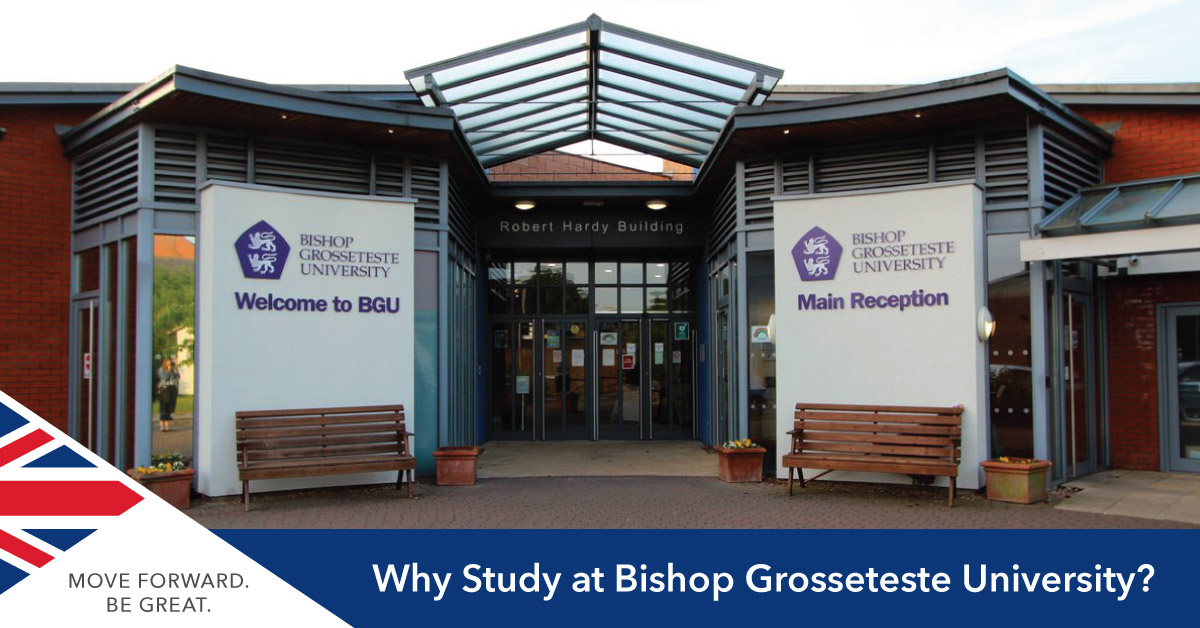 Six Reasons to Study at Bishop Grosseteste University
1. TEF Gold University
BGU is ranked sixth in the UK for its quality of teaching and learning and provides comprehensive support to its students. It has been awarded Gold in the latest Teaching Excellence Framework, which is the highest possible rating given to UK universities based on their quality of teaching, the learning environment and student outcomes.
2. Graduate Employability
The University is ranked third in the UK for employability according to the Graduate Outcomes Survey when compared with other non-specialist UK universities. 91% of the graduates are in employment or further studies within a year of graduating (Higher Education Graduate Outcomes Survey 2018).
3. Student Satisfaction
With a small, close-knit community of students studying at the University, BGU offers quality teaching and a highly interactive environment with lots of individual attention. Students can build real and long lasting relationships and have a truly enriching overall experience at the University. Thus BGU finds a place in the top UK universities for student satisfaction (National Student Survey).
4. Popular Courses
Top Bishop Grosseteste University courses include undergraduate and postgraduate programmes in Education, Sociology and Drama.
Popular courses to study at BGU at the undergraduate level include:
BA (Hons) Education Studies
BA (Hons) Psychology
BA (Hons) Business
BA (Hons) Early Childhood Studies
BA (Hons) TESOL and Linguistics
Popular courses to study at the postgraduate level include:
MA in Education with TESOL
MA in English Literature
MA in Health and Social Care Leadership
5. University Location
BGU is located in the historic city of Lincoln in the East Midlands. The beautiful green campus is just a few minutes away from the city centre and important landmarks such as the Lincoln Cathedral, Lincoln Castle and the old Roman city.
BGU is a single-site campus university. This means all your tutors, friends, lectures, cafeterias and hangouts will be within close range.
6. Scholarships for International Students
BGU offers several lucrative scholarships for international students which offer up to 50% fee discount for eligible students, based on merit. It offers some of the best scholarships for Indian students to study in UK and these include:
Study at Bishop Grosseteste University
If you are interested in applying to Bishop Grosseteste University in September 2021, hurry and arrange your free consultation with us or visit one of our offices near you to start your application today.
Related Articles