Established in 1881, the University of Nottingham has grown to become one of the leading universities in the United Kingdom and is internationally recognised for its academic excellence and research contributions. With over 600 undergraduate courses and 180 postgraduate courses, students have numerous opportunities to pursue their academic interests and develop their skills while studying at the university.
The university's fundamental strength in its research areas, such as sustainable energy, healthcare, advanced manufacturing, and artificial intelligence, helped the university to make industry partners worldwide, fostering a culture of innovation and intellectual curiosity. Also, Nottingham's multicultural environment enriches the university experience, providing a global perspective and fostering intercultural understanding.
Learn more about studying at the University of Nottingham below. Currently, the University of Nottingham's acceptance rate is 11%, and if you need help applying, book a free consultation with SI-UK India today.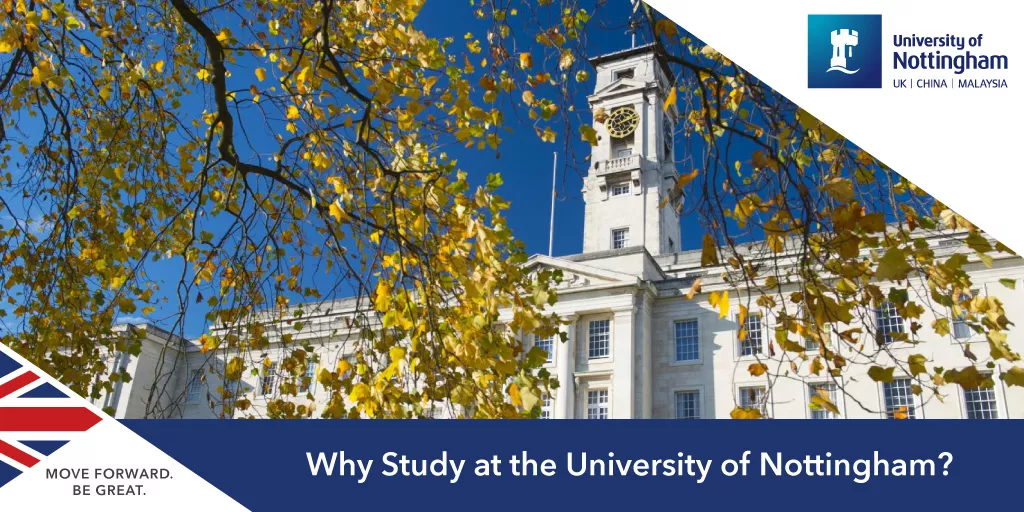 Five Reasons to Study at the University of Nottingham
1. Courses and Ranking
The University of Nottingham's academic departments are organised into faculties, including Arts, Engineering, Medicine and Health Sciences, Science, Social Sciences, and Business. These faculties encompass numerous subject areas, providing students with diverse options to pursue their academic interests.
At the undergraduate level, the university offers BA/BSc/BEng/BArch in English, History, Chemistry, Computer Science, Economics, Engineering, Medicine, and more. The courses provide students with a strong foundation in their chosen field while encouraging critical thinking, research skills, and practical application of knowledge.
For postgraduate studies, a range of taught and research master's degrees and professional development courses are available for multiple subjects. Postgraduate students have the opportunity to work closely with leading researchers and academics in their respective fields, contributing to cutting-edge research and advancements in knowledge.
The University's academic excellence is reflected in its consistency across the leading league tables from around the world. It is a member of the elite Russell Group, which comprises the top research-intensive universities in the UK. The university's reputation for academic excellence and research is reflected in its high rankings and recognition.
Nottingham has also achieved high rankings in subject-specific rankings, with several disciplines placing within the top 100 in the world. The university's strengths in areas such as Pharmacy and Pharmacology, Environmental Sciences, and Social Sciences have gained international recognition. Over the years, the university has received accolades for its commitment to sustainability, community engagement, and the employability of its graduates and has received multiple Green Flag Awards for its environmentally friendly campuses and initiatives.
2. Student Experience

Student life at the University of Nottingham is vibrant, diverse, and full of opportunities for personal growth, social engagement, and extracurricular activities. The university offers a supportive and inclusive environment where students can explore their interests and create memorable experiences. It also offers its students a range of accommodation options in its halls of residence that range from £97 per week to £131 per week.
The university has over 200 student-led societies and clubs covering a wide range of interests, from academic and cultural to sports and hobbies. Whether you're passionate about music, dance, photography, entrepreneurship, or even Quidditch, there's likely a society or club for you.
The University of Nottingham Students' Union (UoNSU) represents student interests, organises events, and provides support services. UoNSU hosts regular social events, live music performances, comedy nights, and club nights, creating a lively social scene for students. The Student Services team provides counselling, mental health support, and guidance on personal matters. Additionally, there are dedicated career services to help students with internships, job placements, and entrepreneurial ventures.
3. International Scholarships
Scholarships at the University of Nottingham are available for both undergraduate and postgraduate students and are designed to recognise academic excellence, support students from underrepresented backgrounds, and promote international diversity.
University of Nottingham Undergraduate Scholarships for Indian Students: South Asia Undergraduate Excellence Award- £6,000 tuition fees covered in the first year of the chosen degree course.
University of Nottingham, Master's Scholarships for Indian Students: International Postgraduate Excellence Award- Between £2,000 - £8,000 towards tuition fees for a full-time postgraduate master's degree programme.
South Asia Postgraduate Excellence Award: Between £4,000 and £8,000 towards full-time masters tuition fees.
4. Employability
The Careers and Employability Service at the University of Nottingham is dedicated to providing comprehensive support and resources to students and recent graduates in their career development and employment goals. The service provides one-on-one career guidance appointments with experienced career advisors. These advisors can assist students with career planning, exploring different career paths, identifying strengths and skills, and developing strategies to achieve their career goals.
The service organises workshops, seminars, and employer events throughout the academic year and these events cover a wide range of topics, such as networking, job search strategies, interview skills, and industry-specific insights.
The university also has a dedicated online job portal where employers post vacancies specifically for University of Nottingham students and graduates. The service also assists students in finding internships, work experience placements, and year-long industry placements to gain practical skills and experience in their chosen fields.
The service maintains a strong connection with the university's alumni network, providing opportunities for students to connect with successful graduates. Alumni often offer mentorship, job shadowing, and guest speaker sessions, sharing their experiences and insights to help current students navigate their career paths.
5. Accommodation
Comfortable student accommodation at the University of Nottingham is available across its three campuses, which are:
University Park
Jubilee Campus
Sutton Bonington
University of Nottingham accommodation options are supported by both privately managed halls and university-managed halls while adhering to both the UK (Code for university-managed halls) and ANUK (Code for privately managed halls) codes.
6. Great Location
Nottingham itself is a vibrant city known for its rich history, thriving cultural scene, and welcoming atmosphere. It offers a vibrant mix of modern amenities and historic charm, with numerous museums, art galleries, theatres, and music venues. The city's central location in the heart of England makes it an ideal base for exploring the rest of the country, with excellent transport links to major cities like London and Manchester.
Study at Nottingham University
Contact SI-UK to learn more about the University of Nottingham or to begin your application for the upcoming intake.