Anglia Ruskin University (ARU) is a modern and innovative institution offering cutting-edge technology and state-of-the-art facilities.
Founded as the Cambridge School of Art in 1858, the art school grew to become Anglia Ruskin University and now has four main campuses in Cambridge (ARU's first campus), Chelmsford, London, and Peterborough (ARU's youngest campus). The newer campuses of ARU, London and Peterborough offer degree courses at undergraduate and postgraduate levels in subjects such as business, law, finance, health, social care, and education studies.
Over the last few years, the University has invested over £115 million in its campuses. In the 2021 Research Excellence Framework (REF 2021), Anglia Ruskin University's research in 16 areas was rated as 'world-leading'. ARU's lecturers are not only highly academically qualified but also hold practical experience in the subject areas they're teaching.
With more than 100,000 alums from over 180 countries, notable names associated with Anglia Ruskin University include author Chris Beckett, footballer Ian Miller and actress Barbara Yung. Anglia Ruskin University (ARU) has an acceptance rate of 52%.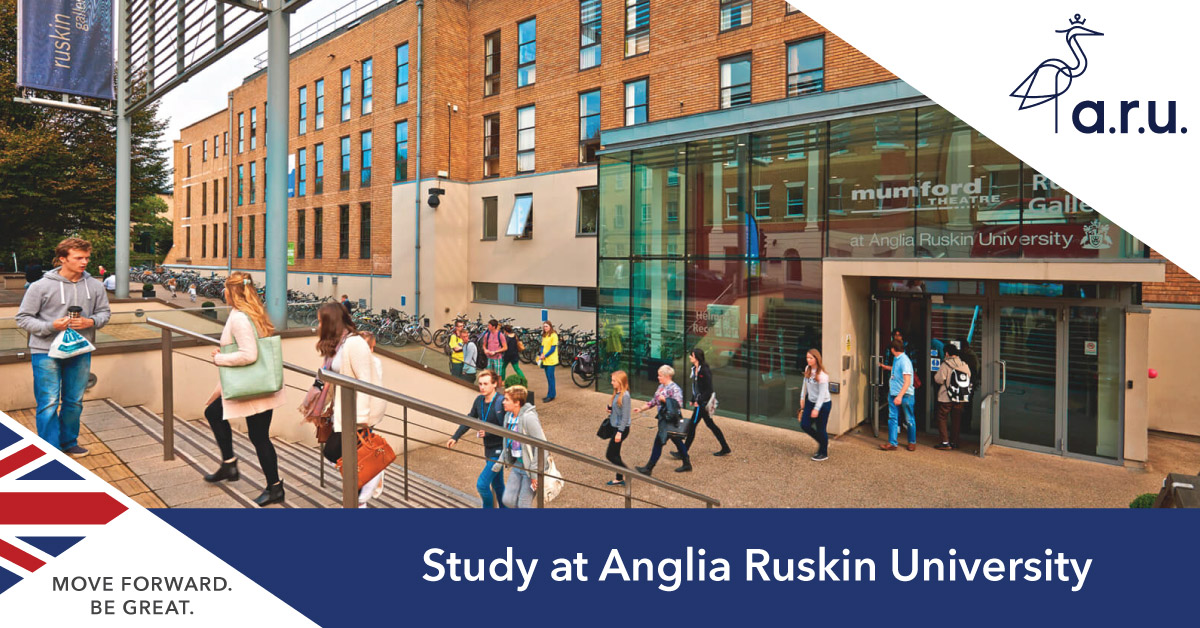 Five Reasons to Choose Anglia Ruskin University
1. Teaching excellence
ARU promises high academic standards and quality learning opportunities to its students. The University holds a TEF Silver award, which consistently exceeds the UK's rigorous national quality requirements for higher studies.
78% of ARU's teaching staff were recognised by the Higher Education Academy (HEA) against a sector average of 42%, which reflects the quality of teaching at the University. ARU was also one of the UK's top ten universities for Social Work, sports science, and Education courses in the Guardian League Table 2023.
2. Rankings and reputation
ARU has been placed in the top 40 UK universities and in the top 350 global universities as per the Times Higher Education World University Rankings. Other notable Anglia Ruskin University rankings include:
Graduate Outcomes Survey 2021: First in the region for graduate employment
Times Higher Education (THE) Impact Rankings: 1st in the UK for health and wellbeing
Knowledge Excellence Framework (KEF) 2021: Top 10% for skills and enterprise
3. Courses
Students get to choose from many courses and subject areas at ARU. The University is a leader in the Arts and Education as well as Health and Social Care. Some other popular Anglia Ruskin University courses are in the field of Engineering, Psychology and Life Sciences.
4. Careers and employability
ARU has been ranked in the UK's top 25% for graduate employment according to the figures compiled by the Higher Education Statistics Agency. The University is also among the top five universities in the UK for the number of UK part-time undergraduates in employment and/or further study within 15 months from graduation.
The Employability and Careers Service at ARU offers students with career advice and organises career events and company visits. Many Anglia Ruskin courses offer a placement year as part of the degree programme.
There are also ARU Temps to help students find part-time work in the city to support their studies and gain relevant experience and skills while studying at the university. Also, with the new two-year PSW visa, finding employment is more likely than ever in the UK.
5. Scholarships and bursaries
ARU offers a number of scholarships to international students, such as:
International Excellence Scholarship worth £4,000 is awarded to students based on academic and extracurricular achievement.
International Merit Scholarship worth £1,000 to £2,000 awarded to students based on academic merit.
MBA Scholarship worth £4,000 awarded to students enrolling on their full-time MBA course, or £2,000 for a two-year course with placement, based on merit.
Study at ARU
Contact SI-UK India to learn more about studying at Anglia Ruskin University and book a free consultation to begin your application for the upcoming intake.