If you want to study English Literature abroad, what could be better than the birthplace of the English language and the home of Wordsworth and Shakespeare? The UK is steeped in rich history, culture and tradition and their literature is an important part of what they represent.
UK universities have an edge over others when it comes to English Literature studies. Studying in the UK will give you the best of both worlds; you will be surrounded by iconic literary attractions from the yesteryears while living in one of the most modern and developed countries in the world.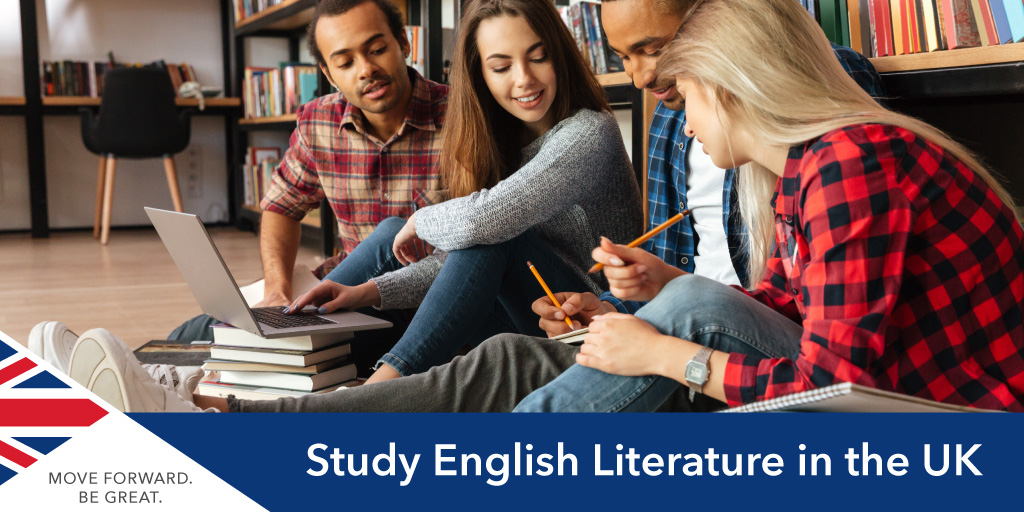 Eight reasons to study English Literature in the UK
1. Several classic English literature texts have been written by writers of British origin and are set in Britain.
To be able to visit the places where several iconic English literature texts originated and to see the birthplaces of famous writers in an exceptional advantage that students studying literature in the UK avail; you get to see their inspiration, visit the beautiful countryside they have described in their texts and thereby feel more connected to the subject you study.
2. The scope of studying English in India is of course not at par with that of studying English in the UK.
This is natural given that English isn't the first language there. The syllabi and teaching-learning will not be as authentic or practice-based as they will be in the UK. You'll get to be a part of literary clubs and societies and will generally be more practically involved in your area of study.
3. The UK offers more courses in English than almost every other country in the world.
You can pick from a range of degrees and choose a unique subject area to specialise in; a UK university of your choice will definitely be providing your preferred area of study.
4. UK English Literature programmes involve studying literature in context with other relevant disciplines.
Studying literature in the UK doesn't restrict students to the traditional texts of England but also encompasses studies of the Ancient Greek drama, studying literature in context to other disciplines such as history and philosophy, studying and comparing the British literature with that of different continents, such as American African and Asian literature, as well as other 'commonwealth' literature. The contemporary England literary scene is a multi-ethnic place as is reflected in the works of writers like Salman Rushdie, Zadie Smith and Kazuo Ishiguro.
5. You can enjoy the advantages of learning in a British accent and dialect.
Being exposed to the British accent and dialect helps students develop sound listening and speaking skills along with providing a deeper understanding of the literary texts. They acquire new vocabulary through not just classroom study but everyday casual conversations with other students.
6. You benefit from excellent teaching-learning facilities.
Other advantages to consider are the teaching-learning facilities that are provided at UK universities. Universities in the UK offer very different highly interactive teaching styles, along with quality education, well-stocked libraries and other state-of-the-art facilities.
7. You will pick up useful skills and become part of a global community.
Studying in the UK will make you a part of a global community, wherein you network with friends from the world over. Also, this might be a once in a lifetime opportunity to live in another country on your own. Build important life skills, develop confidence, communication skills and enhance your overall personality by studying and residing in one of the world's top study destinations.
8. Britain is one of the most cultured countries in the world.
Apart from all of this, you get to enjoy some of the world's best cafes, museums, restaurants, theatres, musicals, libraries, galleries and parks. Sip on some English tea and indulge in fish and chips by the river Thames. Immerse yourself in the British culture, one of the most loved cultures in the world and explore the Irish, Scottish and Welsh culture while you're at it!
The Best Universities to Study English Literature in the UK
Here are the top ten UK universities for studying undergraduate English Literature programmes according to The Guardian University Guide 2020:
Durham has consistently ranked as the number one university to study English Literature in the UK according to almost all university league tables. The modules at Durham include compulsory ones such as drama, novels and poetry as well as others on various authors, texts, and genres from diverse historical periods. Students get to study a single honours or joint degree in English.
Bolton English department ranks highly for student satisfaction as well as teaching quality. Students are taught by published writers and the University provides placement opportunities and invites prominent guest speakers from the industry from time to time. Students can study a single honours or joint degree in English combined with Creative Writing.
The Scottish university offers various English Literature courses in its School of English. Teaching spans from that of the Middle Ages to contemporary literature. The diverse courses offer the opportunity to study English, Scottish, Irish as well as American literature.
The University of Oxford sits at the number one spot in the UK and has the biggest English department of all the British universities. Students get to visit the famous Oxford libraries and get free access to the unlimited materials available there. The courses available are meticulously crafted and are flexible in that students have a certain say regarding which particular topics they wish to study apart from the core modules as part of their programme.
The English Literature Department at Birmingham offers a range of single and joint honours courses such as English and History of Art and English and Classical Literature & Civilisation. The core programme is in English literature and students can elect creative writing, film studies and English language studies.
Cambridge has a globally strong reputation with academics and employers and is renowned for the teaching of English worldwide. Cambridge's English Literature courses uniquely combine initially literary history studies with the chance to specialise in and develop your own interests at the undergraduate level too by choosing from a variety of specialisations in the areas of criticism, American literature, Chaucer, etc.
One of the world's top ten universities, University College London is the largest and most diverse college of the University of London. UCL's English department offers both great breadth and depth in its courses and students get to tailor courses according to their own interests. First-year students cover major literary texts and can go on to take six further self-chosen courses.
York offers great graduate prospects and a diverse and flexible English degree covering not just English prose, poetry and drama but also offering non-English original language and translated texts to choose from.
Solent provides core areas of study such as poetry, drama, literary theory and texts along with some exciting optional modules to its students. You will be taught by published writers. The English and Creative Writing degree programme is a particularly popular and employable one and they also offer English studies combined with Film and Media.
Lancaster offers a variety of degree combinations to study such as English Literature and Creative Writing and Literature and Film. Students study mandatory classic curriculum and move on to study texts and literature extending from Romantic till World literature.
Careers
A wide variety of careers are open to English Literature graduates such as teacher, journalist, librarian, writer, proofreader, assistant editor, copywriter, education consultant, creative marketing assistant and public relations officer.
Study English Literature in the UK
Study in world-renowned universities and immerse yourself in the rich British culture. Apply to study English Literature programmes at UK universities with SI-UK India or for any further information book your free consultation today.