Studying dentistry is a rewarding and fulfilling career choice for those passionate about oral healthcare and making a positive impact on people's lives. The United Kingdom is globally recognised for its excellence in dental education and offers numerous advantages for aspiring dentists.
In this article, we will explore five compelling reasons to study dentistry in the UK, highlighting the country's renowned education system, clinical exposure, research opportunities, diverse patient population, and international recognition.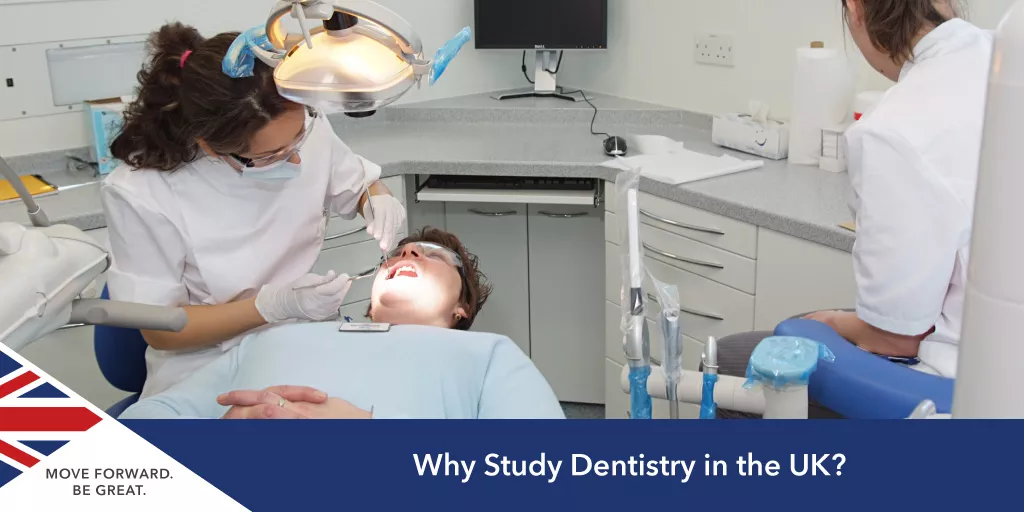 Five Reasons to Study Dentistry in the UK
1. Leading dentistry courses
The UK is known for its prestigious universities and rigorous academic programmes. UK dental schools consistently rank among the top institutions worldwide. For instance, according to the QS World University Rankings, the University of Birmingham ranks 1st in the UK and 10th globally for dentistry.
These institutions attract talented faculty members who are experts in their respective fields, ensuring students receive a high-quality education. The curriculum emphasises a strong foundation in dental sciences, clinical skills, and professionalism. The General Dental Council (GDC), the UK's dental regulator, ensures that dental education programmes meet stringent standards, contributing to the country's reputation for delivering exceptional dental education.
2. Extensive clinical exposure
Dental schools in the UK provide students with extensive clinical exposure, allowing them to gain valuable hands-on experience in treating patients. Many dental schools have their own state-of-the-art clinics where students can practice under the supervision of experienced faculty members.
For example, King's College London Dental Institute has Europe's largest dental teaching facility. This exposure begins early in the programme, allowing students to develop essential clinical skills, such as patient assessment, dental procedures, and treatment planning. Students develop competence and confidence by working directly with patients, ensuring a smooth transition into professional practice.
3. Research opportunities
The UK has a strong culture of dental research, offering numerous opportunities for students interested in advancing the field. UK dental schools collaborate with research institutions and dental hospitals, providing access to cutting-edge facilities and resources. According to Research England, UK dental schools received over £45 million in research funding in the academic year 2019/2020 and students actively participate in research projects, gaining valuable experience in scientific inquiry and critical thinking.
Engaging in research not only broadens their understanding of dental science but also fosters innovation and encourages evidence-based practice. The UK's commitment to dental research ensures that students receive a holistic education that combines theoretical knowledge with practical applications.
4. Multicultural environment
The UK's multicultural society allows dental students to treat a diverse range of patients with varying oral healthcare needs. According to the Office for National Statistics, the UK has a population of over 67 million, comprising various ethnicities, cultures, and socioeconomic backgrounds. This diversity provides invaluable clinical experience for students as they encounter a wide range of dental conditions and treatment challenges.
Interacting with patients from different backgrounds enhances students' cultural competence, empathy, and communication skills. It prepares them to deliver patient-centred care, adapt to cultural nuances, and establish strong relationships with patients. Exposure to a diverse patient population equips UK-educated dentists with the skills needed to provide quality care in any healthcare setting worldwide.
5. International recognition
A degree in dentistry from a UK university carries significant international recognition and opens doors to a global career. The General Dental Council regulates dental professionals in the UK and ensures dental education programmes meet high standards. This recognition and the reputation of UK dental schools make UK-educated dentists highly sought after worldwide.
Dentistry Entry Requirements
The minimum academic qualifications for postgraduate dental courses in uk for international students usually include A-levels or equivalent qualifications, such as the International Baccalaureate (IB) or Scottish Highers/Advanced Highers. Specific subject requirements typically involve achieving specific grades in subjects like Biology and Chemistry.
Best Dentistry Course in the UK
King's College London is considered the best dentistry university in the UK, having ranked 1st in the country (QS World University Rankings 2023). Its Dentistry BDS is a comprehensive programme integrating cutting-edge dental education with early clinical exposure. Led by esteemed faculty members, students benefit from a wide range of skills and knowledge within a dynamic clinical environment.
Divided into three core components, the Dentistry BDS course covers a broad spectrum of subjects. The first component establishes a solid foundation in biomedical sciences, behavioural sciences, epidemiology, pathology, microbiology, and human disease, shared with the medical field. The second component focuses specifically on the oral and dental aspects of biological sciences, equipping students with a deep understanding of oral and dental disease diagnosis, prevention, and treatment and the impact of systemic diseases on oral and dental tissues. The third component encompasses dentistry's clinical and technical aspects, empowering students to deliver comprehensive oral and dental healthcare to patients of all age groups.
As the degree programme advances, the curriculum evolves from theoretical and academic sciences to practical and clinical experiences. The final three years of the course are dedicated to providing students with extensive clinical exposure through structured placements in the community, where they collaborate with a dental team and gain valuable firsthand experience in diverse healthcare settings.
Dentistry Course FAQ
Which country is best for Indian students to study dentistry?
The United Kingdom is considered one of the best countries for Indian students to study dentistry due to its renowned dental schools, quality education, and global recognition.
How is the UK for Indian dentists?
The UK has a well-established dental healthcare system, a high demand for dental professionals, and offers competitive salaries and career growth prospects.
Is it worth becoming a dentist in the UK?
Becoming a dentist in the UK can be worth it for individuals passionate about oral healthcare. It offers a rewarding profession with good earning potential, job stability, and specialisation and professional development opportunities.
What is the scope of dentistry in the UK?
The scope of dentistry in the UK is extensive. It encompasses general dentistry, specialised fields like orthodontics and periodontics, research, academia, and dental public health. The UK's healthcare system provides many dental services, creating ample career opportunities.
What is the salary of a fresher dentist in the UK?
The salary of a fresher dentist in the UK varies depending on factors like location, experience, and type of employment. On average, a newly qualified dentist can expect a starting salary of around £30,000 to £40,000 per year.
Are UK dentists well-paid?
Yes, UK dentists are generally well-paid compared to many other countries. The earning potential of dentists in the UK is considered good, especially as they gain experience and establish their practices or work in high-demand areas.
Which field of dentistry makes the most money in the UK?
While the income in different dental fields may vary, oral surgeons or maxillofacial surgeons tend to earn the highest salaries in the UK. Their specialised surgical expertise and the complexity of their procedures contribute to their higher earning potential within the dental profession.