Founded in 1883, Cardiff University is a challenging, innovative, and rewarding academic environment driven by creativity and curiosity, where students can learn from teachers and researchers. Students at the University benefit from worldwide collaborations which benefit teaching and research.
In the 2023 Times Good University Guide, Cardiff was again ranked as the best university in Wales. The University is also ranked 11th in the UK for its research impact (REF 2021) and, according to the latest QS World University Rankings 2023, Cardiff University ranks in the top 50 for Psychology, Architecture/Built Environment, Communication and Media Studies.
Cardiff University offers over 300 courses that are in demand by leading employers. The University's postgraduate community is known internationally for its outstanding research and teaching community.
Cardiff's popularity amongst students from India is based on factors such as university rankings, reasonable cost of studying, ease and assistance in the application process, location, student life, availability of local food and groceries, services for international students, student clubs and societies, and job prospects.
Learn more about the advantages of studying at Cardiff for Indian students below, or to begin your application to study at the University, arrange a free consultation with SI-UK India today.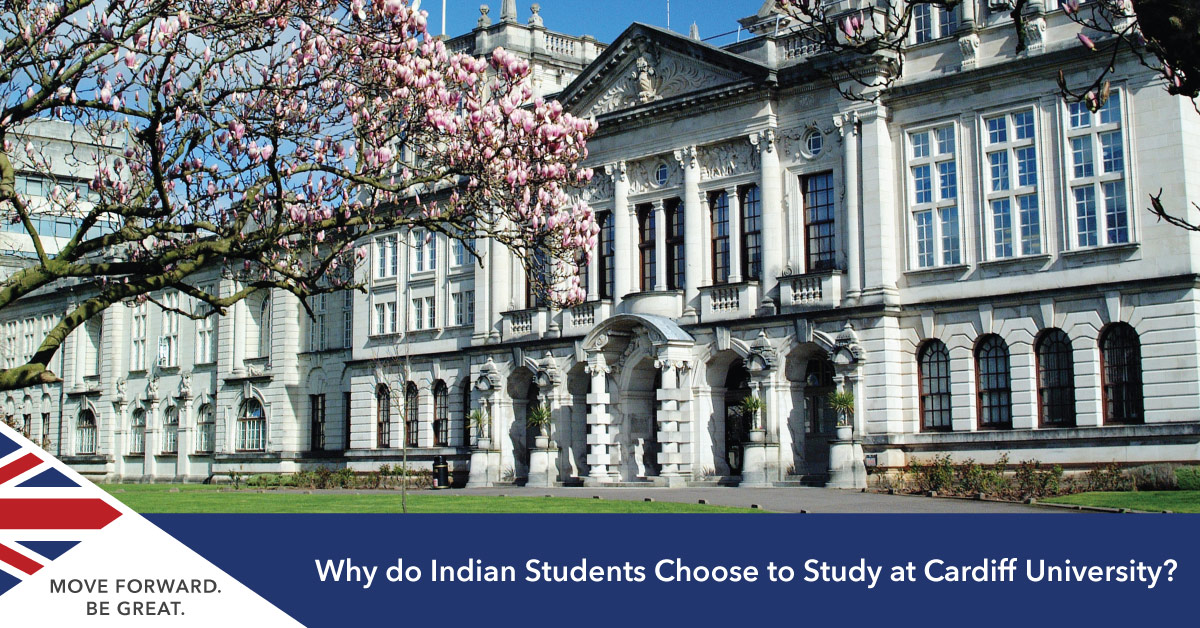 Five Reasons to Choose Cardiff University
1. Ranking and global reputation
Cardiff University is a world-leading research university with more than 100 internationally recognised research specialisms. It is ranked 2nd in the UK for research impact, is among the top 30 universities in the UK and is a world top 160 university. It runs one of the largest international postgraduate programmes in the world.
Many Cardiff University subjects are ranked among the top 50 in the world each year and among the top 10 in the UK.
2. Variety of high-quality courses
Cardiff University's research-led teaching encompasses humanities, natural, physical, health, life and social sciences; engineering and technology and lifelong learning.
You'll soon find that your course is set within an environment that supports high academic excellence in an innovative setting.
Wherever you are within the undergraduate/postgraduate experience, there is always something happening to help you develop your skills and knowledge and develop personally as a person - this is what we call learning for life!
3. Cardiff MBA
The Cardiff MBA is a carefully designed module of learning designed to nurture your curiosity and inform your enquiry process. The University delivers the programme on small group work, industry speakers, role-play and simulations, and various project work opportunities.
4. Cheaper cost of living
Studying abroad in the UK is generally not cheap, but Cardiff is significantly less expensive to live in as a student than in other UK cities. The city comfortably matches the minimum living costs (including rent, food, travel and bills) recommended by UKVI for students studying outside of London i.e. £1,015 per month. Of all UK's university cities, Cardiff has the second lowest monthly rent costs and abundant affordable student accommodation is available both on and off-campus.
5. Career support and employability
95% of Cardiff University graduates enter employment or further study after graduating, while 78% obtain graduate-level employment. The University offers continued support to students after graduation.
Cardiff alumni can also get personal careers advice for up to three years from their course end date, including access to graduate resources and support, consulting an adviser in-person, coaching sessions, mock interviews, and instant feedback on CV and cover letter.
Indian students at Cardiff who enroll onto undergraduate and postgraduate programmes this summer can also benefit from the new post-study study work visa scheme, also known as the Graduate Immigration Route, which allows all international students to stay and work in the UK for a period of two years post completion of their study programme.
Study at Cardiff University
Become a part of the large and diverse community of Indian students at Cardiff University. Start your application by arranging a free consultation online or in-person at SI-UK India today.