One of the UK's top public universities, Northumbria University has a rich history dating back to 1880 and was granted university status in 1992. With more than 34,000 students enrolled from 140 nationalities, Northumbria is a popular choice with international students applying to study in the UK.
A TEF silver-rated university, Northumbria delivers high-quality teaching, learning and results for its students and consistently exceeds rigorous national quality requirements for UK Higher Education, and many of the courses offered at Northumbria carry accreditation from professional bodies.
Located in Newcastle upon Tyne, Northumbria is an hour away from Edinburgh and three hours away from London. The University also has a campus in the centre of London and in Europe in Amsterdam.
Find out about the top reasons why international students choose to study at Northumbria below and arrange your free consultation to speak with an SI-UK India study abroad expert today.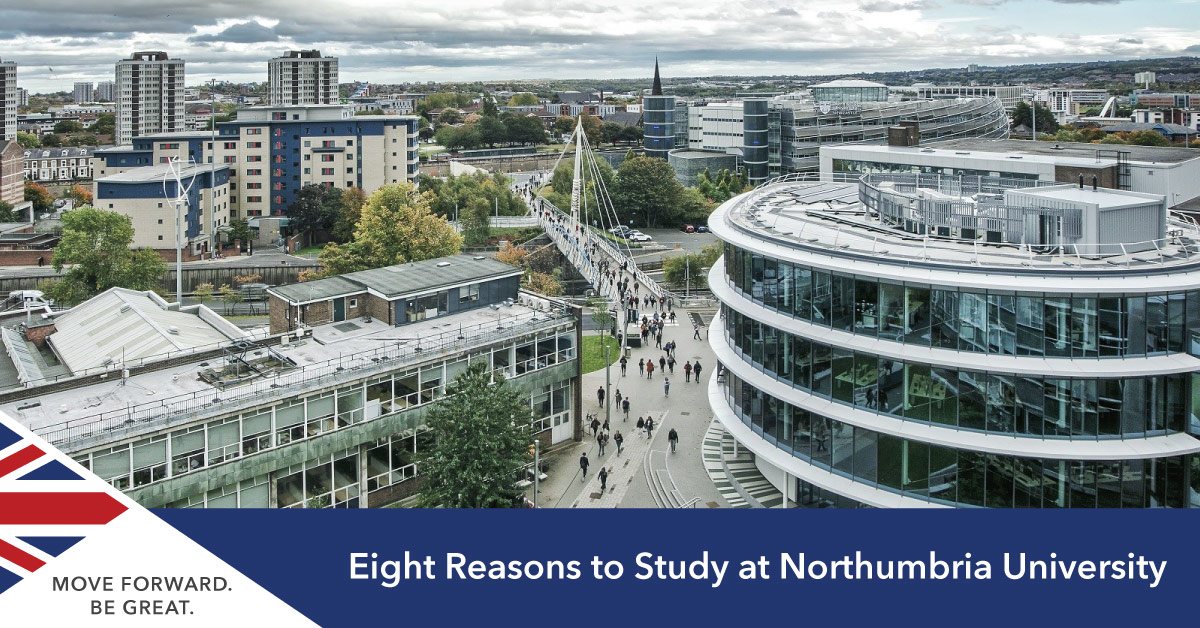 Eight Reasons to Study at Northumbria University
1. Ranking and Reputation
Northumbria is ranked 27th in the UK out of over a hundred universities and is 6th in the UK for studying Health Professions (Guardian University Guide 2021). The University was voted top young UK university in the Times Higher Education's Young Universities Rankings 2020.
Top ranking subjects at Northumbria according to the Times Higher Education are:
8th in the UK for Electronic & Electrical Engineering
11th in the UK for Building Town and Country Planning
12th in the UK for Nursing & Midwifery
13th in the UK for Architecture
2. Best Student City
Northumbria University is located in Newcastle upon Tyne in the North East of England. Newcastle is a vibrant city that regularly features in the best student cities in the UK. One in every six people in the city is a student, making it the ideal place for international students to live and study.
3. London Campus
For those who are interested in studying in the UK's capital, Northumbria has a London campus that is situated right in the centre of the city's business and finance district near Liverpool Street Station. The campus offers a range of Business, Computing, Cyber, Project Management and Technology focused undergraduate and postgraduate programmes.
4. Facilities
Facilities available for students include indoor and outdoor study spaces, digital hubs, laboratories and studios, several catering and retail outlets, sports facilities at the £30 million flagship 'Sport Central', and one of the best academic libraries in the UK with more than a million books available in the form of print books, e-books and e-journals.
5. Student Accommodation
Northumbria is ranked in the top 3 in the UK for student accommodation. There are more than 4000 rooms available on or near the campus, and private accommodation is easily available at reasonable prices with one of the university's recommendations. Students can have their pick from top en suite accommodation to budget-friendly options.
6. Northumbria Global Scholarships
Northumbria offers global scholarships to qualifying students. The postgraduate scholarships are worth £2000 and undergraduate scholarships are worth £3000 & £1500 for every subsequent year. The scholarships are applied automatically as a fee discount and students are not required to make a separate application.
7. University Accreditations
Northumbria University's accreditations include:
Royal Institute of British Architects (RIBA)
The British Psychological Society
Institution of Mechanical Engineers
The Chartered Institute of Marketing (CIM)
The Chartered Institute for IT (CIT)
The Institution of Engineering and Technology (IET)
Chartered Institute of Procurement & Supply (CIPS)
Association to Advance Collegiate Schools of Business (AACSB)
and other accreditations like BCS, EPAS, RICS and CIOB
8. Employability
Northumbria University is in the Top 15 in the UK for graduates in highly skilled employment (Graduate Outcomes 2017/18). The University has a strong reputation among employers thanks to its vast alumni network of 215,000 people and alumni track record.
Top recruiters who have hired Northumbria graduates include PWC, Accenture, Ford, IBM, Samsung, GlaxoSmithKline, IBM, Microsoft and Deloitte.
Study at Northumbria University
Applications for the September 2021 intake at Northumbria University are still open. If you are interested in studying at Northumbria, hurry and arrange your free consultation with SI UK or visit one of our offices near you to start your application today.
Related Articles