There are over 130 universities in England, including some of the world's best. The country has traditionally been a centre of education, having produced several renowned academicians, writers, scientists, etc.
From an international student perspective, England is a hugely diverse country, and studying there can provide students with exposure to different cultures, customs, and traditions. This can be a valuable experience, as it can help students develop a global perspective and build their cultural awareness. Studying in England can also provide students with an opportunity to improve their language proficiency.
Studying at top universities in England is a challenging and rewarding experience and can help students develop important life skills such as independence, self-reliance, and adaptability. These skills can be valuable in both personal and professional contexts.
Learn more about the top colleges in England below (Times & Sunday Times Good University Guide 2023) and if you would like to begin your UCAS application to study at England's best universities, arrange a free consultation with SI-UK today.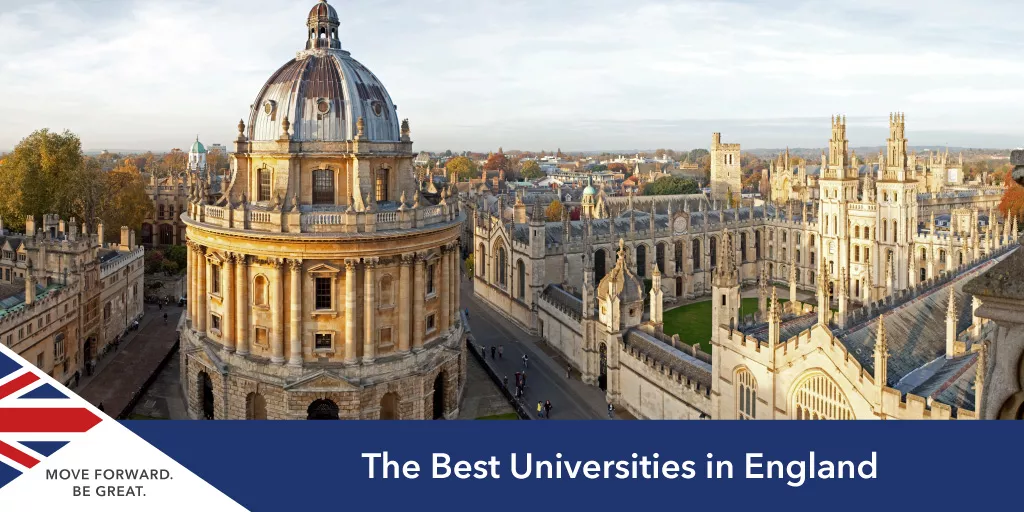 The Top Universities in England 2023
The University of Oxford is a world-renowned research university in Oxford, England. It was founded in the 12th century and is the oldest university in the English-speaking world.
Oxford has a long history of academic excellence and has produced numerous influential figures in various fields, including science, politics, literature, and more. It is a member of the prestigious Russell Group of research-led universities and consistently ranks among the top universities globally in various academic rankings.
Founded in the early 13th century, the University of Cambridge is one of the world's oldest and most prestigious universities. Over the illustrious history of over seven centuries, Cambridge has produced multiple international personalities, including Lee Kuan Yew (former Singaporean PM), Sylvia Plath (poetess), and Alan Turing (English Mathematician).
Cambridge is the wealthiest university in Europe and among the wealthiest in the world by endowment size. The university is home to several cultural centres, state-of-the-art scientific museums, and 116 libraries with around 16 million books.
The London School of Economics and Political Science (LSE) is the top college in London. It was founded in 1895 and is considered one of the leading social science universities in the world. LSE focuses on studying social sciences, including economics, politics, sociology, law, and more.
LSE has a reputation for producing cutting-edge research and is consistently ranked among the top universities in the UK and the world for social sciences. LSE has a strong international reputation, attracting students and faculty from all over the world.
Imperial College London is ranked 6th in the world (QS World University Rankings 2023) and 10th worldwide (THE World University Rankings 2023). It was founded in 1907 and has a focus on science, engineering, medicine and business. Imperial courses are known for their cutting-edge research and innovation, centred on its White City campus. Imperial College has produced 15 Nobel Prize laureates and has a reputation for producing world-class graduates.
Durham University was founded in 1832 and is one of the most prestigious universities in England. It is a member of the Russell Group of universities and is known for its high academic standards and research output. The university has a diverse range of subjects, including humanities, social sciences, natural sciences, and engineering.
Durham has a student population of over 19,000 and a diverse community of staff and students from over 170 countries. Durham's awards and accolades include the Sunday Times University of the Year, Times and Sunday Times Sports University of the Year.
Study in England
Are you considering studying in England? Arrange a free consultation with SI-UK India and get all your questions answered regarding programme selection, scholarships, and entry requirements.