Being a CEO might sound like a far-fetched dream but what if we tell you that some universities have been known to produce the most number of CEOs in the world? Universities in the UK are not just the best in the world for education but also offer work skills that can help skyrocket your career.
In a recent study by Hitachi Finance, data of over 8 million people on LinkedIn was analysed to find out which university graduates are more likely to become CEOs. The results indicate that a high percentage of UK university graduates are now in the topmost positions like CEOs, MDs and CTOs in different sectors and companies.
The study revealed that it wasn't just the top ranking UK universities that create leaders. Many of the less popular universities have also produced business leaders and risk-takers who reached top corporate positions in less time.
Learn more below about which universities produce the most CEOs and begin your UK study application by arranging a free consultation with SI-UK India today.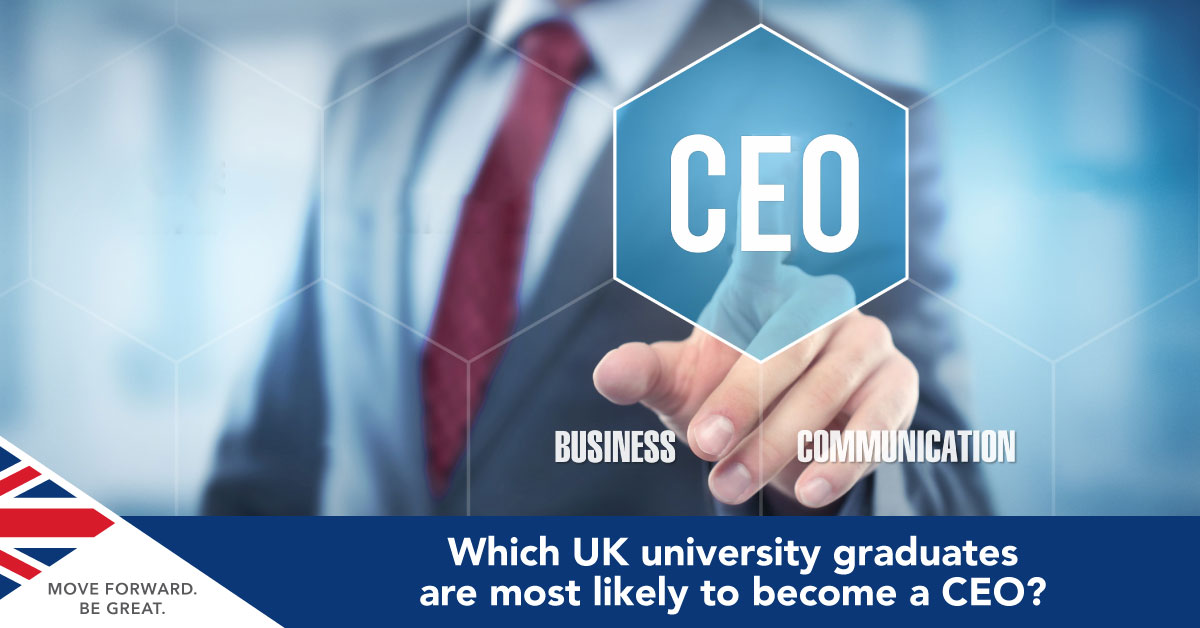 Top 5 UK Universities that Produce the Maximum Number of CEOs
A total of 121 UK universities were selected for this study. If you plan to study in the UK and aspire to become a business leader, you must consider these top 5 universities known for producing the most CEOs.
London School of Economics and Political Science
London School of Economics and Political Science is amongst the oldest and most prestigious universities in the UK. With over 48% of international students, the University is a top choice for anyone opting to study in the UK.
Percentage of CEOs: 15.98
Popular Courses Offered: Economics, Law, Social Science
Location: London, England
2. University of Cambridge
Reputed to be the best university in the world, University of Cambridge, offers great undergraduate and postgraduate degrees in various disciplines. The University of Cambridge degrees and courses are greatly valued by employers and organisations all over the world.
Percentage of CEOs: 12.99
Popular Courses Offered: Economics, Law, Science
Location: Cambridge, England
3. University of Oxford
The University of Oxford is the second oldest university in the world and has amazing stature in every respect. This place is known for its research facilities, one-on-one expert training and an enormous library. Studying at the University of Oxford greatly boosts your career and quadruples the employment chances.
Percentage of CEOs: 12.75
Popular Courses Offered: Humanities, Law, MBA.
Location: Oxford, England
4. SOAS University of London
SOAS University of London is popular amongst students looking forward to specialising in language, culture, arts and other related subjects. A huge number of international students choose this university for its extensive support and wide learning opportunities.
Percentage of CEOs: 12.75
Popular Courses Offered: African, Asian & Middle East Studies
Location: London, England
5. University of Cumbria
The University of Cumbria is known for its quality of teaching and the opportunities it provides graduates opting for either further studies or employment in the UK. Classes are small in size, offering a personalized and comfortable experience to students.
Percentage of CEOs: 11.74
Popular Courses Offered: Teacher Training, Law, Psychology
Location: Carlisle, England
Apart from these some other star contenders in this list are London Metropolitan University, University of Westminster and Buckinghamshire New University.
Scholarships at UK Universities
Financial aid is easily available in the form of scholarships at the above mentioned UK universities.
Here is the list of some of the scholarships accessible to international students:
Prince Philip Scholarship: Available at the University of Cambridge
Cumbria Bursaries for first-year undergraduate students: Available at University of Cumbria
International Postgraduate Scholarships: Available at SOAS University of London
Apart from the university-specific scholarships, other aids are also available based on your nationality. You can enquire more about scholarships by contacting our experts at SI-UK India.
Study in the UK
Studying in the UK has its own advantages. According to a recent study, London is chosen to be the best city for students in the world. Other student cities in the UK are also ranked in world's best cities for international students, speaking loudly about the popularity of UK universities amongst international students.
For any guidance or information, you can book a free consultation with an SI-UK India education expert today.