In the 2023 TEF results, out of the 129 higher education institutions in the UK with university status, 33 received a gold rating, 66 silver, and 4 were awarded a bronze rating. Universities with a Gold rating are at the top of the pyramid for their high-quality teaching and learning.
Learn more about the top UK universities that received gold ratings and book a free consultation with SI-UK India today to begin your application.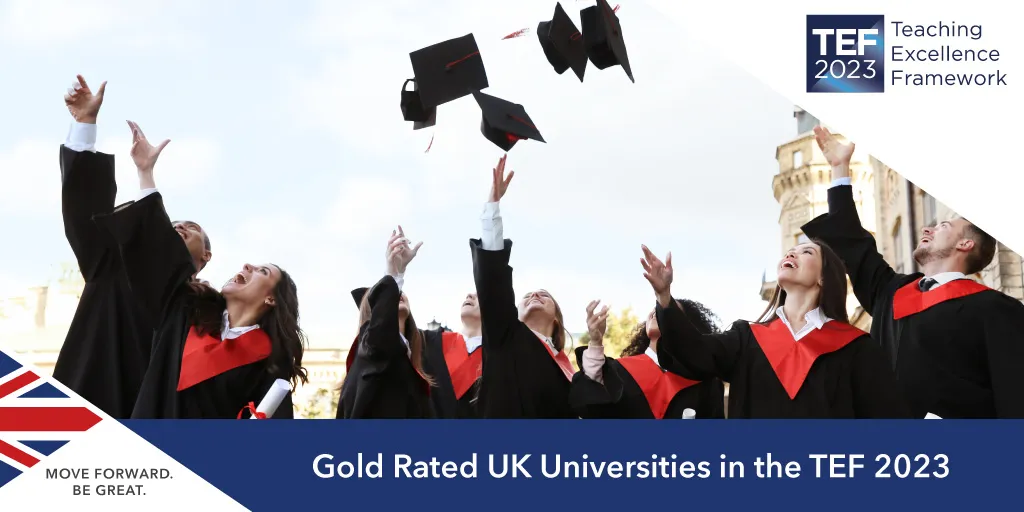 Gold Rated UK Universities 2023
Anglia Ruskin University (ARU) is renowned for its courses in business, health sciences, and the arts. Students choose ARU for its focus on preparing them for the job market, its state-of-the-art campuses, and its wide variety of courses that can be tailored to fit their goals.
UK university ranking: 115th
Acceptance rate: 52%
View ARU courses
Aston University has solid ties with the business community, and all their courses emphasise hands-on skills to make students job-ready as soon as they graduate. The university is preferred amongst students aspiring to succeed in business and technical professions.
UK university ranking: 38th
Acceptance rate: 50%
View Aston courses
Coventry University stands among the UK's top academic institutions, offering a rich academic journey complemented by modern facilities and a lively student community. If you decide to study here, you'll receive a top-notch education tailored for success in your desired career path.
Guildhall School of Music and Drama is recognized globally for its professional training, partnering with renowned artists and groups. It holds top positions in various university guides for its exceptional Arts, Drama, and Music training.
Harper Adams University leads the way in addressing the challenges related to food production, processing, animal sciences, and more. Established in 1901, it offers specialised education in agriculture degrees and related fields.
Hartpury University, situated in Gloucestershire, specialises in degrees related to agriculture, animals, equestrian studies, sports, and veterinary nursing. Its high-quality curriculum and state-of-the-art facilities make it a preferred choice for many students seeking both college and university-level qualifications.
Imperial College London focuses exclusively on science, technology, engineering, medicine, and business. Its degrees are highly regarded worldwide and the college is ranked highly in the UK. Students can also engage in a wide variety of extracurricular activities.
Keele University, the first new academic institution of the 20th century in the UK, champions interdisciplinary studies. It introduced the Dual Honours degree, and most of its students still opt for this approach, although single honours degrees and foundational studies are also available.
UK university ranking: 68th
Acceptance rate: 80%
View Keele courses
Kingston University has an excellent record for teaching quality, aiming to develop students' potential, transform their lives and improve society. Students can choose from various degrees reflecting their interests and modern workplace demands. Four teaching campuses of Kingston University are located in and around Kingston upon Thames, a lively and student-friendly London borough that's just a 30-minute train ride from the heart of the capital.
Lancaster University offers a unique structure with eight undergraduate and a postgraduate college. Each of these colleges provides many experiences, from wellness programmes to social events.
Loughborough University boasts a diverse student population from over 130 countries, including a significant contingent from India. With an acceptance rate of 68%, gaining admission to Loughborough University can be moderately challenging. The university is recognized nationally for its commitment to research, teaching excellence, fruitful connections with the corporate sector, and significant accomplishments in sports.
Norwich University of the Arts (NUA) is a premier institution in the UK, focusing on arts, architecture, design, media, and creative sciences. Students at NUA become part of a vibrant creative ecosystem, benefiting from the institution's excellent teaching standards, top-tier facilities, and a high level of overall student contentment.
Plymouth Marjon University is characterised by its serene campus and top-tier facilities. What sets it apart, however, is its student community. With a history spanning 180 years, the institution has left a mark globally with its commitment to positive change.
UK university ranking: 83rd
Acceptance rate: 85%
The Royal Academy of Music has 22 specialised musical departments. Its students come from over 60 countries, and it has collaboration agreements with various global conservatoires, allowing student exchanges.
The Royal College of Music, established in 1883, provides comprehensive training to musicians from over 55 countries. With a vibrant event calendar, it plays a pivotal role in the global music scene.
UK university ranking: 1st (2023 QS World University Rankings by Subject: Music)
Acceptance rate: 18%
Royal Northern College of Music
The Royal Northern College of Music is associated with the Royal Schools of Music Board. Their courses span Musicology, Composition, Performance, and more, ensuring a bridge between research and practical teaching.
Acceptance rate: 18%
View Royal Northern courses
Sheffield Hallam is a welcoming community of students and staff from more than 120 countries. The University offers exceptional teaching across 700 programmes at foundation, undergraduate, postgraduate and research degree level.
UK university ranking: 86th
Acceptance rate: 43%
Solent University is dedicated to providing students with real-world opportunities and practical knowledge. The focus is always on moulding students into professionals ready to make a substantial impact.
Teesside University, founded in 1930, is now a key member of the University Alliance. Over the years, it has transitioned from a technical college to a university, gaining recognition and stature.
The University of Bath is globally recognized for its quality of teaching and is equipped with modern amenities to cater to student needs. In the historic city of Cambridge, the university is known for its academic excellence, producing great minds like Stephen Hawking and talents like Emma Thompson.
UK university ranking: 8th
Acceptance rate: 17%
View Bath courses
Cambridge University, nestled in the historic city of Cambridge, is a beacon of academic distinction. This globally renowned institution has been a nurturing ground for eminent personalities like Stephen Hawking and Emma Thompson.
Chichester University excels in performing arts and sports. It is also celebrated for its innovative teaching methodologies and emphasis on impactful research, which broadens students' horizons.
Derby's educational establishment offers courses tailored to match industry demands, ensuring its graduates thrive in arts, digital entertainment, and governance.
UK university ranking: 82nd
Acceptance rate: 80%
View Derby courses
Exeter's academic hub stands out for its prowess in business studies, scientific research, and humanities. Its alumni community boasts names like the famous writer J.K. Rowling.
Huddersfield University prioritises applied sciences and artistic disciplines. The institution is lauded for its approach towards making students job-ready, its commitment to research, and its diverse curriculum.
The University of Hull, established in 1927, offers various courses and is particularly noted for its marine science disciplines. It proudly stands as the 14th oldest educational institution in England.
UK university ranking: 67th
Acceptance rate: 80%
View Hull courses
Liverpool's premier academic institution is recognized for its expertise in health and general sciences, as well as humanities. Internationally, it is a preferred choice for students due to its commitment to quality education.
Oxford University is synonymous with academic brilliance. This iconic institution attracts the best minds and has given the world influential figures like Oscar Wilde and Theresa May.
Plymouth's university is celebrated for its comprehensive courses, especially in marine studies. The institution prioritises its students' well-being and academic success, ensuring they are well-placed after graduation.
Portsmouth University is known for its engineering, commerce, and arts strengths. Its dedication to ensuring students are job-ready is evident, with alumni like actor Kunal Nayyar testifying to its excellence.
The University of Warwick is an esteemed learning centre renowned for its research prowess and diverse courses, ensuring a dynamic campus environment.
The University of York is a force for progressive change. This globally oriented university fosters a community committed to positive transformation. It is committed to bettering society, the environment, and prospects.
UK university ranking: 15th
Acceptance rate: 20%
View York courses
Study in the UK
Contact SI-UK today to learn more about gold-rated universities in the UK or to begin your application for the upcoming intake.
Teaching Excellence Framework FAQ
Which universities have TEF Gold?
Among numerous UK universities, 32 have been distinguished with TEF Gold status. This elite group includes the University of Portsmouth, Imperial College London, the University of Bath, and Teesside University.
What are the 4 TEF Awards?
The UK's Teaching Excellence Framework categorises higher education institutions into four classifications: Gold, Silver, Bronze, and Provisional. Gold signifies the pinnacle of accomplishment in the TEF assessment.
What is the minimum TEF score?
In the TEF assessment, "Bronze" serves as the foundational rating. Universities and colleges that secure a Bronze have satisfied the fundamental standards for teaching quality but might require enhancements in some sectors to ascend to Silver or Gold ratings.