Business courses in the UK provide students with a solid foundation in various aspects of business, including finance, marketing, management, entrepreneurship, and more. Universities from across the UK are known for their exceptional business courses, offering undergraduate, postgraduate, and doctoral programmes in business-related disciplines, providing students with a comprehensive education combining theoretical knowledge and practical applications.
Studying business in the UK offers numerous benefits. The country has a strong business ecosystem, with London being a global finance, commerce, and entrepreneurship hub, and UK business courses often incorporate industry connections, internships, and practical projects, allowing students to gain real-world experience and build valuable networks.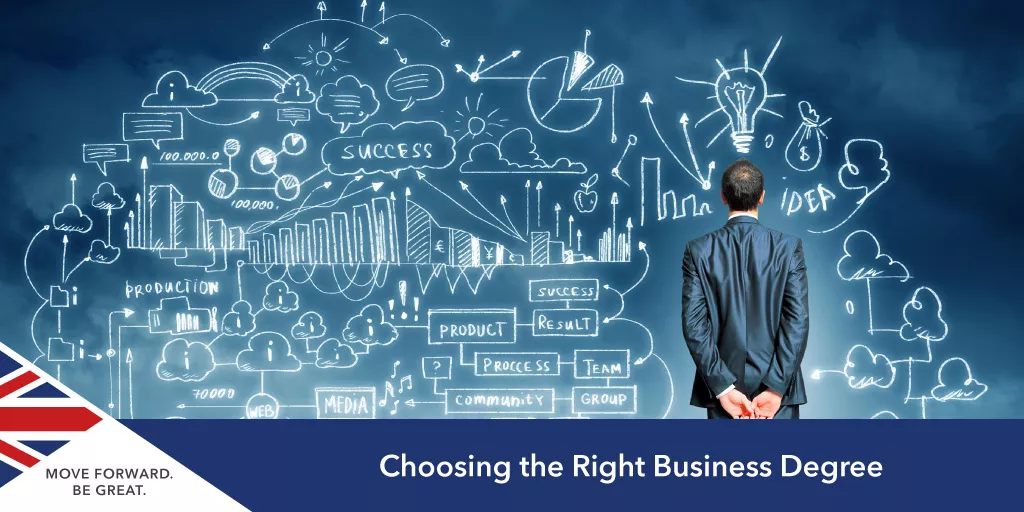 Five Great Business Courses to Study in the UK
1. Bachelor's Degree in Business Administration (BBA)
A Bachelor's Degree in Business Administration is a popular choice for individuals seeking a comprehensive understanding of business principles. This programme covers a broad range of popular subjects, including finance, marketing, management, and entrepreneurship. It equips students with a solid foundation in business and provides opportunities for specialisation in specific areas of interest.
Where to study:
2. Bachelor's Degree in Economics
Another excellent business course option in the UK is a Bachelor's Degree in Economics. This programme provides students with a strong understanding of economic principles, theories, and analysis, exploring topics such as macroeconomics, microeconomics, econometrics, and economic policy. A degree in economics equips students with analytical and problem-solving skills that are highly valued in various industries, including finance, consulting, and government.
Where to study:
An MBA is a postgraduate degree that caters to individuals with professional experience who seek to enhance their managerial skills and advance their careers. This degree provides a deeper understanding of business strategy, leadership, and decision-making and often offers specialisation options to align with specific industries or functional areas.
Where to study:
4. Master's in Finance
For individuals interested in the financial sector, a Master's in Finance provides specialised knowledge in areas such as investments, risk management, and financial analysis. This programme prepares students for roles in investment banking, asset management, corporate finance, and more.
Where to study:
5. Entrepreneurship and Innovation Programmes
If you have an entrepreneurial spirit and aspire to start your own business, specialized programmes in entrepreneurship and innovation can provide you with the knowledge and skills needed to succeed in the competitive business landscape.
Where to study:
| Programme | Fee (Approx.) | Top UK Universities |
| --- | --- | --- |
| Bachelor's Degree in Business Administration (BBA) | £9,250 - £20,000 per year | London School of Economics and Political Science (LSE), London, University of Warwick |
| Bachelor's in Economics | £9,300 - £22,000 per year | University of Cambridge, University of Oxford |
| Master of Business Administration (MBA) | £25,000 - £70,000 | University of Cambridge, Saïd Business School |
| Master's in Finance | £15,000 - £32,000 | London Business School (LBS), Imperial College Business School |
| Entrepreneurship and Innovation programmes | £12,000 - £28,000 | University of Strathclyde, Cranfield School of Management |
Please note that the fees mentioned are approximate and can vary depending on factors such as nationality, programme duration, and specific university policies.
Choosing the Right Course FAQ
Q. Which business course has the highest salary?
Courses such as finance, investment banking, management consulting, and marketing are often associated with high salaries due to the demand for professionals in these fields and the potential for substantial bonuses and commissions.
Q. Why should I study a business course?
Studying business courses offers versatility in career choices, provides entrepreneurship opportunities, enhances job prospects, facilitates networking with professionals, and develops a solid understanding of key business concepts.
Q. What are the admission requirements?
Common admission requirements for business courses may include a high school diploma or equivalent qualification, satisfactory academic performance, letters of recommendation, personal statements or essays, standardised test scores (if required), and an application fee.
Q. Which course has the best job opportunities in the UK?
Fields such as Business Management, Accounting and Finance, Computer Science and Information Technology, and Engineering offer excellent job opportunities in the UK.
Q. Is it worth getting a degree in business?
The worth of a business degree depends on personal goals, interests, and career aspirations. A business degree offers diverse career opportunities, networking prospects, skill development in critical areas, and potentially higher salaries compared to those without a degree.
Q. How long does it take to get your business degree?
The duration to obtain a business degree varies based on the level of the degree and study mode. A bachelor's degree in business typically takes three to four years, a master's degree (MBA) takes one to two years, and a doctorate degree (PhD) can take four to six years.