The number of international students in the UK, especially from India, has been consistently on the rise over the past decade. Each year a growing number of students choose universities in the UK for their quality education, world leading research, great learning environment and high graduate employability.
The job prospects for international students in the UK have further improved after the UK government relaxed post study work visa rules in 2019. All international graduates will now be able to stay back in the country for upto 2 years after completion of their course on the PSW Visa. Students in the UK now have more time to find a suitable job, work and get a headstart in their international career.
While the big UK cities like London and Manchester are full of good employment opportunities, other cities such as Edinburgh offer a healthy work-life balance. The choices can be confusing and overwhelming. Factors such as quality of life, business ecosystems and leisure and culture opportunities in a city play an important role in improving the overall work satisfaction.
Mentioned below are the best cities to live and work in the UK after graduation. If you want to learn more about studying and working in the UK, book a free consultation with SI-UK today.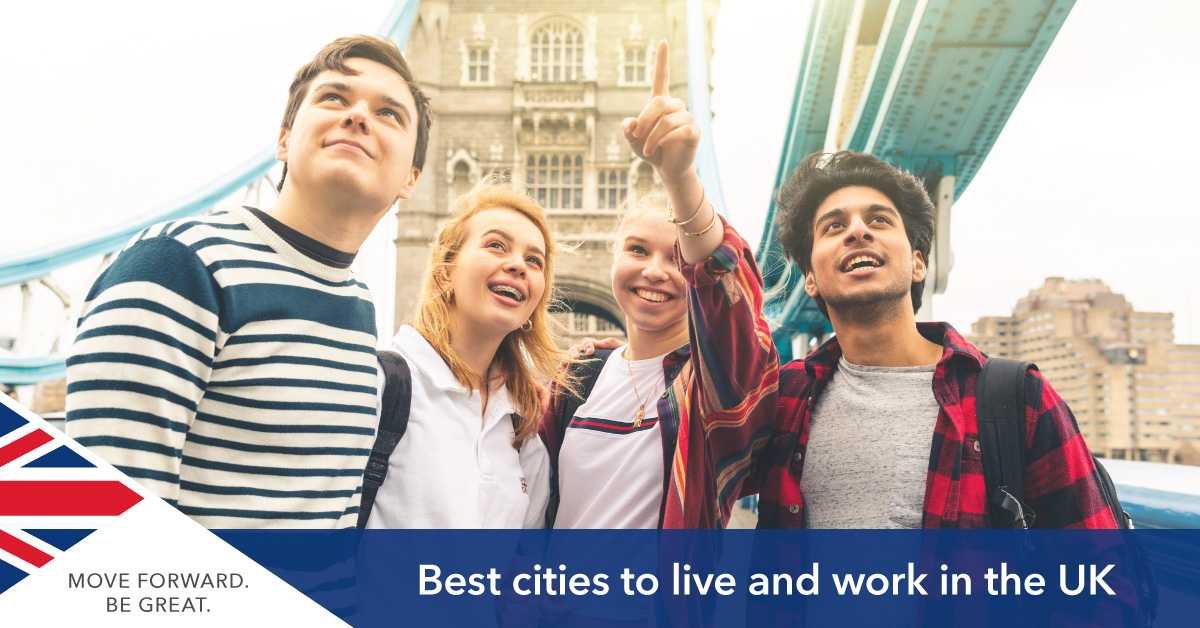 Best cities to live and work in the UK
If you are a recent graduate from a UK university or planning to study in the UK, you may be concerned about finding a job or starting a career post completion of your course. A number of factors impact your choices before starting a career and choosing a city to live and work in. Provided below is a list of cities in the UK which have emerged as the best cities for graduates in 2019 (as per CV-Library, UK's independent Job Board) based on criterias such as:
Availability of a proper job
Cheap living costs
High starting salary
More disposable income
Future prospects for salary increment
Top 10 cities in the UK to find work
1. Glasgow
Glasgow is one of the most popular UK cities with the highest graduate salaries and great employment opportunities. The average salary for graduates in Glasgow in 2019 was around £26,195. While the cost of living and accommodation in Glasgow is not as high as in other big cities such as London or Manchester, graduates are able to have more income at their disposal while working in Glasgow. Universities in Glasgow are amongst the top in the UK and have a good employer reputation facilitating placement of graduates in some of the best business organisations in the UK. It is a great place to grow a career in the financial and business sector with more than 52,000 jobs in these two industries alone. The city fares well on other parameters as well including local infrastructure, transport facilities and leisure activities.
Universities in Glasgow:
University of Glasgow
Glasgow Caledonian University
University of Strathclyde
2. London
With an average graduate salary of £25,909 per year, London is not only a top city to live in the UK but also in the world. It has great prospects for substantial pay rise in the future as the average salary in London is almost 53% higher than graduate salaries. No doubt London is the most vibrant city in the UK with abundant opportunities for leisure, entertainment and socializing. However, the cost of living is much higher in London and renting an apartment is the most expensive than other cities. However, London is home to the world's top ranking universities and one of the most desirable places to live and work.
Universities in London:
University College London
Imperial College London
London School of Economics and Politics
City, University of London
Queen Mary University London
King's College London
3. Sheffield
Sheffield is one of the cheapest cities to live in and graduates have a high disposable income at their expense after paying rent and bills for electricity etc. The city has a thriving public and private sector leading to a significant growth in vacancies in this northern town with a flourishing industrial past. Sheffield is an interesting city with a great nightlife and plenty of activities for fun and leisure.
Universities in Sheffield:
University of Sheffield
Sheffield Hallam University
Other UK cities on the list include:
4. Birmingham
5. Newcastle
6. Southampton
7. Nottingham
8. Cardiff
9. Bristol
10. Manchester
Study in the UK
If you are interested in studying in the UK and want to learn more about courses, universities and scholarships, book a free consultation with SI-UK today. Our education consultants will help you find the right course and university and support you throughout the application process.