The UK grading system is unique, like the grading systems of many other countries. Thanks to the British higher education system's efficiency and reputation, many countries have adopted the UK education and grading system, either in its entirety or with minor variations. If you are studying in the UK or are planning to study at a British university, understanding the grading system is very important.
Many international students often find the UK grading system to be somewhat confusing. However, this is quite expected and nothing to worry about. The root cause of this confusion can be students being accustomed to their native grading system.
| Degree Class | Percentage Score |
| --- | --- |
| First-Class Degree | 70% - 100% |
| Upper Second-Class Degree | 60% – 69% |
| Lower Second-Class Degree | 50% - 59% |
| Third Class Degree | 40% - 49% |
| Fail | 0 - 39% |
Learn more below about the grading system for students who study at a UK university. If you have any questions, contact SI-UK for a free consultation today.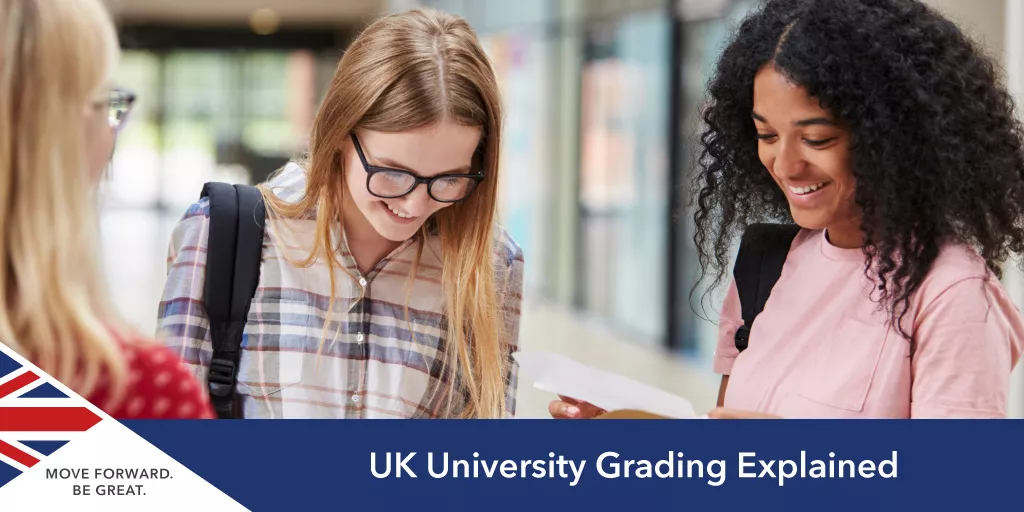 UK University Grading System Explained
First-Class Degree
The first-class degree is the highest academic degree classification attainable for undergraduate studies in UK universities. Equivalent to earning an A grade average, this is also known as a "first". Most universities offer a first-class degree to students with a 70% or above GPA. However, some universities may use a slightly different percentage scale. In many cases, a student's performance in their first year is not considered in their final qualification, but their progress in subsequent years is taken into account.
Earning a first-class degree signifies a student has exhibited exceptional knowledge and mastery of their subject matter throughout their studies. Given the rigorous academic standards of British universities, only a select few students achieve this distinction. Students require a first-class degree to get admission to renowned UK universities like the University of Oxford, London Business School, and the University of Cambridge.
Upper Second-Class Degree
The Upper Second-Class Degree classification is also known as a 2:1 degree. It is awarded to students in the UK who have achieved a grade point average between 60% and 69%. It is the second-highest degree classification and is widely regarded as a notable academic achievement. An Upper Second-Class Degree is often a minimum requirement for many graduate-level jobs and postgraduate programmes.
In addition, many professional careers, such as law or medicine, also require this classification for entry. Students with a high level of academic ability who have consistently performed well across a range of assessments, including exams, coursework, and dissertations, are able to achieve this classification.
Lower Second-Class Degree
A Lower Second-Class Degree (2:2) is an undergraduate degree classification that is also referred to as a "Desmond," after the British broadcaster Desmond Lynam, who famously graduated with a 2:2 degree from the University of Sussex". To attain this classification, a grade of C must be achieved, and it is given to students with a grade point average (GPA) ranging from 50-59%.
Candidates with a 2:2 degree are considered by many employers and universities for jobs and graduate programs, particularly if they possess relevant work experience or extracurricular activities that showcase their abilities and expertise.
Third Class Degree
The Third Class Degree is the lowest classification of undergraduate degree awarded in the UK. Often referred to as a "pass degree," this is awarded to students who obtain marks between 40% and 49%. Despite being the lowest degree classification, a third-class degree is still a recognised qualification and can be useful in certain career fields.
With relevant work experience, a student with a third-class degree can get admission to a postgraduate programme in certain circumstances. Third-class students constitute the smallest proportion of undergraduates in the UK.
Fail
A grade below 40% or a GPA below 2.0 would be considered a failing grade. This is typically referred to as a "U" grade, which stands for "unclassified." A fail grade does not count towards any academic credit or qualification.
UK Grading System vs. India Grading System
Because thousands of Indian students are attending or aspire to attend universities in the UK, it is interesting to see how one grading system stands compared to the other. There is no stark difference between the grading systems of the two countries. Indian universities use a 10-point GPA system, while UK universities follow a 100-mark system to flag students as pass or fail.
Here is the comparison between the grading systems of the UK and India.
| Percentage | British Grade | Indian Grade Point |
| --- | --- | --- |
| Above 80% | First-class honours | 10 |
| 75-79% | First-class honours | 9 |
| 70-74% | First-class honours | 8 |
| 60-69% | Upper second-class honours | 7 |
| 50-59% | Lower second-class honours | 6 |
| 45-49% | Third-class honours | 5 |
| 40-44% | Third-class honours | 4 |
UK Grading System to GPA
GPA (Grade Point Average) is generally used by universities and colleges in the United States to assess students' overall academic performance. This metric is determined by considering a student's grades and the credits assigned to each course they take. Students aspiring to study in the UK should be aware of how GPA works since several universities use it. A rough estimation of how British grades convert to GPAs can be summarised as follows:
| UK Grade | GPA Equivalent |
| --- | --- |
| First-Class Honours (1st) | 4.0 |
| Upper Second-Class Honours (2:1) | 3.3-3.9 |
| Lower Second-Class Honours (2:2) | 2.7-3.2 |
| Third-Class Honours (3rd) | 2.0-2.6 |
| Pass | 1.0-1.9 |
| Fail | 0.0 |
Study in the UK
If you have any questions about the UK grading system or want to begin your application to study in the UK, arrange a free consultation with SI-UK India today.