The University for the Creative Arts (UCA) was named 'Modern University of the Year' by the 2019 Times and Sunday Times Good University Guide last year, confirming its place as one of the UK's top specialist arts institution.
If you have a passion for art, design and creativity, have you considered UCA as your UK study destination? Learn more about why it was named 'Modern University of the Year' below and contact SI-UK today to arrange your free consultation at our offices in Delhi, Mumbai, Bangalore, Chennai, Pune or Coimbatore to get your application started.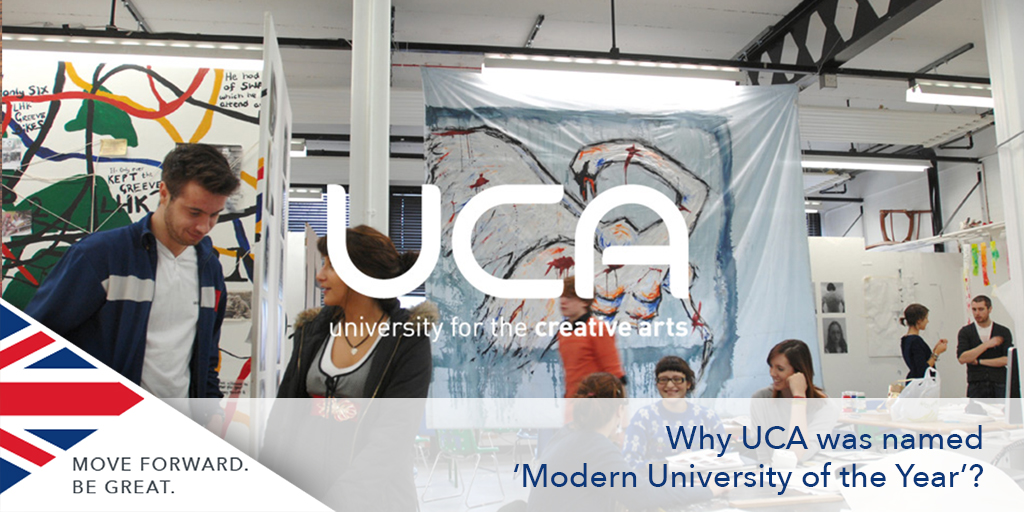 Four Reasons why UCA is Modern University of the Year
1. Groundbreaking business school
UCA's Business School for the Creative Industries was one of the main reasons why the school won the Modern University prize. Offering a wide variety of undergraduate and postgraduate courses in areas such as business, marketing, and an MBA, its cutting-edge courses will fully prepare you for the world of high level creative business.
2. Employability
UCA offers extensive support and advice to graduating students before they begin their career, working closely with industry professionals to ensure you are prepared. 3 years of ongoing career support is offered and almost 97% of graduates are in work or further study after graduation.
3. Broad portfolio of courses
UCA has expanded its portfolio of courses in recent years to offer courses in subject areas including Computing, Coding and Technology, and Games Arts. This is in addition to its architecture, business and media courses, which are all centered around creativity.
4. High profile alumni
Oscar-winning directors, famous designers and Turner Prize nominated artists have all studied at the University for the Creative Arts, and many return for special lecturers to inspire the next wave of UCA graduates looking to forge a successful and rewarding career.
Study at UCA
If you want to learn more about any of the above or wish to begin your application, contact SI-UK India to arrange a free consultation. Our friendly, international education experts can answer all your questions about studying in the UK.