Law is a challenging field of study, but the opportunities it provides a student after graduation make it worth the hard work. The career of a law graduate is full of opportunities that range from being a commercial lawyer to a criminal lawyer.
The average salary of a law graduate in the UK is £25,000 per year and to become a lawyer in the UK, a candidate needs to possess excellent critical thinking capability as well as practical abilities that help them stand out..
There are various types of law courses that help students gain a deep understanding of the core legal principles and concepts that can enable them to become highly regarded lawyers. Learn more below and arrange a free consultation with SI-UK India to begin your application.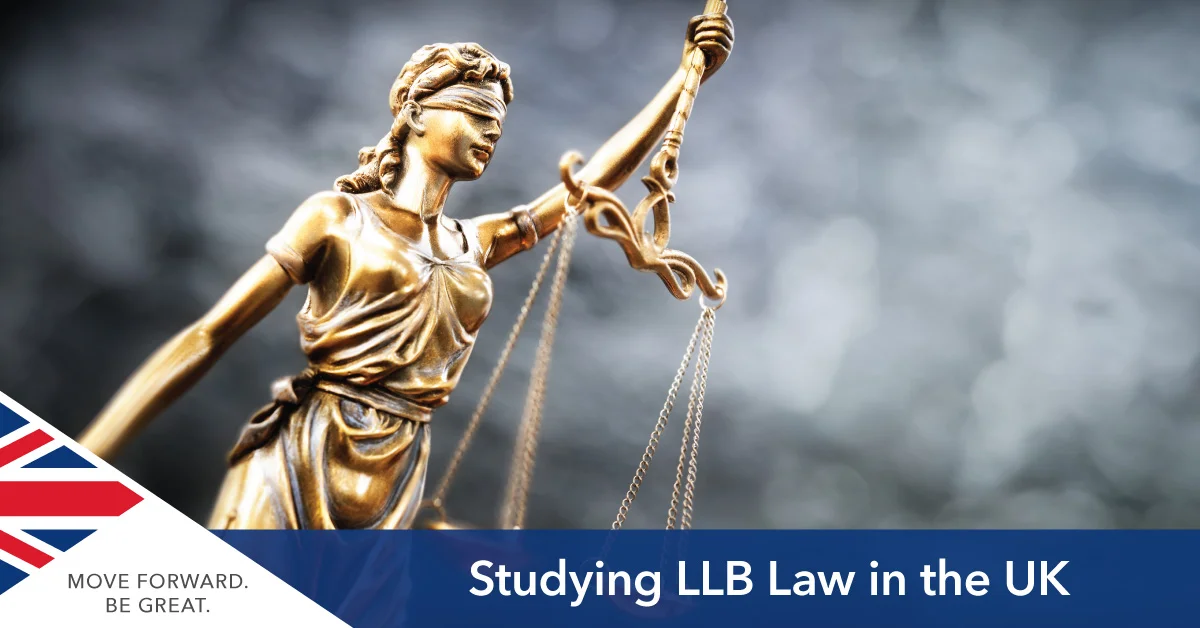 Types of Law Courses in the UK
LLB programmes, or Bachelor of Laws, provide a comprehensive legal education for those aspiring to become solicitors or barristers. These programmes offer a strong foundation in legal principles, cultivate critical thinking and analytical skills, and deepen students' understanding of the law. Additionally, they allow for specialisation in various areas of law, equipping graduates for diverse legal careers.
An LLB in the UK typically spans three years. The first year focuses on establishing a solid English legal system knowledge base and developing analytical abilities and it also introduces students to legal principles and practices from other jurisdictions. In subsequent years, students can choose from a wide range of elective courses tailored to the expertise of the faculty. This flexibility enables students to specialise in specific areas while emphasising a critical understanding of law's global significance. The curriculum covers modules such as criminal law, contract law, property law, public law, Islamic law, human rights law, international law, environmental law, and more.
A Master of Laws (LLM) degree is a prestigious postgraduate programme designed to equip law graduates with specialised knowledge and advanced training. This degree allows students to focus on their specific interests within the legal field, thereby sharpening their expertise and expanding their career prospects in academia, legal practice, or international law.
An LLM typically encompasses crucial subjects such as debt and equity finance, corporate governance, and financial regulation. Students explore private law aspects, which delve into individual transactions, and public law aspects, which address the regulation of financial institutions and markets.
Students in the LLM programme benefit from a diverse faculty comprising professionals and experts hailing from various countries. This diverse perspective offers a rich blend of theoretical knowledge and practical wisdom. Additionally, the programme boasts exceptional facilities, including dedicated law libraries and comprehensive online resources, ensuring that students have ample access to necessary materials. The programme equips students with a holistic understanding of the legal landscape by covering aspects of UK, EU, and international law.
Graduate Diploma in Law (GDL)
A Graduate Diploma in Law is a 1-year full-time law conversion course that provides students with up-to-date knowledge that is required to become a lawyer.
The course is specifically designed for students who have completed their undergraduate degree in another subject and now want to change their career track. A GDL combines three years' worth of knowledge into one.
Law Practice Course (LPC)
A Law Practice Course is the final vocational stage of training that a student will need to complete to become a qualified solicitor. With a prime focus on future employability, an LPC provides students with the required professional skills that are in demand amongst employers.
Bar Professional Training Course (BPTC)
The Bar Professional Training Course is a postgraduate programme that allows law graduates to practise as barristers in Wales and England. To study a BPTC, students will need to complete a bachelor's degree in law from a recognised UK university with no less than lower second-class (2:2) honours.
Popular Types of Law Course Specialisations
Law courses available in the UK are offered across different specialisations that students can choose according to their career goals.
Admiralty law: Also known as maritime law, admiralty law governs nautical issues as well as part-time maritime disputes. Admiralty law consists of both maritime activities and domestic law.
Business law: Business lawyers help in settling commercial disputes of private entities as well as help in the regulation of commercial transactions. Business law is also known as company law and is one of the most popular types of law courses specialisation in the UK.
Constitutional law: Constitutional law defines the powers, roles, as well as structure of various entities within the state, parliament, executive, judiciary or legislature.
Criminal law: Also known as defence lawyers, criminal lawyers specialise in defending entities, organisations or individuals who are accused of committing a crime.
Environmental law: Environmental law is a collective term that encompasses the multiple aspects of the law that provides protection to the environment. Its focus is on the management of specific natural resources, such as minerals, forests, or fisheries.
Health care law: Health law deals with the various aspects of health care, which also includes the rights of patients as well as the practices of caregivers.
Intellectual property law: Intellectual property law deals with the laws related to protecting and enforcing the rights of owners and creators of intellectual property such as inventions, music, writing, designs or other works.
Corporate law: Corporate law is the body of law that governs the relations, rights and conduct of organisations, and businesses.
Commercial law: Commercial law applies to the rights, relations as well as conduct of business and persons who are engaged in merchandising, commerce, trade and sales.
Top Five Law Universities in the UK
The University of Cambridge's Faculty of Law is a globally recognised institution known for its high academic standards and prestigious reputation. With a history dating back to the thirteenth century, the faculty is one of the world's oldest and most respected law schools. The faculty's undergraduate programme, the BA Tripos degree, provides a comprehensive legal education, while the Cambridge Master of Law (LLM) degree offers advanced study in various legal areas. The Cambridge Masters Degree in Corporate Law (MCL) degree focuses on corporate law specialisation, and the faculty also offers postgraduate research degrees such as MLitt/PhD and MPhil in Criminology.
The Oxford Law Faculty is globally recognised as one of the premier law schools, offering a range of undergraduate and postgraduate programmes. The faculty provides a rigorous education in legal reasoning and analysis at the undergraduate level, preparing students to excel in various professional and analytical fields. The BA in Jurisprudence is a highly regarded three-year law degree in England and Wales, considered a qualifying law degree. The BA in Jurisprudence with Senior Status is a condensed version of the regular degree for those already holding another university degree. The BA in Law with Law Studies in Europe includes an additional year spent at partner universities in Europe.
LSE Law School has been ranked among the top five law schools in the UK by The CUG and secured a top 10 place in the QS World University Rankings, outperforming numerous other prestigious law schools worldwide. With a diverse and international community, LSE Law School boasts over 60 academic staff members, ensuring students receive the highest quality of education in small seminar settings led by renowned international and UK academics.
Situated within the prestigious University College London, the UCL Faculty of Laws is a diverse and forward-thinking community consisting of researchers, students, distinguished academics, and successful alumni. UCL Laws offer an exceptional learning experience for both undergraduate and graduate students.
The commitment to excellence is reflected in UCL Laws' achievement as the top law school in the UK for research excellence, as recognised by the Research Excellence Framework (REF) in 2021. This accolade solidifies its reputation as a leading institution in legal scholarship and reinforces its position as a world-class law faculty.
The Glasgow School of Law is a prestigious international law school with a long and esteemed history. Established in 1451, it is one of the original faculties of the University of Glasgow and has been teaching law continuously since 1714. The school attracts students from over 30 countries and boasts a diverse faculty with expertise in various areas of law, including international law and copyright issues in the digital age. Graduates of the Glasgow School of Law have succeeded in various fields, including international courts, the European Commission, banking and finance, law firms, governments, and academia worldwide.
Law Entry Requirements in the UK
The minimum requirement for UK LLB (Bachelor of Laws) programmes is typically a 2.1 Honours degree or equivalent qualification. For LLM (Master of Laws) programmes, a 2.1 Honours degree or a non-UK equivalent in law or another subject is generally required. If the degree is in a non-law subject, at least 50% of the credits should be in law-related courses.
Studying Law FAQ
How many years does it take to study law in the UK?
In the UK, studying law has two main routes: undergraduate and postgraduate. The undergraduate route includes a three-year LLB degree or a four-year integrated LLB and Master's programme. The postgraduate route involves a one-year Graduate Diploma in Law (GDL) for non-law graduates, followed by a one-year Legal Practice Course (LPC) for solicitors or a one-year Bar Professional Training Course (BPTC) for barristers.
What qualifications do I need to study law in the UK?
To study law in the UK, the required qualifications vary based on the level of study and university. A-Level qualifications with specific subjects are typically necessary for an LLB undergraduate programme. Grade requirements may vary. For postgraduate programmes like the GDL, a non-law undergraduate degree is usually accepted. The LPC or BPTC require an LLB degree or completion of the GDL.
Can Indian students study law in the UK?
Yes, Indian students can study law in the UK. Universities in the UK offer a variety of law programmes at the undergraduate and postgraduate levels. Indian students should follow the standard application procedures for international students, including submitting applications directly to universities and meeting specific entry requirements and deadlines. Proficiency in English may need to be demonstrated through language test scores unless the previous education was in English.
How much does LLB cost in the UK?
The average annual tuition fees for a law programme in the UK for international students range from £10,000 to £28,000 or more. However, prestigious universities and institutions in major cities like London may have higher tuition fees.
Study Law in the UK
If you want to learn more about the various types of law courses available in the UK, book your free consultation with SI-UK India at one of over 15+ offices today.