Information Technology (IT) refers to the use, development, and management of computer-based systems, software, and networks to store, retrieve, transmit, and manipulate data. It encompasses a broad range of technologies and practices that facilitate the processing, storage, and communication of information.
The field of IT is crucial in today's digital age, as it plays a fundamental role in businesses, organisations, and everyday life. It enables the efficient management and analysis of information, enhances communication and collaboration, automates processes, and supports decision-making. Critical areas within IT include:
Computer Science
Network and System Administrator
Database Management
Cybersecurity
Software Development
Data Sciences and Analytics
Web Development
IT Project Management
Learn below more about studying information technology in the UK below or book a free consultation with SI-UK India today.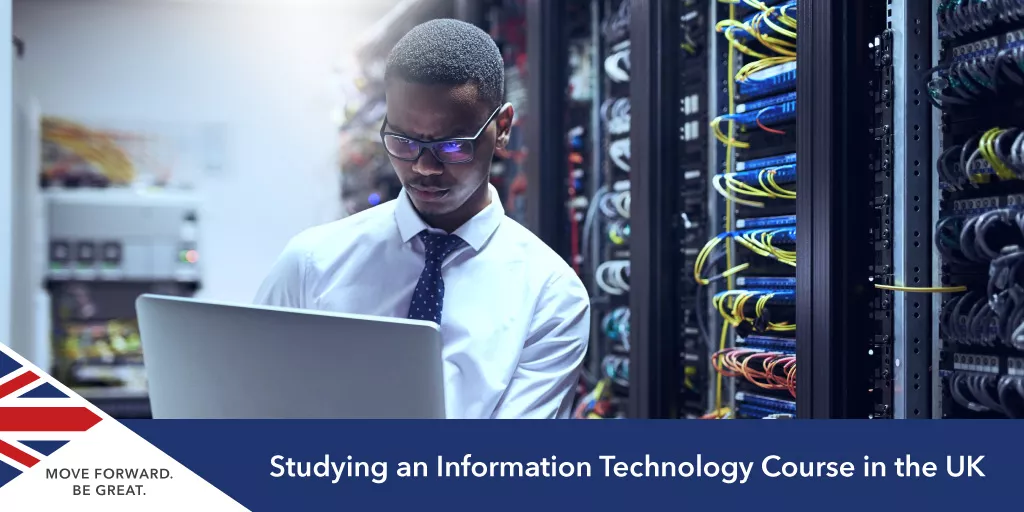 Top Universities for Information Technology in the UK
The MSc in Information Technology with Management is a prestigious one-year course offered by the esteemed School of Computer Science. Designed to enhance students' knowledge of computing systems and their profound influence on project management, this course also presents a valuable opportunity for individuals lacking prior programming experience to acquire essential programming skills within a cutting-edge software development environment.
Comprising two semesters of rigorous coursework, followed by an 11-week project phase, culminating in the submission of a comprehensive 15,000-word dissertation, the course ensures a holistic learning experience. To facilitate their academic journey, students are granted unlimited access to state-of-the-art computing laboratories. These laboratories boast modern dual-screen PC workstations, as well as dedicated group-working facilities, ensuring a conducive learning environment available round the clock.
Core modules encompass a range of vital subjects. Notably, the "Masters Programming Projects" module effectively reinforces students' programming prowess.
The School of Computing Science, renowned for its excellence, ranks among the top 10 departments in the UK and is a key member of the Scottish Informatics and Computer Science Alliance (SICSA), a collaborative initiative driving research and education in the field.
The MSc in Information Technology, offered by the University of Glasgow, is a comprehensive and intensive postgraduate programme that focuses on providing students with advanced practical IT skills. This course is specifically designed for individuals without a computing science background, offering a conversion degree that enables them to transition into the field. One of the notable strengths of this degree lies in its strong industry connections. Renowned companies such as IBM, J.P. Morgan, Amazon, Adobe, and Red Hat contribute to the degree, ensuring its relevance to the current industry landscape.
Suggested Course: MSc in Information Technology
Entry Requirements: A minimum of a 2:1 Honours degree or equivalent in a subject other than computing.
International fees: £29,370
The MSc Information Technology degree offered by the School of Mathematics, Computer Science, and Engineering equips students with the essential knowledge and skills required to thrive in the fast-paced and ever-evolving field of IT.
Throughout their studies, students will develop a strong foundation in computational thinking and a systematic approach to problem-solving. The programme not only focuses on technical aspects but also explores ethical considerations and the social impact of IT in society. During the final year, students explore emerging technologies such as mobile technologies, the Internet of Things (IoT), and advanced web technologies. These advanced courses enable students to stay at the forefront of IT innovation and develop expertise in cutting-edge areas.
Suggested Course: Business Management and Information Technology BA (Hons)
Entry Requirements: A-Levels: BBC; UCAS Tariff Points: 112 UCAS Tariff points must come from a minimum of two A Levels (or equivalent). Additional points can be made up from a range of alternative qualifications.
International fees: £12,500
The MSc Information Technology (Software Systems) programme offered by Heriot-Watt University provides a comprehensive curriculum that integrates business management and software engineering. This unique course offers a balanced combination of practical, analytical, and theoretical courses that delve into various aspects of IT and software systems.
A significant component of the programme is the master's project and dissertation, which provides students with the opportunity to apply their knowledge and skills in a practical setting. Collaboration with external industrial or academic organisations is encouraged, allowing students to gain real-world experience and establish valuable connections.
The University of Sheffield, one of the best universities for information technology in the UK, provides students with practical knowledge in the field of information systems and their profound impact on organisational structures and processes.
This comprehensive course is designed to equip students with a deep understanding of essential management skills, with a specific focus on critical areas such as strategy, human resources, operations, and supply chain management. It explores the intricate relationship between project management, information technologies, and information systems, highlighting their crucial role in driving organisational progress.
Suggested Course: Information Systems Management MSc
Entry Requirements: Minimum 2:1 undergraduate honours degree or an approved professional qualification.
International fees: £27,500
Information Technology FAQ
What are the admission requirements?
Typically, admission requirements may include a bachelor's degree (or equivalent) in a relevant field, such as business, computer science, or information systems. The specific grade or GPA requirements may vary depending on the programme and university.
What is the highest salary for information technology?
The highest salary in the field of information technology can vary widely depending on various factors such as job role, level of experience, location, industry, and company size. IT encompasses a wide range of roles, including software developers, IT managers, cybersecurity professionals, data scientists, and more.
What are the benefits of studying information technology?
Some key advantages of pursuing a degree in IT include:
Strong Job Prospects
Lucrative Salaries
Constant Innovation
Diverse Career Paths
Flexibility and Remote Work Opportunities
Which degree is eligible for IT jobs?
While a degree in computer science or information technology is often considered a traditional path, many employers also value relevant degrees in fields such as engineering, mathematics, data science, or business with a focus on information systems. Additionally, professional certifications and practical experience in the form of internships, projects, or relevant work experience can enhance job prospects in the IT field.
How many years are there in the IT course?
Typically, a bachelor's degree in information technology or a related field takes around three to four years to complete. Master's degrees, such as an MSc or an MBA with a specialisation, usually last one to two years.