Opting to study health science in the UK provides insights into a diverse healthcare system where theory meets practice. Students are exposed to a multi-faceted curriculum, encompassing everything from anatomy and physiology to public health policies and healthcare management.
Universities in the UK emphasise practical experience in health science education. Most courses integrate placements or internships within NHS trusts or private health facilities, allowing students to apply their classroom knowledge to real-world scenarios. The UK's global community promotes a broader understanding of health perspectives and practices from various cultures, preparing students for careers in an increasingly interconnected world.
Learn below more about studying health science courses in the UK or book a free consultation with SI-UK India today.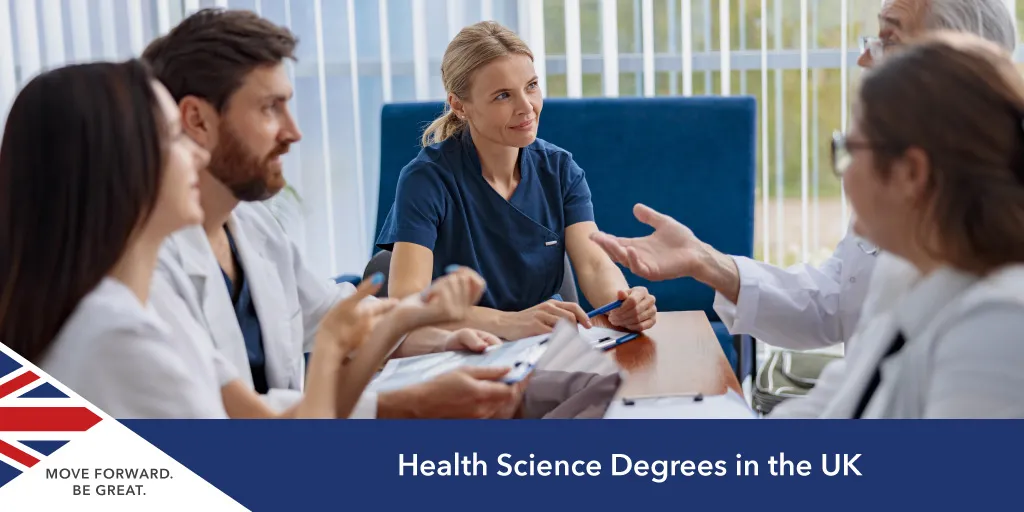 Top 10 UK Universities for Health Science Courses
The University of Strathclyde's MSc in Applied Statistics in Health Sciences serves as a gateway for those new to statistics, facilitating the acquisition of data analysis capabilities. The supporting staff collaborates closely with various industries, ensuring that the skills taught align with current research trends in areas like population health, medicine, animal and plant health, finance, and business.
The BSc in Healthcare Science (Audiology) at Aston University equips students for a fulfilling audiology career. Through practical exposure and integrated clinical education, they learn to evaluate hearing and balance, address hearing loss, tinnitus, and balance issues, making a genuine difference in individuals' lives. The course has accreditation from the National School of Healthcare Science and the Registration Council for Clinical Physiologists and endorsement from the Health and Care Professions Council. Upon completion, graduates can join various professional associations.
The BSc in Health Sciences with Foundation Year at the University of Nottingham Medical School is tailored for students who need the prerequisites for a standard undergraduate healthcare degree. This initial year centres on honing academic abilities, fostering critical thinking, enhancing communication, and building scientific proficiency. Upon completing this year, students are awarded the Foundation Certificate in Health Sciences (FCert), bolstering their prospects for healthcare degree pursuits, whether at the University of Nottingham or other institutions. The course paves the way to deepen scientific insights, gain insights into healthcare careers, and acquaint oneself with the university's procedures and resources for degree students.
Engaging with MSc Management in Health and Social Care at Oxford Brookes, you'll hone your leadership skills, particularly in addressing health and social care challenges. You'll delve into solutions ranging from encouraging remote work to championing Continuous Professional Development (CPD) for health professionals. The course is designed to nurture innovative approaches to contemporary issues. You'll also acquire competencies in strategic management.
Located at Southampton General Hospital and the Highfield campus, students can apply their knowledge at the University's specialised cardiac skills lab. A substantial amount of patient engagement is guaranteed, and on-the-job training is facilitated through stents in outpatient departments, wards, theatres, and the Intensive Treatment Unit (ITU).
The Health and Social Care degree offers a comprehensive foundation for diverse careers across multiple sectors at Swansea University. Students delve into health and social care within varied national and international settings. Key themes encompass social policy, public health, epidemiology, psychology, human biology, and physiology, and the legal and ethical dimensions of health, equality and social justice.
The University of South Wales presents a BSc (Hons) in Medical Sciences, tailored for those eyeing a medical doctor profession. Each year, this course allows ten of its exemplary graduates an opportunity at Cardiff University's A101 medicine programme. It delivers in-depth anatomy, physiology, clinical capabilities, and health policy education. Emphasis is on translating theoretical insights into real-world clinical situations using simulations and case-focused learning.
Practical clinical exposure and research acumen are enriched via placements in local NHS establishments. With recognition from the Royal Society of Biology, graduates meet the Associate Membership (AMRSB) criteria and are well-prepared for roles in human biology.
Coventry University's public health courses delve into techniques to combat diseases and ward off illnesses by endorsing comprehensive, collective efforts for health promotion and innovative methods for health protection, addressing new hurdles public health experts face. It cultivates an understanding of health differences and disparities at the regional, national, and global levels. Moreover, it imparts the expertise required to enhance health results by adeptly planning, implementing, and assessing health interventions for behavioural change.
The BSc (Hons) in Healthcare Science (Cardiac Physiology) at the University of Leeds focuses on diagnosing, assessing, and managing heart ailments. As you progress through the course, you'll master the skills essential to be a competent Cardiac Physiologist through a blend of academic studies, simulated experiences, and on-the-job training. As a Cardiac Physiologist, you'll employ various procedures to aid in the diagnostic and therapeutic journey of individuals afflicted with cardiac conditions.
The Health and Social Care BSc at the University of Cumbria is designed to bolster your academic progress and gear you up for a fulfilling career. This degree ensures you acquire the requisite knowledge tailored to professional demands and pivotal research, writing, and articulation skills. Personal abilities such as effective communication, teamwork, self-regulation, enthusiasm, resilience, introspection and self-assuredness will be nurtured.
The course learning experience is dynamic and grounded in tangible applications, ensuring optimal career readiness. Simulation exercises offer a secure platform to foster confidence, practise, and sharpen your competencies. Through case studies derived from real-world serious case reviews, you're prompted to navigate intricate ethical and professional quandaries, thereby honing your analytical thinking and decision-making prowess.
Health Science Course FAQ
Which health science courses are in demand in the UK?
In the UK, certain health science courses such as Medicine, Nursing, Pharmacy, Biomedical Sciences, and Public Health consistently witness high demand. However, the popularity of courses can vary based on emerging healthcare trends and requirements.
What is the highest paid job in health science in the UK?
The UK's highest-paid health science job typically involves specialised medical roles. Surgeons, particularly in fields like orthopaedics or neurosurgery, often earn top salaries. Additionally, senior roles in medical research, health consultancy, and specialised clinical areas can also command significant remuneration.
Are scholarships available to study health science courses in the UK?
Numerous scholarships are available for students aspiring to study health science in the UK. These can be university-specific, country-specific, or based on merit. It's advisable to check with individual institutions and platforms like the British Council for available scholarship opportunities.
Why study a health science course in the UK?
Studying health science in the UK provides numerous benefits. UK institutions are celebrated for their stellar teaching and research in health science, and courses frequently embed practical elements, enabling students to transition from theoretical concepts to real-world applications, particularly within the renowned NHS framework. Furthermore, the UK's global appeal creates a diverse, multicultural learning ambience, and many of its universities boast cutting-edge facilities and are at the forefront of groundbreaking health research.