Once you graduate from high school, you finally get to explore your interests and choose what you wish to study further. Confused? Before you sign up for anything, take time to consider which course you might benefit most from and which fits your learning requirements to count towards a fruitful career. Your degree must provide you with an education of your interest along with the knowledge and skills to find stable work, aid in steady career ascent and make you flourish as a professional.
For UK universities, all international undergraduate applications are managed by UCAS, and as an official UCAS centre, SI-UK's professional university consultants can guide you through the entire university application process.
Read below to find out about the best undergraduate courses in the UK or book a free consultation to get in touch with an expert at SI-UK now.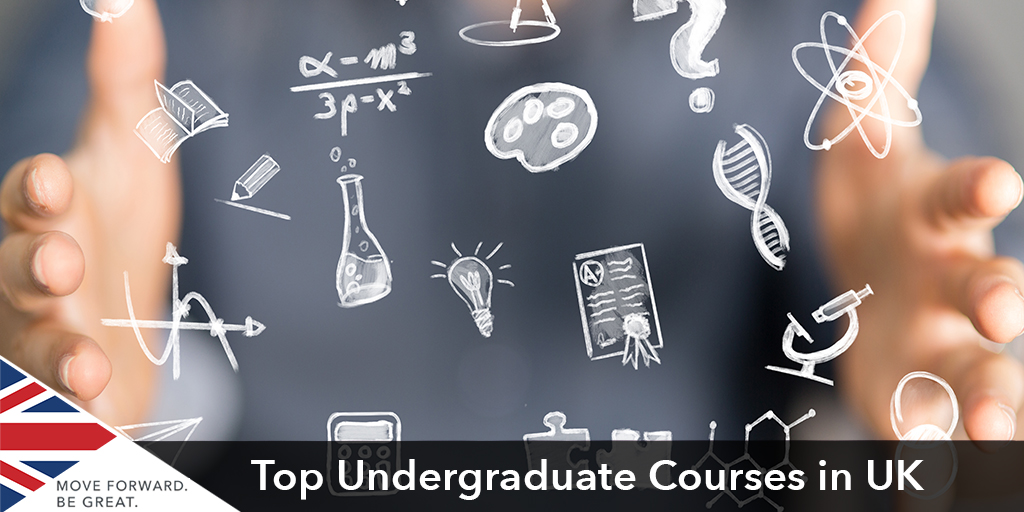 Top Ten Undergraduate Courses
Bachelor of Business Administration (BBA)
The BBA course aims at developing a student's intellectual ability, executive personality, unique leadership qualities and managerial skills through an appropriate blending of business and general education to manage business functions successfully.
Employment Areas: FMGC, consumer durable industry, marketing industry, financial institutions and insurance.
Bachelor of Engineering (BE)
You can do 4-year Engineering courses with disciplines like electronics, computer, electrical, mechanical, civil and many more. Engineering students are involved in planning, designing, construction, production, testing, implementation, maintenance etc. They work on scientific theories to get practical solutions.
Employment Areas: The careers open to engineering graduates are wide and varied although you may wish to choose the career most relevant to your chosen engineering specialization, such as aerospace, automotive, maintenance, mechanical, control and instrumentation, civil contracting, etc.
Bachelor of Computer Applications (BCA)
Computer Applications is an undergraduate information technology course that provides sound practical skills such as graphics, programming, database management, system analysis and internet technologies addressing problems which arise from computer systems and applications.
Employment Areas: Academic institutions, software developing companies, web designing companies, systems management companies, banking sector, insurance, accounting department, stock market and marketing sector.
Bachelor of Medicine and Bachelor of Surgery (MBBS)
The five and a half year program in medicine including a year of internship is one of the most competitive courses in the whole world.
Career Options: Anesthetics, general practice, medicine, pathology, psychiatry, radiology and surgery.
Bachelor of Law (BA.LLB)
Law is a five-year integrated program spread over 10 semesters. The program consists of 56 courses in law and arts, 6 law electives and 8 law Honors electives.
Career Options: Criminal lawyer, civil litigation lawyer, legal analyst, document drafting lawyer, legal journalist, legal advisor, government lawyer and judge.
Bachelor of Dental Surgery (BDS)
This undergraduate course trains students to acquire knowledge and skills such as dental anatomy, oral pharmacology, orthodontics, tooth morphology and surgical procedures for diagnosing and treating oral diseases. The duration of the course is five years including one-year internship.
Career Options: Lecturer in dental college, government job as a dentist, private job as dentist, hospital administration, clinical research field and self-employment.
Bachelor of Architecture (B.Arch)
A Bachelor of Architecture is a 5-year professional program that provides students with the architectural knowledge and skills such as design theories, architecture history, building materials, construction and structural elements as well as the hands-on experiences, needed to become a licensed architect.
Employment Areas: Academic institutes, museums and art galleries, urban planning bodies, construction companies, self-employment.
Bachelor of Fashion Technology (BFT)
Fashion Technology is an art of the application of design and aesthetics or natural beauty to clothing and accessories encompassing a vast field of studies in design, planning, quality control or marketing etc.
Employment Areas: Export houses, garment manufacturing Units, leather companies, textile mills, jewellery houses, promotion of brands, media houses.
Bachelor of Hotel Management (BHM)
Hotel Management baccalaureate programs provide students with instruction in hotel administration, food service, sales and marketing and accounting. These programs can be completed in four years.
Employment Areas: Hospital administration and catering, hotel and tourism associations, cruise ship hotel management, forest lodges, resorts, catering departments of railways and banks, hotel and catering institutes.
Bachelor of Communication Journalism (BCJ)
A journalism and mass communication bachelor's degree program allows students to learn the skills needed for careers in reporting, news analysis and public relations and includes topics like broadcast journalism, multimedia story coverage, fundamentals of mass communication, ethical issues in public relations, television news writing and graphic design.
Career options: News reporter, media researcher, magazine writer, photojournalist and public relations specialist.
Apply to Study Undergraduate Courses with SI-UK
If you are interested in applying to undergraduate courses in the UK, arrange your free consultation today. Our full range of services offer something for everybody, while our premium service will guarantee you an offer from at least one UK university.