Over 310,000 students were surveyed in the UK from across 396 UK universities, colleges and other eligible higher education institutions in 2020 to find out their student satisfaction scores. The results of the National Student Survey 2020 reveal that almost 83% of the total students who participated in the survey are satisfied with the quality of their course in the UK.
The NSS survey asks 27 questions and administers eight different aspects of student experience which include learning opportunities, resources, assessment and feedback, academic support, student voice, student union, learning community and organisation and management.
Find out about the best UK universities for overall student satisfaction below and arrange a free consultation with SI-UK India today if you want to study in the UK. Our education consultants can help you apply for January 2021 intake at UK universities with ease and expertise.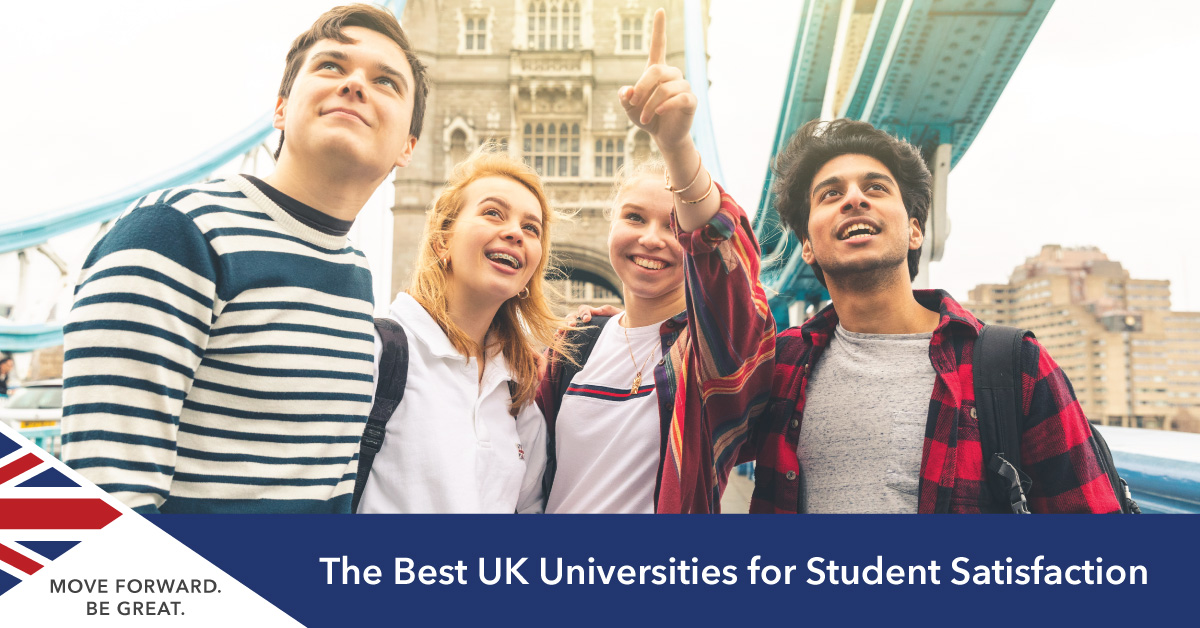 Top Five UK Universities for Overall Student Satisfaction 2020
1. Brighton and Sussex Medical School
Brighton and Sussex Medical School received an overall satisfaction score of 96% coming out as a top university for student satisfaction in the UK ahead of top institutions such as Oxford and Cambridge.
BSMS is also the best Young University in the UK (Times Higher Education World Rankings) and runs in partnership between the University of Sussex and the University of Brighton. It runs a five-year medical degree for undergraduate students providing modern medical training and an unparalleled clinical practice experience. Full-time and Part-time postgraduate courses are available in Cardiology, Global Pharmacy and Public Health.
Students at BSMS showed huge satisfaction with their course in the NSS survey agreeing that their courses are intellectually stimulating that help them prepare for a successful medical career.
2. University of St. Andrews
The University of St. Andrews is the best university in Scotland for the last nine years. Also the 3rd best university overall in the UK and the winner of the 'University of the Year' award (Times University Guide 2021), St. Andrews performed exceedingly well at the national Student satisfaction survey 2020 where almost 93% of its students agreed to be highly satisfied with their courses and the University.
University of St. Andrews is known for its exemplary teaching and offers four-year undergraduate degrees with greater flexibility in the last two final years and an opportunity to spend one full year at an abroad university.
According to the Vice Principal Education (Proctor) Clare Peddie at the University of St. Andrews, the NSS results confirm the University's commitment to the highest standards of teaching, learning and student experience. He further added "The St Andrews experience is the experience of a lifetime; promising the highest quality support, direct contact with some of the best researchers in the world, an international and diverse community, unique traditions, a wide range of extra-curricular activities, and world-class facilities."
3. Conservatoire for Dance and Drama
Conservatoire for Dance and Drama is a world leading institute delivering education and vocational training in the performing arts. About 92% of its students expressed satisfaction with their experience at the School in the NSS 2020. It has six schools located across three cities - London, Bristol and Leeds, offering an immersive experience of training and access to the performing arts industry.
Courses are offered as two-year foundation courses, undergraduate courses, postgraduate diplomas and taught masters programmes. Students are prepared to work in the arts industry by encouraging them to build links with the industry and improving tier skill sets through practical training classes.
4. Writtle University College
Writtle is the largest land based college in the UK with a campus full of state-of-the-art facilities. An outstanding 92% of students agreed to being satisfied with the quality of their courses at WUC exhibiting some of the highest student satisfaction scores. Teaching at WUC is delivered using the latest technology and equipment at both undergraduate and postgraduate levels.
Many individual courses at Writtle University College received 100% satisfaction scores in the NSS 2020 such as Integrated Masters in Veterinary Physiotherapy, BSc (Hons) Equine Behavioural Science, BSc (Hons) Equine Sports Therapy and Rehabilitation and BSc (Hons) Horticulture.
5. University of Law
University of Law is one of the longest established specialist providers of legal education in the UK. University of Law is the first amongst universities in England for student satisfaction with 91% students expressing overall satisfaction with the course.
ULaw is also in the top ten for eleven other categories such as 'Teaching on course' (4th), 'Student Voice' (4th) and 'Assessment' (3rd). While 95% students at ULaw agreed that staff is good at explaining things, 93% confirmed that their course is intellectually stimulating.
Study in the UK
Study in the UK if you wish to get an outstanding student experience and access to industry linked education and training at undergraduate and postgraduate levels. Start today by booking a free consultation with SI-UK for expert help and guidance on UK university admissions and January 2021 applications.
Other Related Articles:
Top Five Most International Universities in the UK 2020
Top Seven UK Universities for Graduate Prospects
Top 10 Universities in the UK 2020