Why Study Politics at a UK University?
The UK has always been a popular destination for Indians who want to study politics abroad. It is known as the birthplace of democracy as it is today and has always had a leading say in the best governing practices. It offers a multicultural environment where you can focus on building your individual perspective whilst becoming aware of different world views.
Almost all British prime ministers have gained relevant degrees and started their career by studying at prestigious UK universities such as Oxford, Cambridge and London School of Economics. Some of the top Indian leaders have also studied there, including Dr B.R. Ambedkar, the man who framed India's constitution, and ex P.M. Dr Manmohan Singh.
Study Politics in UK University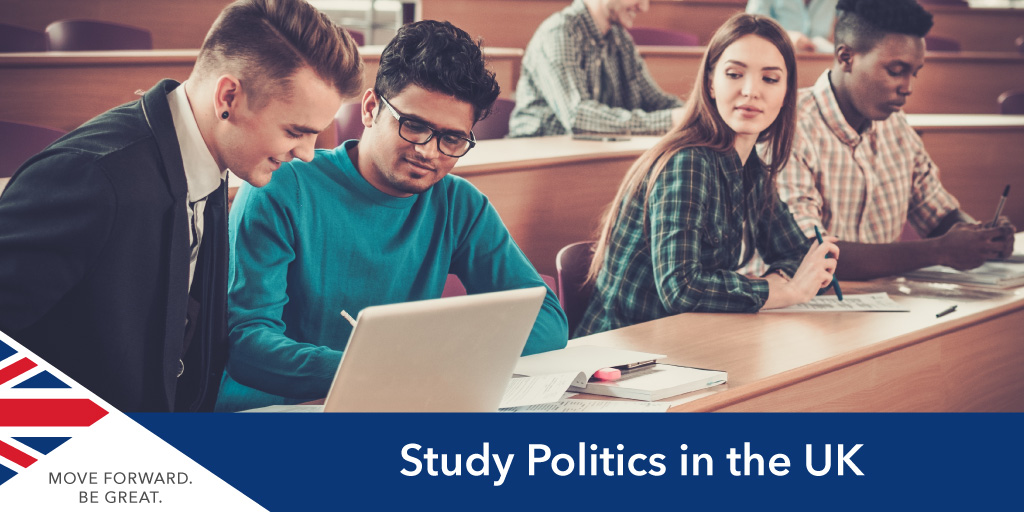 Studying Politics in the UK
Politics can be studied in the UK as an individual, a joint/combined course or also as a double major. It is often studied in combination with economics, history, sociology, philosophy and international relations. Degrees in politics are offered in more than 80 universities in the UK.
A postgraduate master's in politics at UK universities will include studying current and previous political conflicts, different ideologies such as socialism, liberalism and anarchism, different aspects of governance, international relations and exploring concepts such as freedom, democracy, human rights and equality.
Careers in Politics
Politics graduates are recruited as business associates, financial advisors, political analysts, human resource officers and public relations officers. With experience, they can become politicians, diplomats, public affairs consultants and political risk experts. The areas of work include politics, governance, policymaking, research, social work, journalism and education.
Top Ten UK Universities for Studying Politics
Listed below are the top ten UK universities for studying politics according to the QS World University Rankings by Subject 2021.
Oxford University is the most prestigious and oldest university in the UK and consistently tops the list of the world's best universities. Politics is undoubtedly a subject in which the University ranks high and a plethora of courses are offered within the area of study at all academic levels. Several political leaders in the world today are pass outs from Oxford.
Located in the heart of the UK's capital, the Department of Government at the London School of Economics unanimously places LSE as one of the world's top universities to study politics. The Department of Government offers a range of degrees in politics at all academic levels.
The Department of Politics and International Studies, or POLIS, at the legendary University of Cambridge is undoubtedly one of the leading centers for studying politics both in the UK and across the world. Currently, Cambridge offers two degrees at the undergraduate level- Human, Social and Political Sciences and History and Politics.
The School of Politics and Economics at Kings College is located in the center of British politics. This means that students are taught by academics who work with politicians and civil servants to form policies in their day to day lives. The research-led programmes encourage critical analysis and debate on current international political and policy matters.
The Department of Politics and International Studies at SOAS provides a wide range of degree programmes within the discipline of politics and international relations, including Politics and International Relations offered individually and in combination with Economy, Law and International Studies.
University College London is one of the top ten universities in the world (QS World University Rankings 2021) and the Department of Political Science at UCL is ranked second in the UK for research excellence. Courses offered in the department involve studying Politics individually or in combination with subjects such asInternational Relations, Economics, Philosophy or Human Rights.
The Department of Government at Essex is one of the highly-rated departments in the subject. Their staff are some of the biggest names in the field, and conducting lectures they are involved in ground-breaking research and advising political parties, governments and international NGOs. Courses offered include Politics, Conflict Resolution, Political Economy, International Relations, Political Theory and Politics with Human Rights.
A Russell Group university with a history dating back to 1785, Queen Mary University of London is a leading university offering several specialised courses in the School of Politics and International Relations. The School focuses on addressing major political challenges of our time such as the legacy of the Arab Spring and Brexit. A range of courses are offered and include individual courses in Politics and International Relations which can be combined with Law, Economics, History, Sociology as well as specialised regional studies politics.
The University of Manchester is one of the largest universities with one of the largest Politics departments in the UK. Highly valued for its global outlook, the University has a large number of international students studying degree courses in politics and boasts high employment and income rates for politics graduates. Courses offered include Politics combined with other specialisations like International Relations, Philosophy, Economy, Criminology and Data Analytics.
Sheffield University's Department of Politics and International Relations has an exceptional reputation for research. The University offers excellent academics with over 50 specialists teaching in the Department. They offer individual and courses in Politics as well as courses combined with subjects such as International Relations, Economics, History, Philosophy and Modern Languages and Cultures.
Study Politics in the UK
Learn from multicultural viewpoints and enhance your future prospects by studying Politics in one of these top-notch UK universities. Book your free consultation to inquire more and apply to study Politics with SI-UK India.