MSc Computer Science is the advanced study of computers, computational systems, algorithms, programming languages, and software development. It also includes practical applications in computing networks. Computer scientists are expected to be experts in the theory, design, development, and application of software systems.
Computer Science is a vast field of study covering a wide range of subjects, including artificial intelligence, computer networks, database systems, operating systems, computational complexities, software engineering, and programming languages. It is one of the fastest-growing spheres, with tons of opportunities for students who are interested in technology and enjoy problem-solving.
Learn more about the universities in the UK for a masters in computer science below (Guardian University Guide 2023) and to begin your UCAS application for MSc Computer Science, arrange a free consultation with SI-UK India today.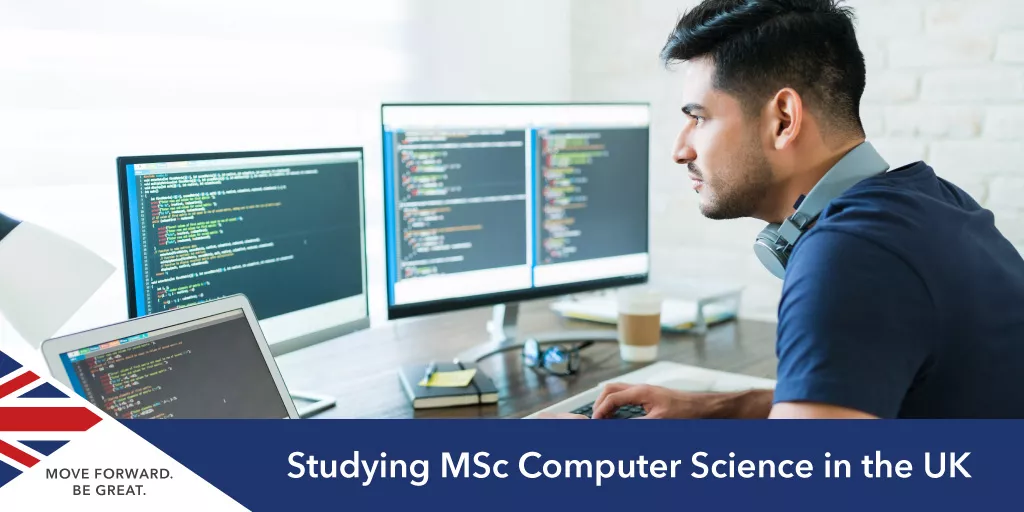 Best UK Universities for MSc Computer Science
One of the world's highest-regarded universities, the University of Cambridge, offers an MPhil degree in Advanced Computer Science. The programme is nine months long and offers students a rigorous and comprehensive education in computer science. It aims to give students relevant experience at a first-degree level and the opportunity to carry out directed research.
In addition to being introduced to advanced computer science concepts, students get a comprehensive and in-depth knowledge of the literature applicable to their chosen area. The course curriculum is designed by global experts and prepares you for undertaking a PhD programme in computer science. You will develop a deep understanding of computer science's theoretical underpinnings, enabling them to tackle complex problems and develop innovative solutions.
The MSc in Advanced Computer Science at the University of Oxford is a highly competitive and demanding programme, offering students an exceptional education and preparing them for careers in a wide range of fields, including software engineering, research, and academia. The course is designed to equip students with skills in developing and applying effective, realistic practice.
The 12-month programme is an excellent choice for students seeking to further their knowledge and expertise in quantum computer science, database systems implementation, probabilistic model checking, and other key subjects. In addition to lectures and tutorials, you will participate in several seminars and workshops, enhancing your understanding of the professional world.
The MSc in Computer Science at the University of St Andrews is one year long and involves a combination of coursework, independent study, and a research project. The coursework covers a range of advanced topics in computer science, including algorithms, object-oriented modelling, design, programming, and software engineering. Students also have the opportunity to take optional modules in specialised areas such as machine learning, data ethics, cybersecurity, software architecture, and robotics.
The course is flexible enough to allow students the freedom to pursue their interests in computer science. You can access St Andrews' modern computing laboratories, dual-screen PC workstations, and other state-of-the-art facilities to bring the knowledge into practice. A dissertation project is an intrinsic part of the programme, allowing students to learn software implementation, testing, analysis, and evaluation.
Imperial College London's Department of Computing is one of the largest in the UK and offers a wide array of courses in various specialisations, from computational science to artificial intelligence and visual computing and data science. The MSc Advanced Computing is one such reputed programme that covers many key aspects of computer science, including computational finance, programme analysis, and mathematics-based machine learning.
You'll work with industry professionals to enhance the skills needed to succeed in the modern technology-laden business world. The course curriculum is designed to prepare you for further research and application-based careers in the industry. You will be equipped with techniques and tools for improving the software's reliability and analysing computing programmes. The degree course focuses deeply on artificial intelligence, robotics, and data processing.
The University of Edinburgh offers a Master of Science (MSc) degree in Computer Science. The program aims to acquaint students with a broad range of advanced skills and knowledge in computer science and develop their ability to analyse, design, and implement complex software systems. The degree emphasises several topics, including cryptography, programming languages, algorithms, software engineering, computer architecture, artificial intelligence, quantum informatics, and data science.
The course is delivered in the School of Informatics main teaching building, Appleton Tower, with state-of-the-art computer labs with over 250 high-spec machines. In the company of some of the world's finest industry professionals, you will learn parallel programming languages & systems, computer programming, blockchains & distributed ledgers.
Study MSc Computer Science in the UK
Are you considering studying MSc Computer Science in the UK? Arrange a free consultation with SI-UK India to get all your questions answered regarding university selection, entry requirements, and scholarship opportunities.