Mechanical engineering plays a significant role in solving various challenges in the modern world, from designing power-producing machines to developing sustainable energy sources. It analyses, designs and maintains mechanical systems by applying physics and engineering science techniques. Being one of the most developed nations on the planet, the UK is home to several highly advanced engineering laboratories and universities that are popular among students worldwide and two of the top ten universities in the world for mechanical engineering are in the UK (QS World University Rankings 2022).
Mechanical Engineering is one of the most popular branches of engineering to study in the UK. Every year thousands of Indian students apply to study at top UK mechanical engineering schools as they offer good employment prospects worldwide. Skilled mechanical engineers are in demand in the UK and are listed in the UK shortage occupation list.
Learn about the best mechanical engineering universities in the UK (Guardian University Guide 2023) below, and if you need help applying to a UK university, arrange your free consultation with SI-UK India today.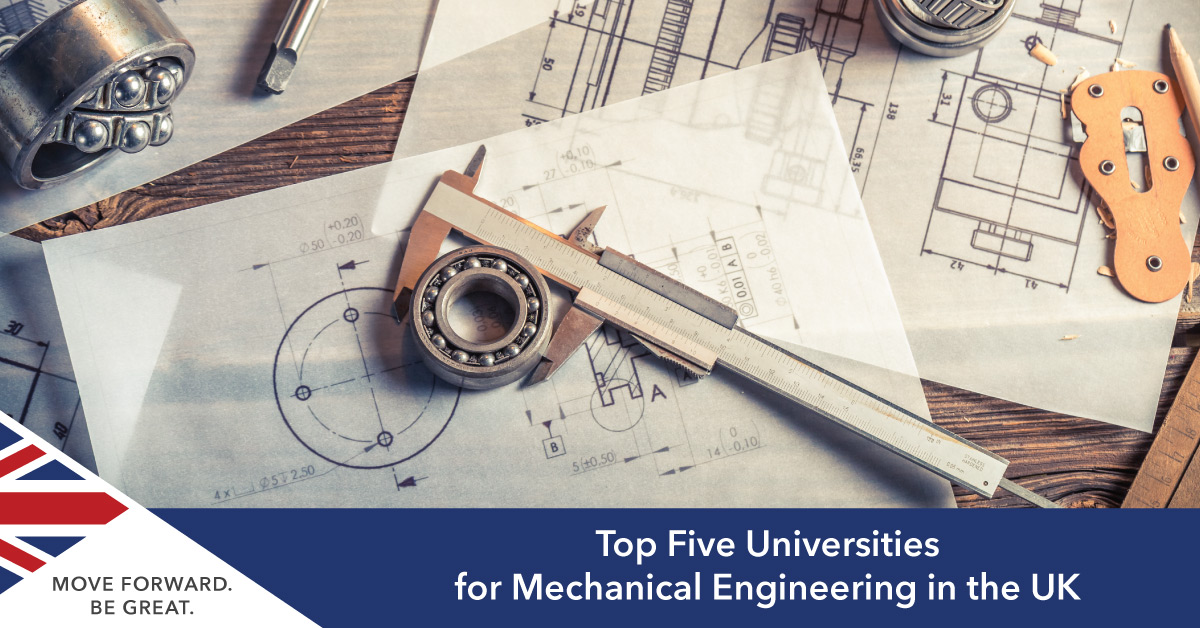 Top Five UK Universities for Mechanical Engineering Studies
The Department of Mechanical Engineering at Imperial College London is considered the best in the UK and one of the most prestigious globally. The institute is an opportunity to understand the principles of designing and prototyping by honing your creativity and technical skills. Students will be introduced to the latest industry equipment and gain the practical experience required for various engineering careers.
The four-year degree programme will be delivered at the South Kensington campus by industry experts and academicians. Core modules include Mathematics and Computing, Thermodynamics, Heat Transfer, Applications of Polymers, and Computational Continuum Mechanics. In the fourth year, students study several advanced topics, such as Aircraft Engine Technology, Metal Processing Technology, Computational Fluid Dynamics, and Nuclear Thermal Hydraulics. You can get acquainted with their application at Imperial's laboratory.
Mechanical Engineering is one of the premium programmes available at the University of Bath. It teaches you how to assess engineering systems using physical science, mathematics, and computing. Promoting creative innovation is at the core of this programme, while other key skills like engineering design, finite element analysis, and solidworks are also propagated through the comprehensive course curriculum. You will work closely with a supervisor to develop your engineering skills and contribute to the field.
Bath is home to a global standard of facilities, including a design activity centre, carbon fibre manufacturing facility, and subsonic wind tunnel. Working with Bath's avant-garde machines, students learn the fundamentals of design materials and manufacturing processes. The programme intends to help you master the concepts of structural mechanics, system stimulation, thermofluids, mechatronics, and several other crucial subjects.
The University of Southampton's Mechanical Engineering undergraduate programme focuses on the fundamentals of mechanical engineering while acquainting you with the theoretical knowledge of real design problems. In the first two years, the programme covers several key topics, such as solid mechanics, electrical and electronics systems, and fluid mechanics. In the third year of the programme, you can learn about robotics systems, automotive power trains, biomaterials, etc.
One of the highlights of the programme is the study of human factors in engineering, where you will understand how the characteristics and capabilities of people can be extremely crucial to optimise the design of things. The Robotics Systems module teaches you the application of robots and AI in life's different aspects, including manufacturing, agriculture, and service.
Located in Central England, Loughborough University is a popular centre of engineering studies. Its MEng in Mechanical Engineering is a highly advanced programme that covers a wide range of disciplines, including dynamics, control, heat transfer, and thermodynamics. Loughborough's course will help you gain a detailed understanding of different aspects of mechanical engineering. You will develop skills in CAD, behavioural mechanics, technical management, and several other transferable fields.
The four-year full-time programme is dedicated to various industry-relevant modules, including static and dynamics, engineering computation, electronics systems for mechanical engineers, and computer-aided design manufacture and test (CADMAT) in the first half. In the second half, students will explore energy systems analysis, automation control, ballistics and rocket propulsion, and polymer engineering. Students get substantial team project management and leadership experience in engineering design by engaging in several projects and assignments.
The University of Sheffield offers a world-class degree programme in Mechanical Engineering, intending to give you a thorough understanding of how and why things work and for how long they will work. Students have an opportunity to engage in several research-based projects, which will teach them how to control things when they fail. The detailed course curriculum is taught by some of the country's best academics, with a wealth of experience in their fields and links with industry.
Along with teaching modules, students participate in the Global Engineering Challenge Week in the first year, aiming to widen their horizons as global citizens. Key subjects you will be studying during the course are electric circuits, mathematics for engineering modelling, mechanics of deformable solids, advanced engineering thermodynamics cycles, and many more. The degree comes with a life-changing opportunity of studying abroad at one of Sheffield's 250+ university partners worldwide.
Careers in Mechanical Engineering
Mechanical engineers are at the centre of technology and innovation and in demand as per the UK shortage occupation list, and graduates are always needed in sectors such as the automotive, aerospace, manufacturing, electronics, transport, energy and biotechnology industry.
Positions in which graduates are hired are aerospace engineer, automotive engineer, mechanical engineer, CAD technician, contracting civil engineer, control and instrumentation engineer, maintenance engineer and nuclear engineer.
Study Mechanical Engineering in the UK
If you want to study Mechanical Engineering in the UK, arrange your free consultation online or at your nearest SI-UK India office today.