Linguistics courses are academic degrees focusing on studying language and its structure, development and usage. It is a broad field encompassing phonology, morphology, syntax, semantics, pragmatics, and discourse analysis. Generally, these courses cover the nature of language, its historical and cultural evolution, the structure and function of different languages, and the psychological and social factors that shape language usage and acquisition.
One of the best countries to study courses in Linguistics is the UK. Many universities in the country have a strong tradition of excellence in the study of language. The best linguistics universities in the UK offer rigorous and comprehensive courses both at undergraduate and postgraduate levels that provide students with a solid foundation in linguistic theory and analysis. The UK is also a hub for linguistic research, as many educational institutions conduct cutting-edge research in areas such as sociolinguistics, psycholinguistics, and computational linguistics.
Learn more about the best linguistics universities in the UK below (QS World University Rankings by Subject 2023) and begin your application to study in the UK by booking a free consultation with SI-UK India.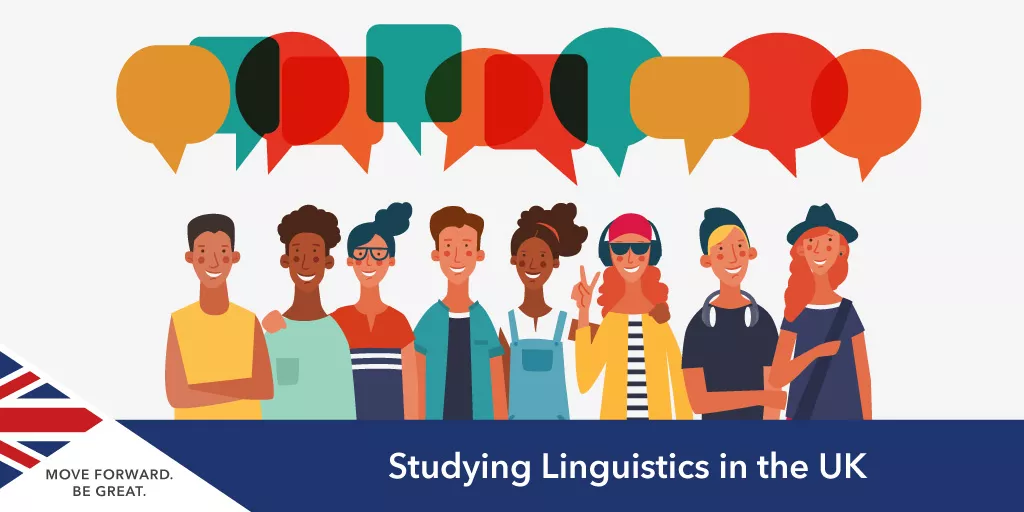 Top Five Universities for Linguistics in the UK
The most prestigious university in the world, founded in 1096, the University of Oxford offers several linguistics degrees through the Faculty of Linguistics, Philology & Phonetics. The courses in the department have been designed to give students a comprehensive understanding of language, its structure, and the social, historical and cultural contexts. There are specific Modern Languages programmes as well that provide both practical linguistic training in the language and an extensive study of many areas of European Literature. The university has several undergraduate and masters degrees in linguistics with diverse language options. The courses at the University of Oxford enable students to get trained by the best faculty at excellent facilities, which makes employers worldwide choose them on a priority basis.
One of the oldest universities, the University of St Andrews, was founded in 1413 and is located in St Andrews, Scotland. The School of Modern Languages offers undergraduate and graduate options to students wishing to study foreign languages, culture and Comparative Literature. Most courses are taught to specialise in the Languages - Arabic, German, Chinese, Italian, Persian, Russian and Spanish. The university also offers programmes in which one or more other subjects can be combined with one of the language subjects, all of which are aimed at helping students achieve a high level of fluency in all communicative contexts. The curriculum is such that alongside the language, one also studies the culture, film, politics, and history of the countries where those languages are spoken.
Among the world's top public collegiate universities that was established in 1209, the University of Cambridge is globally renowned for the quality of its educational and research output. Situated within the Faculty of Modern and Mediaeval Languages and Linguistics, Cambridge linguistics courses are internationally recognised, as they are ranked among the top 3 in major ranking systems. The university offers undergraduate and postgraduate programmes provided to more than 1000 students from around the world. The Faculty has six sections covering a range of language subject areas. It is also the home to the Centre for Film and Screen Studies. The Faculty is known for its interdisciplinary training, which enables students to have transferrable skills for a meaningful career in any field they choose after graduation.
One of the prominent public research universities in England, the University of Surrey, was established in 1966. Through its School of Literature and Languages, the university offers undergraduate, postgraduate and research courses, apart from a host of CPD and short-term courses. The focus of the school is on understanding how languages and texts work across national boundaries, how they basically function and how they interact. The university brings together the academic disciplines of English Literature, film studies, creative writing, intercultural communication, linguistics and translation studies. The university also has an international reputation for interdisciplinary research in Literature, linguistics, languages, and intercultural communication.
A public research university located in Sheffield, England, Sheffield Hallam University was established in 1843. The language courses in the university have been designed so that the students develop foreign language skills and also have a broad cultural awareness. There is a wide range of language courses specialising in French and Spanish. These courses are provided in combination with other subjects such as International Business, tourism, or teaching English to speakers of other languages. The duration of most undergraduate courses is around 3-4 years, but some short-term courses are also available. There are a few postgraduate degrees also available that include MA in Applied Linguistics for TESOL, MA in English Language and Linguistics, and MA in TESOL.
Study Linguistics in the UK
Are you considering studying a Linguistics programme in the UK? Arrange a free consultation with SI-UK to get all your questions answered regarding course selection, entry requirements, and scholarship opportunities.