Epidemiology is the study of the origin and causes of diseases in populations. It is a scientific method of investigation used by disease detectives to get to the root of health problems and outbreaks in a community, such as COVID-19.
Epidemiological research helps to cure patients, prevent further outbreaks from occurring and enhancing life quality and longevity. Epidemiology is at the forefront of saving lives today as epidemiology experts are involved in many different aspects of infectious disease research.
With the outbreak of the COVID-19 pandemic, the term epidemiology has started coming up more than ever but it is a well established science and a popular course that has been taught for decades at UK universities.
Learn more below about the best universities to study Epidemiology in the UK, or start your application right away by booking a free consultation with SI-UK India today.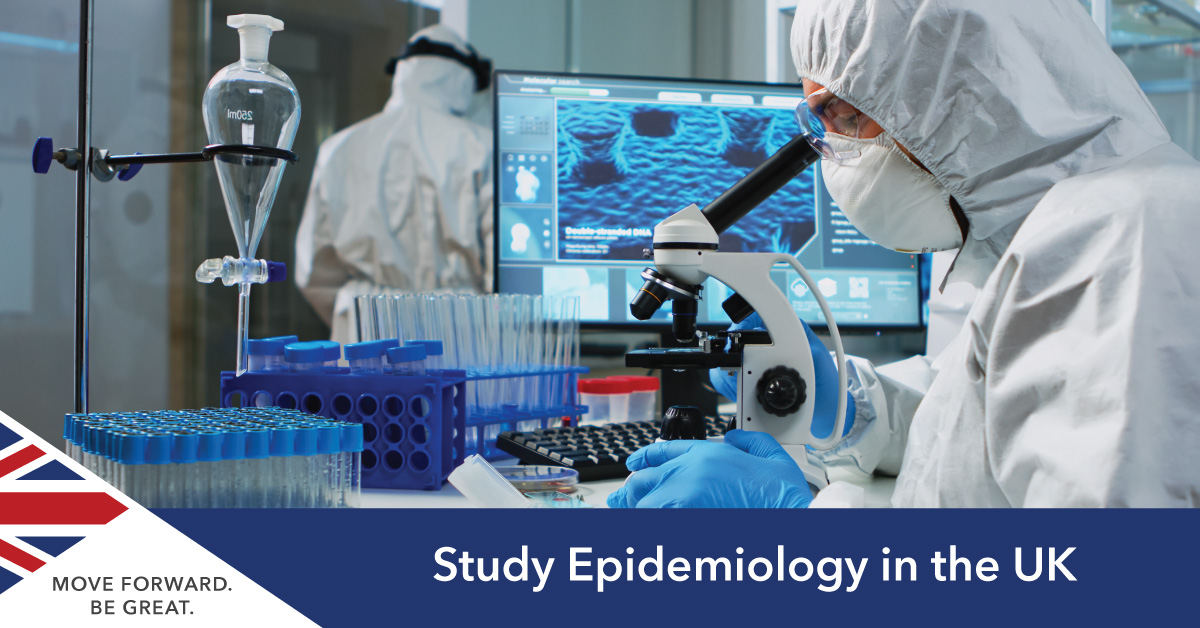 The Best UK Universities for Epidemiology
1. University of Oxford
Course in focus: MSc in Global Health Science and Epidemiology
This course offered at the University of Oxford offers students intensive training in epidemiology and statistics so that they can conduct research within important areas of population health. Course modules include Introduction to Global Health Science, Principles of Epidemiology and Statistics and International Research Ethics.
Students go on to build careers in academia or work for major national and international health organisations, government agencies and in the industry.
2. Imperial College London
Course in focus: MSc in Epidemiology
This course offered at Imperial is suitable for students who want to conduct research and acquire skills in epidemiology and biostatistics and students will be trained in the design, methodology and interpretation of epidemiological studies on infectious diseases.
Course modules include principles and methods of epidemiology, biostatistics and infectious disease modelling. Graduates pursue an academic career by studying for a PhD or start working for public health organisations, pharmaceutical companies and non-governmental agencies.
3. University of Bristol
Course in focus: MSc in Epidemiology
Offered in the Department of Population Health Sciences, the MSc in Epidemiology offered at the University of Bristol involves studying the principles of modern epidemiology and its role in public health and other health-related disciplines through design and analysis of experimental studies covering aetiology, interventions, diagnosis and prognosis.
Students will develop the knowledge and skills needed to work as a researcher and a systematic reviewer for health-related data in universities, research centres, government agencies, pharmaceutical companies, and other private and public organisations.
4. University of Glasgow
Course in focus: MSc in Quantitative Methods in Biodiversity, Conservation and Epidemiology
Accredited by the Royal Society of Biology and offered by the leading Institute of Biodiversity, Animal Health and Comparative Medicine (IBAHCM), this course at the University of Glasgow trains students in conducting general research as well as in data collection, modelling and statistical analyses. Modules include biodiversity informatics, the dynamics of emerging disease and molecular epidemiology and phylodynamics.
Graduates can join the government, health institutes, NGOs and academia and can in particular work for conservation biology, veterinary or public health epidemiology, zoos and ecotourism.
5. University College London
Course in focus: MSc in Applied Infectious Disease Epidemiology
University College London's research strength in the field of biological sciences is famous and this course focuses on new technologies for analysing pathogens and their applications in dealing with global public health challenges. Students will study infectious diseases such as STIs, HIV, TB, influenza and other airborne viruses and will learn about basic statistics, epidemiology, transmission dynamics, and infection pathogenesis.
Graduates will be trained for a career in epidemiology and biological science, as well as a career in international global health and policy-related work.
6. Cardiff University
Course in focus: MSc Bioinformatics and Genetic Epidemiology
This course offered at the prestigious Cardiff University focuses on genetic epidemiology; which is how genetic factors play a role in determining health and disease; and is an ideal postgraduate programme for graduates who have studied life sciences, computer sciences or mathematics. You will learn about computational and statistical biosciences as well as gene discovery approaches.
Graduates will develop skills fit for a career in academic research, biotechnology, and the pharmaceutical and healthcare industries.
Careers in Epidemiology
Epidemiology courses offered at UK universities focus on vital transferrable skills that can be applied to infection and population health problems. Students work in multidisciplinary teams to seek solutions to hypothetical and real-world public health problems, which prepares them for the job market.
Graduates go on to work for national, international, public and private organisations and can be hired by Public Health England (PHE), Health Protection Scotland or other government bodies such as the Health and Safety Executive (HSE). They are also employed in universities and research institutions, international charities and the private sector, especially in pharmaceutical companies.
Study Epidemiology in the UK
If you are interested in studying Epidemiology in the UK, arrange your free consultation online or at one of our offices near you to apply for September 2021 or January 2022 entry today.