Britain is full of wonderful things to see and not all of them have a hefty entry fee or are located in the busy city of London. There are several amazing things to see all over the UK such as the beautiful countryside and popular tourist attractions such as monuments, museums and galleries. Walk around the markets and royal parks and enjoy doing things as students that won't cost you a penny.
In part 1 of our international student guide to London for free, we looked at museums, galleries, royal parks and historic ceremonies, and in part 2 of our London guide, we looked at famous markets, churches and cathedrals in London. Here we will be looking at the best places for students to visit for free outside of London.
Learn about the top free places for students to visit in the UK outside of London below and for information regarding living and studying in the UK in 2021, book a free consultation with SI-UK India today.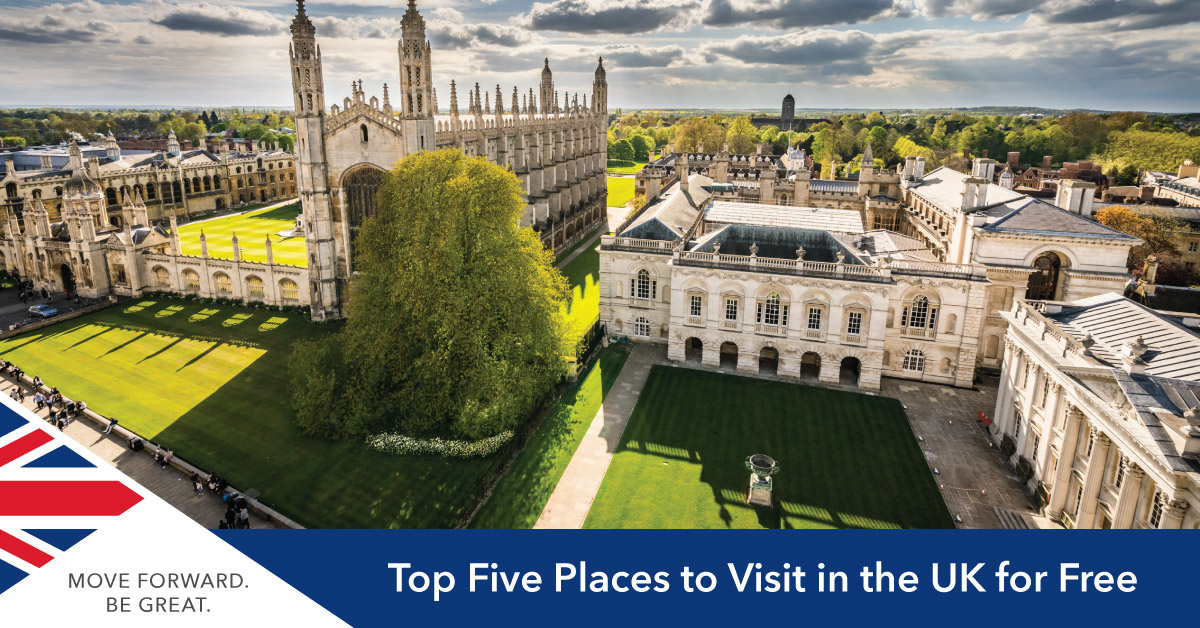 Five Best Places to Visit in England for Free
1. Museums
The UK is full of grand and exciting museums and while you may have to stand in queues to see them, the good news is that entry is mostly free. Popular museums outside of London in the UK include:
The Riverside Museum
The Riverside Museum in Glasgow is the 21st century's first purpose-built museum housing the city's fascinating transport and technology collections. Designed by the world-famous architect Zaha Hadid, it has over 3000 historic objects and vehicles on display.
Merseyside Maritime Museum
Situated in Liverpool in the Royal Albert Dock, the Merseyside Maritime Museum focuses on British seafaring history. Some of the museum highlights include ship models, maritime paintings and even some full-sized vessels.
Birmingham Museum and Art Gallery
See some incredible historic artefacts at this museum and art gallery located in the vibrant city of Birmingham which is just over an hour's train ride from London. You will get to witness England's largest Pre-Raphaelite collection, the renowned Staffordshire hoard display and real mummies from Ancient Egypt.
2. Royal Parks and Gardens
Parks are one of the most visited places in the UK and for good reason too. These luscious green spaces consist of lakes, scenic cycling tracks and restaurants and cafes which you can enter for free and get together with people to enjoy a pleasant afternoon.
Royal Botanic Garden
Located in Edinburgh, the Royal Botanic Garden is the most visited attraction in Scotland (Association of Leading Visitor Attractions 2020). With a history dating back to 350 years, the gardens are home to a diverse, spectacular living collection of plants, trees and outdoor sculptures.
Kew Gardens
This UNESCO World Heritage Site is located in southwest London and houses the world's largest and most diverse botanical collection. You can see over 50,000 live plants and 13,000 trees at this historic site which has royal roots and dates back to the 16th century.
The North York Moors National Park
Situated in scenic Yorkshire, the North York Moors National Park is an upland area containing one of the largest expanses of heather moorland in the UK. You can experience breathtaking landscapes, beautiful starry night skies and enjoy a wide range of adventurous outdoor activities.
3. Markets
Columbia Road Flower Market
A street market held in Bethnal Green in London, Columbia Road Flower Market is a real treat for the eyes. Walk around this colourful and lively place where you will be surrounded by fresh flowers, vines and plants. You can also find stylish home goods, lovely antiques, pretty art and gardening tools at the market.
The Barras Market
Located in the East End of Glasgow in Scotland, the Barras Market is a mix of street markets, indoor markets, shops and pubs. A wide range of things are available and bargaining is a must when looking to buy something at this market! You can walk around, take in the sights and enjoy a quick bite at this lively and vibrant place.
4. Carnivals and Festivals
Bristol International Balloon Fiesta
Witness over a hundred hot air balloons taking to the sky at the free and spectacular International Balloon Fiesta in Bristol. Attracting around 130 hot air balloons from around the world, it is Europe's largest meeting of hot air balloons and promises to be a sight you'll never forget.
Edinburgh Festival Fringe
Held every year in August in Scotland's capital city, the Edinburgh Festival Fringe is one of the world's greatest celebrations of arts and culture. Thousands of artists and performers from around the world take to hundreds of stages all over the city to present shows for every taste. Entry is often free and you can always see what's on before you visit.
5. Other Sights
Wales Millennium Centre
An arts and cultural centre located in Cardiff, Wales in the Cardiff Bay area, the Wales Millennium Centre is an internationally significant cultural landmark and centre for the performing arts. It hosts both free and paid events such as performances, exhibitions and film screenings and you can check online and see what's on before you visit.
William Shakespeare's Birthplace
Located in Stratford upon Avon are the literary legend William Shakespeare's birthplace and grave and this of course make the place one of the major tourist attractions in the UK. While seeing the insides is chargeable, you can visit the street and see the house from outside for free. Enjoy walking around the market town packed with history, sample the eclectic food scene and see the famous Tudor architecture.
Bath Walking Tour
Enjoy a free tour of the beautiful and historically significant honey coloured city of Bath, Somerset provided by the Mayor of Bath's Honorary Guides. Witness the Roman and Georgian heritage and discover the city's most celebrated spots such as The Royal Crescent, The Circus and Pulteney Bridge.
Study in the UK
Enjoy the rich history and culture of one of the most student friendly countries in the world. For information regarding living and studying in the UK in September 2021, book a free consultation with SI-UK India today.