With the enormous growth of online activities in different sectors of life, the knowledge and implementation of digital marketing strategies has become crucial in business sectors worldwide. Digital marketers stay up to date with or ahead of the trends in electronic media promotion. They are professionals who make use of marketing techniques meant for specific digital environments to influence consumer purchasing decisions.
A specialised study programme, studying a masters in digital marketing at a UK university will offer students the practical skills, techniques and knowledge that will make them desirable to employers and help cater to the growing needs of the market today.
Students with a business and marketing background or even those planning to change their careers can take up this study programme in the UK. A UK MSc digital marketing course allows students and working professionals to upgrade their skills respectively and acquire the knowledge required to implement efficient social media and digital marketing strategies.
Learn about studying a digital marketing degree in the UK, as well as the top digital marketing courses at UK universities, or apply with SI-UK India by arranging your free consultation today.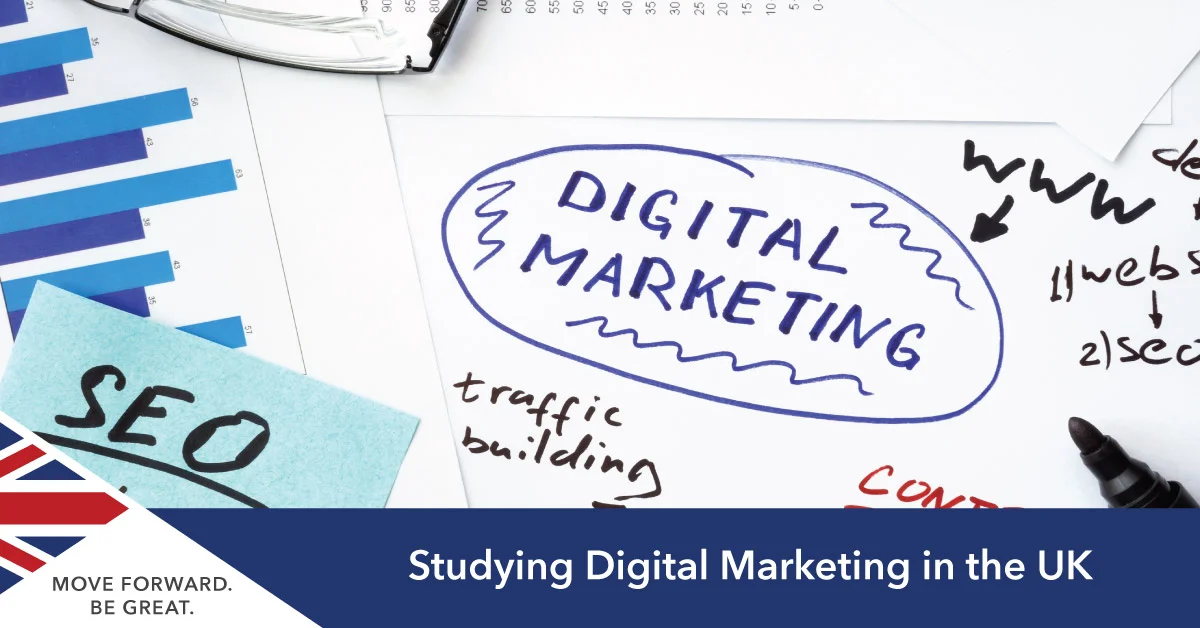 Why Study Digital Marketing in the UK?
Digital marketing degree courses are popular in the UK. The digital landscape is rapidly evolving and the curriculum for the digital marketing courses is regularly updated in all UK universities to cater to new developments, trends and practices. Students are taught by internationally recognised experts from the field and get access to best in class facilities and technologies.
The UK is also the perfect location providing different digital sectors with the best scope of innovation and growth. By studying an MSc Digital Marketing at a UK university, students will:
By studying an MSc Digital Marketing at a UK university, students will:
Acquire the theoretical and practical knowledge required for planning, managing, and implementing digital marketing game plans in order to support business strategies
Build a strong base in marketing practice and theory
Learn evolving digital marketing trends
Understand how marketing activities can have a major influence on their stakeholders and business
Develop the skills required for analysing complicated marketing situations
Make efficient use of social media platforms such as Facebook, Instagram and Twitter
Learn how to integrate digital marketing into the marketing framework
Run real-life campaigns in digital marketing by applying social media and search marketing techniques in their marketing plans
Work on case studies and group assignments and will be encouraged to come up with blogs of their own as well as working on their profile and networking
Careers in Digital Marketing
Possessing a masters in digital marketing from a UK university will improve students chances of getting employed anywhere globally. Digital marketing salaries in the UK can go as high as £51,000 for experienced candidates, while freshers with a degree in the subject can expect to earn at least £22,000.
Graduates work in the field of content, SEO, eCommerce and analytics and can be employed as digital marketing executives, content developers, SEO executives, digital marketing managers, content marketers, SEM experts, social media executives, web developers, web designers, CRM managers, analytics managers, e-commerce managers and email marketing managers. AN MBA in digital marketing will further improve your career prospects.
Seven Digital Marketing Programmes to Study in the UK
Here are our top seven MSc in Digital Marketing for Indian students in the UK based on factors such as university rankings, scholarships, placements, accreditation and international student support.
1. MSc Marketing in Digital Marketing - University of Reading
One of the UK's top 30 universities, the University of Reading's Henley Business School has been at the forefront of higher education for decades and offers an excellent one year digital marketing course. Key topics include digital marketing strategies, search engine marketing, and developing content.
2. MSc in Digital Marketing - Royal Holloway, University of London
A leading university situated in the capital city of London, Royal Holloway offers a popular one year full-time digital marketing programme that offers a 360 degree perspective of digital marketing from branding to metrics. Scholarships of up to £7,000 are available for international students doing a masters in this course.
3. MSc Digital Marketing and Channel Management - University of Surrey
Combining the two digital marketing and channel management areas, the University of Surrey's digital marketing programme is highly flexible and can be studied as a 12, 15 or 24 months programme. Accredited by the Chartered Institute of Marketing (CIM), the university offers a professional placement year in its 24 months programme.
4. MSc Digital Marketing Management - University of Strathclyde
Developed in collaboration with industry to cater to the growing need for skilled digital marketers, Strathclyde's digital marketing programme is one of the few which is triple accredited by EQUIS, AMBA and AACSB and aims to equip you with the latest knowledge, best practice and the specialist skills to become highly employable.
5. MSc Digital Marketing - Manchester Metropolitan University
Manchester Metropolitan University or MMU is a top modern university and its digital marketing course can be pursued as a one year or two year course. MMU's business school is accredited by the Institute of Data and Marketing, EQUIS, AMBA and AACSB. You will get a short internship opportunity to test possible career paths in the industry.
6. MSc Digital Marketing - Nottingham Trent University
One of the UK's leading young universities, Nottingham Trent University is ranked in the top 20 for marketing courses. NTU's digital marketing programme is created in collaboration with the Chartered Institute of Marketing (CIM) and is accredited by EQUIS and AACSB. The MSc is offered as a one-year full-time course or a two years course with work placement.
7. MSc Digital Marketing - Middlesex University London
The Digital Marketing MSc at Middlesex University London is accredited by the Chartered Institute of Marketing (CIM) and can be studied as a one-year full-time course or a two years part-time course. You will get the chance to work on new projects with the Residential Business Trip where you'll be visiting and learning about marketing from diverse UK businesses and companies.
Study Digital Marketing in the UK
Book your free consultation to apply with SI-UK India today.