Anatomy and physiology is about the structure of the body and its functions. The course gives an in-depth knowledge about the reasons, symptoms, diagnosis and treatment of diseases and their effect on various organs of the body. The course also touches the magnificent subjects such as cloning of the cell, genetic engineering & bioinformatics.
The degree prepares you for diverse fields in the medicine like physiotherapy, neurophysiology, cardiology or biomedical science. The doors for extensive research are also opened for the students. The job growth is perceived to be faster than the average for all occupation.
Study Anatomy and Physiology in the UK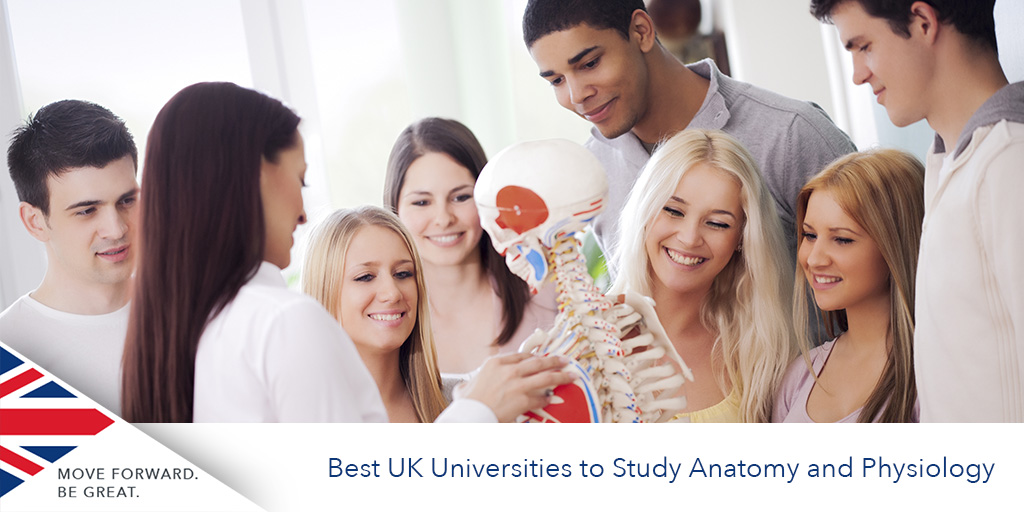 Best UK Universities to Study Anatomy and Physiology
The top 5 Universities in the UK to study Anatomy and Physiology as per the Guardian University Guide 2019 are:
1. University of Liverpool
Courses to Consider: BSC (Hons) Anatomy and Human Biology/ BSC (Hons) Human Physiology
These 3-year full time courses at University of Liverpool are also offered with outstanding Study Abroad options.
Opportunity for a practical research project in one of the internationally renowned research groups working within the research institutes
Over £30 million has recently been invested in the School's facilities, such as Biology Teaching Centre, Biosciences Building, the Biomedical Sciences Building and the Human Anatomy Resource Centre to support the studies with best teaching and research equipments.
2. Cardiff University
Courses to Consider: BSc Biomedical Sciences (Anatomy) and BSc Biomedical Sciences (Physiology)
Experience the excitement of learning in an active research environment as the staff is engrossed in research impacting teaching and learning
The university provide the latest equipment, techniques and facilities.
You will get access to a wide range of exciting training opportunities as the School is home to the Welsh Centre for Anatomical Education as well as leading the European Cancer Stem Cell Research Institute and Medicines Discovery Institute.
Study human dissection under the direction of skilled experts within the Welsh Centre for Anatomical Education.
Cardiff is the only university in Wales, and one of the few universities in the UK, to combine cutting-edge digital methods with traditional human dissection.
3. University of Edinburgh
Courses to Consider: BSC Anatomy and Development / BSC Physiology
These 4-year full time courses at University of Edinburgh take a thematic and progressive approach and are taught in a research led teaching environment coordinated by the Biomedical Teaching Organisation.
The courses allow you to get involved in a major research project including original laboratory-based research or library-based, literature analysis-based research
Opportunity to Study Abroad in Europe, North America and Asia with guaranteed study abroad funding.
4. King's College London
Courses to Consider: BSC Anatomy, Development and Human Biology / BSC Medical Physiology
These 3-year courses, also features options to study abroad or to transfer to other Biomedical Science courses after first year with the 'Common Year One' curriculum.
The courses provide you to get benefits from a wide range of expertise at King's College London in neuroscience, developmental biology, physiology of extreme environments, cardiovascular and muscle physiology and endocrinology and reproduction.
You can transfer to one of the available four-year MSci courses in Biochemistry, Molecular Genetics, Neuroscience or Pharmacology.
The university is ranked 13th for Anatomy by QS World University Ranking by Subject 2017
University of Aberdeen
Courses to Consider: BSC Biomedical Sciences (Anatomy) / BSC (Hons) Physiology
These 4-year courses at University of Aberdeen are taught at the Institute of Medical Sciences allowing a high degree of integration in research and teaching.
Opportunity to complement this degree by undertaking a year's placement in an industrial, commercial or research environment and therefore graduating after five years with an MSci course.
Modern teaching facilities and labs provide you an opportunity to experience working in a research-focussed laboratory environment
Apply to study Anatomy and Physiology in the UK
If you are interested to study Anatomy and Physiology in the UK, arrange your free consultation today. Don't forget the Premium Service that guarantees at least one offer from a UK University!