Studying an MSc Digital Marketing in the UK can be an excellent opportunity for Indian students who wish to develop their skills and knowledge in the field of marketing. The UK is known for its high-quality education, and digital marketing is a rapidly growing industry, making it an ideal place for students to learn and grow.
An MSc in Digital Marketing in the UK typically lasts for one year full-time, and students will learn a variety of skills related to digital marketing. Some common topics covered in the course include Digital Marketing Strategy, Content Marketing, Social Media Marketing, Search Engine Optimization (SEO), Pay-Per-Click Advertising (PPC), Analytics and Reporting, E-commerce and Mobile Marketing, and Marketing Automation.
Learn more about the best universities for MSc digital marketing in the UK below (CUG 2023) and to begin your application, arrange a free consultation with SI-UK India today.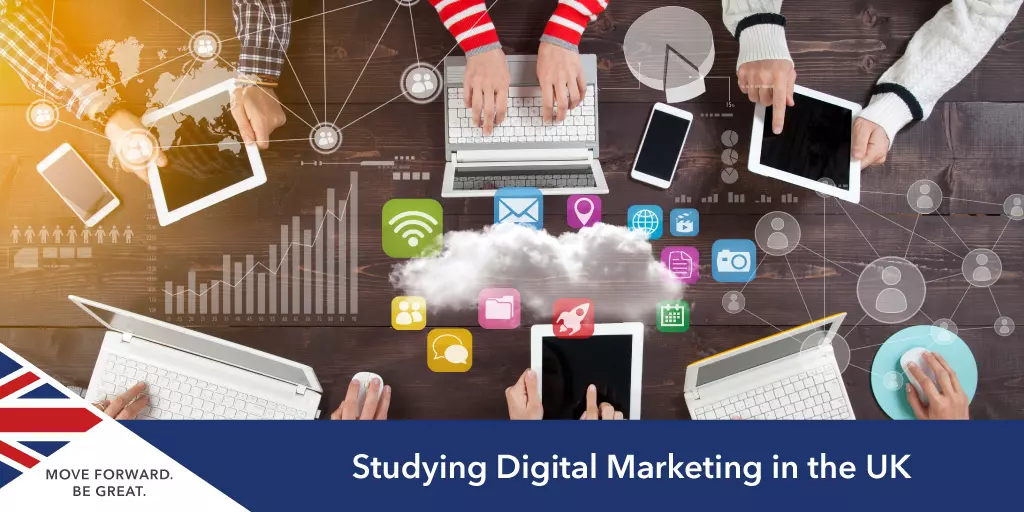 What is Digital Marketing?
Digital marketing is achieving marketing objectives through the application of digital technology and media. It refers to the advertising and promotion of brands or products delivered through digital channels such as search engines, websites, social media, e-mails and mobile apps.
MSc Digital Marketing in the UK
UK universities attract talented students from all over the world to learn about diverse cultural perspectives on digital issues. Several of the best universities in the UK, including elite Russell Group universities, offer top-ranked digital marketing courses. A digital marketing degree from the UK will give you the knowledge and practical technical skills that top employers in an extensive range of fields are looking for.
You will gain an understanding of the technologies by focusing on digital marketing concepts and techniques
You will develop essential skills through real-world marketing projects and virtual business exercises
You will be taught by experts that are research-oriented to ensure that the course reflects the latest developments in the field
You will be encouraged to evaluate emerging digital trends, harness marketing principles, and set up blogs having a critical approach
Digital Marketing Jobs
Digital Marketing Manager
Web Developer & Web Designer
Social Media Executive & Social Media Manager
SEO Executive
SEM Expert
Content Marketer
Analytics Manager
CRM Manager
E-mail Marketing Manager
E-Commerce Manager
Digital Agency Account Director
Top 10 UK Universities for MSc Digital Marketing
MSc Digital Marketing at the University of Bath aims to enhance the understanding of core marketing theory and its practical application. It is specifically designed for individuals who hold business, management, or marketing experience and are seeking a career in marketing.
The course content is developed with inputs from marketing industry leaders across various organisations to ensure that the participants gain the necessary skills that employers are looking for. With a focus on real-world scenarios, participants will be able to develop practical knowledge and skills that are essential for a career in marketing. The course primarily focuses on the three core elements of modern marketing, including marketing to consumers and other stakeholders, market research and analytics, and the role of marketing in society.
Course to consider: Marketing MSc
International fees: £28,000
Entry requirements: A 2:1 (or its international equivalent) in your undergraduate degree, which can be in any discipline but must include an appropriate level of business/management and marketing-related content
The MSc in Marketing Strategy and Innovation at the City, University of London is delivered through its Bayes Business School. The programme emphasises complex marketing concepts and emerging trends, including digital transformation and the importance of human values in modern marketing, Aiming to provide students with a deep understanding of marketing principles and cutting-edge practices.
The program begins with two mandatory induction weeks, where students will have the opportunity to get acquainted with their new classmates and professors. These induction weeks will cover essential topics such as effective cross-cultural collaboration, computer skills, and career services. Additionally, students will attend a career fair, where they can explore potential career opportunities and network with industry professionals.
Course to consider: Marketing Strategy and Innovation MSc
International fees: £28,000
Entry Requirements: A UK upper second class degree or above, or the equivalent from an overseas institution
Durham University has formed a partnership with the Chartered Institute of Marketing (CIM) to provide students with the chance to obtain professional qualifications through the CIM Graduate Gateway. CIM credentials are highly valued by employers and are designed to complement the university's own degrees, ensuring that students are equipped with the best possible opportunities for a successful career in marketing.
In the first term, students receive instruction in core concepts that enable them to develop skills and experience relevant to various business marketing careers, from the commercial sector to charitable organizations and beyond. In the second and third terms, students have the opportunity to choose from a selection of optional modules that offer advanced-level training in contemporary marketing and management.
Course to consider: MSc Marketing
International fees: £27,000
Entry requirements: You will need the equivalent of a UK first or upper second-class honours degree.
University of Exeter's MSc Digital Marketing course focuses on applying digital marketing knowledge in practical settings, including marketing analytics, analysis and application, campaign planning and management, and digital innovation.
Designed with extensive input from digital marketing professionals, the course offers a diverse range of skills and a broad understanding of the digital marketing mix. It covers key areas such as marketing analytics, campaign planning and reporting, and digital innovation, ensuring that students are well-prepared to tackle a variety of challenges in their future careers.
Course to consider: MSc Digital Marketing
International fees: £24,000
Entry requirements: A mid 2:2 degree (55%+) with honours in any discipline from a recognised university.
This MSc in Digital Marketing at the University of Southampton offers students the opportunity to develop the skills required for a career in digital marketing. The programme is delivered by industry experts at the Business School and the Web Science Institute.
The course covers a range of topics, including emerging digital communication techniques, web analytics and insights into user behaviour, the impact of online and multi-channel retailing, the technology underpinning digital marketing, advertising, public relations (PR) and sponsorship, and project design and management.
Compulsory modules provide a balanced grounding in the skills of the subject, while optional modules allow students to broaden their understanding or specialise in specific areas.
Course to consider: Digital Marketing (MSc)
International fees: £25,000
Entry requirements: A 2:1 degree in a business, economics, management or marketing-related subject.
The University of Leeds offers a Master's in Advertising and Marketing that focuses on advertising and branding with specialist knowledge in marketing management and communications. Through the course, you will develop a comprehensive understanding of the key areas in digital marketing, such as strategy and consumer behaviour.
Course to consider: Advertising and Marketing MA
International fees: £27,500
Entry requirements: A bachelor degree with a 2:1 (hons) or equivalent international qualification in any subject.
Digital Marketing Management at the University of Strathclyde is a unique course developed in collaboration with the industry in response to a growing need for graduates with digital marketing skills. You can gain an understanding of digital technologies and their application for business purposes and, at the same time, learn about digital marketing in practice with hands-on experience with established and emerging digital media.
With a digital marketing degree from the University of Manchester, students will gain a strategic understanding of the entire digital marketing process and gain in-depth knowledge of tools and tactics to deliver unique analytical as well as problem-solving skills.
Course to consider: MSc Digital Marketing
International fees: £25,000
Entry requirements: First or Upper Second class honours degree or overseas equivalent.
Loughborough University's digital marketing courses are aimed at helping students with an overall knowledge of digital technologies along with the principles of contemporary digital marketing practices.
Course to consider: MSc Digital Marketing
International fees: £26,500
Entry requirements: 2:2 degree from a recognised UK University or equivalent overseas qualification.
Benefit from workshops, group-based activities and lectures from industry leaders to develop your knowledge whilst studying MSc Marketing at Lancaster University. Digital marketing is available at Lancaster University as an optional module in the second term of the MSc marketing course.
Course to consider: MSc Marketing
International fees: £24,150
Entry requirements: 2:2 Hons degree or equivalent overseas qualification in any subject (except Marketing)
Study Digital Marketing in the UK
If you need further information regarding studying a digital marketing master's in the UK, contact SI-UK India to arrange a free consultation today.