Choosing the right university programme to study can be a daunting and confusing task as there are hundreds of different options available. The decision making process starts with narrowing down of choices based on a number of different factors. Right from choosing a subject of interest to understanding the academic requirements, availability of scholarships, selecting the right university, understanding career goals and much more.
Studying in the UK is a great opportunity to acquire quality higher education and improve career prospects. There are more than 200 universities in the UK offering over 65,000 foundation, undergraduate and postgraduate programmes to choose from. Before you zero down on a list of universities to wish to apply to, you should choose the right study programme to meet your future goals and current interests.
Although there is no single approach to making the right decision, listed below are a few useful tips to help you understand how to choose a university programme to study in the UK.
You can meet top UK universities directly at the SI-UK University Fair Online and learn more about courses, admission requirements, scholarship and also get Tier 4 visa advice for Indian students. Register for a free entry at the virtual fair and meet as many universities as you like from the comfort of your home.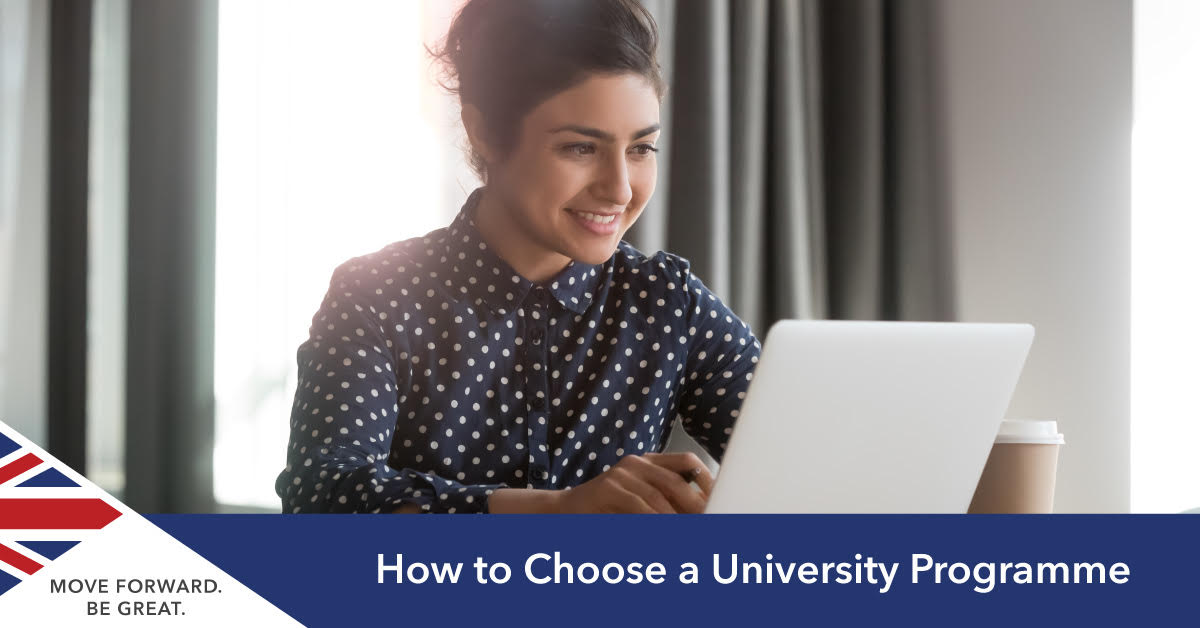 Seven Tips to Help You Choose a University Course
Research on the below mentioned points and ask yourself these questions to help you discover which study programme you would like to pursue for undergraduate or postgraduate degree in the UK.
1. Subject of Interest
The most important factor to consider is what subject interests you the most. Think on questions like what would you like to pursue for further education, what kind of a degree would you prefer. Depending on your future goals, career aspirations and academic orientations you would be able to narrow down the subjects you wish to study at a university. Make sure that you enjoy the subject or course you choose. The programme you choose to study must include subjects that interest you. Some degree programmes are multidisciplinary or integrated to facilitate learning of varying subjects of interest.
2. Course Content

UK degree courses tend to be very flexible allowing students to choose subjects and modules based on their preference. You must carefully research the course content and modules to understand which specialist areas of study you want to focus on within a broader subject of interest, your future career aspirations and industry based skill requirements. The course content varies between universities and study programmes.
3. Mode of Delivery
Programmes can be teaching oriented or research oriented with focus on self-study and hands-on learning. This is an important consideration to choose a university programme. Whether you would like more classes, lectures, seminars or you prefer research, independent study, field trips and study abroad opportunities; these are choices that can influence your decision to pick a university programme.
You can choose a programme with a traditional classroom style learning approach or a more experiential learning approach. Moreover, courses are delivered either full-time, part-time, through distance & blended learning or through online class mode which again form an important consideration before choosing a programme at a university abroad.
4. Academic Requirements
Before you choose a programme evaluate your skills and academic abilities to understand which subjects you will be able to pursue at undergraduate or postgraduate level. It is also necessary to understand the admission requirements of a programme and check whether you qualify for entry to the programme. In cases where students are unable to meet the academic requirements, many universities in the UK offer pathways for entry to a programme of interest through preparatory courses.
5. Internship Opportunities
Work based learning is another significant choice. In order to choose the right programme students must understand first if they would like to gain access to practical learning and implement their theories and skills in a real world setting. Should they be looking for a programme with internship opportunities or will there be placement support at the end of a programme are factors which can strongly influence the decision of choosing a university programme.
6. Programme Cost and Scholarship
Cost of education and tuition fee are factors which can substantially influence the choice of a study programme. Tuition fee and cost of living varies between different programmes, universities and cities. Students need to choose carefully keeping in mind the different financial aids available such as whether the programme offers any scholarship, if it qualifies for student grants, government bursaries or other funding options like student loans.
7. Choose a University
University and programme reputation, international rankings and subject excellence can be decisive factors for some students. Others may focus on the university life and student experience. Many students would therefore like to evaluate the attractiveness of a programme in terms of factors such as campus vibe, student facilities, sports, clubs, extracurricular activities, student societies, campus culture, accommodation and student support.
Study in the UK
If you are interested in studying undergraduate, postgraduate and research programmes in the UK and want help in applying to the UK universities, book a free consultation with SI-UK today. Our education experts can guide you to choose the right university and programme and support you throughout the application and student visa process.