London is renowned as a cultural hub and one of the most modern and tourist-friendly places in the world. However, there's no denying that it is also one of the most expensive cities to live in. But did you know that almost half the tourist attractions in London can be visited free of cost?
The UK's vibrant capital is full of wonderful things to see and not all of them have a hefty entry fee. There are several fantastic sites to visit in London without spending a penny which include markets and royal parks as well as popular tourist attractions such as monuments, museums and galleries.
In part 1 of our international student guide to London for free, we looked at museums, galleries, royal parks and historic ceremonies, whilst in part 2 we will now be looking at famous markets, general sights of interest and churches and cathedrals.
Learn about more great free places in London below and if you would like to begin studying in the UK from 2021, book a free consultation with SI-UK India today.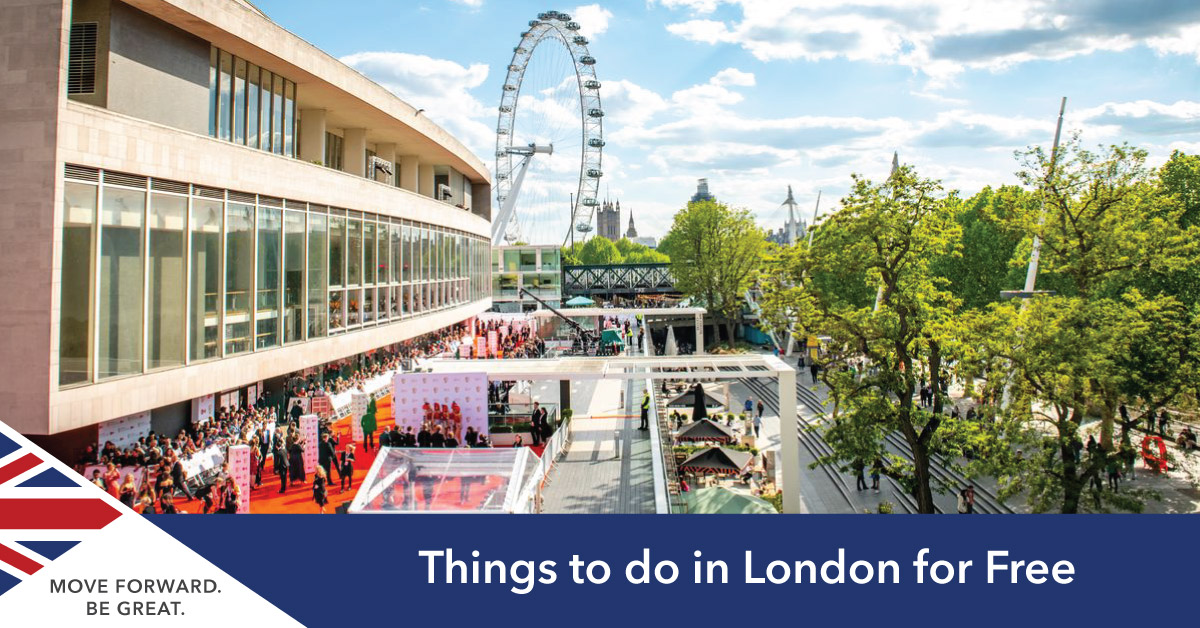 Three Places to Visit in London for Free
1. Famous Markets and Shops
London has all kinds of shops and markets from luxury retail to bargain markets which offer the best of food, fashion and everything else. Some of them are well worth a visit even if you don't need to purchase anything.
Harrods is a shopping centre in London which in itself has become an iconic landmark. The luxury department store is a dream come true for high-end fashion lovers and luxury shoppers, but it's also worth taking a look at for its lovely design and interiors.
Run by a charitable trust, Borough Market is London's oldest food market offering genuinely exceptional produce from fresh seafood to tempting cheese boards. Check out the free samples and enjoy the riot of colours, smells and sights.
Witness street performers, visit live music venues, explore global cuisines and walk along the beautiful canal in and around Camden market. The place is rich with culture and offers a unique vibe that can only be experienced.
Columbia Road Flower Market
One of London's most unusual markets, this is, as the name suggests, a flower market held each Sunday on Columbia Road. Walk through the fresh blooms and satiate your senses in this part of East London.
2. Churches and Cathedrals
London is home to beautiful and enchanting churches and cathedrals that hold historic value and are free to visit. Popular ones include:
Situated on the banks of the River Thames close to London Bridge, Southwark Cathedral is the oldest cathedral church building in London, dating back to 606 AD.
The famous and historically relevant church is the oldest site of Christian worship in London. Notable burials include Mary Wollstonecraft and Sir John Soane.
A landmark church located in the midst of London near Trafalgar Square, St. Martin in the Fields is a hospitable and forward-thinking church steeped in breathtaking Georgian architecture.
Located in the vibrant Covent Garden in the West end of London, St Paul's is popularly known as Actor's Church. The attractive churchyard offers people some rest and quiet from the hustle and bustle of the region.
3. Other London Sights
If you're a Potterhead, you can book a free Harry Potter tour which takes you on a wizarding trail across various shoot locations from Platform 9 ¾ at King's Cross Station to the beautiful covered Leadenhall Market shown as Diagon Alley in the movies.
Southbank Centre is Europe's largest centre for the arts where performances, exhibitions and film screenings and literary talks are frequently held. Both free and paid events are held all the time and you can check online and see what's on before you visit.
Enjoy a free tour of the grand palace in central London with its rich history and striking architecture to the beautiful things on display.
Made famous because of The Beatles album cover of them walking across a zebra crossing on the road, Abbey Road is visited by Beatles fans from all over the world. It has one of the world's most famous recording studios, regarded as one of the British music icons till date.
You can enjoy street theatre all year round in London at popular tourist spots such as Covent Garden, South Bank near London Eye and Big Ben.
Study in London
Enjoy the rich history and culture of one of the most amazing student cities in the UK. For information regarding living and studying in London from September 2021, book a free consultation with SI-UK India today.