When applying to study in the UK, there are certain universities which are much happier to provide offers than others. This is not a reflection of quality, but rather a distinction of how big course selection and student capacity is on campus.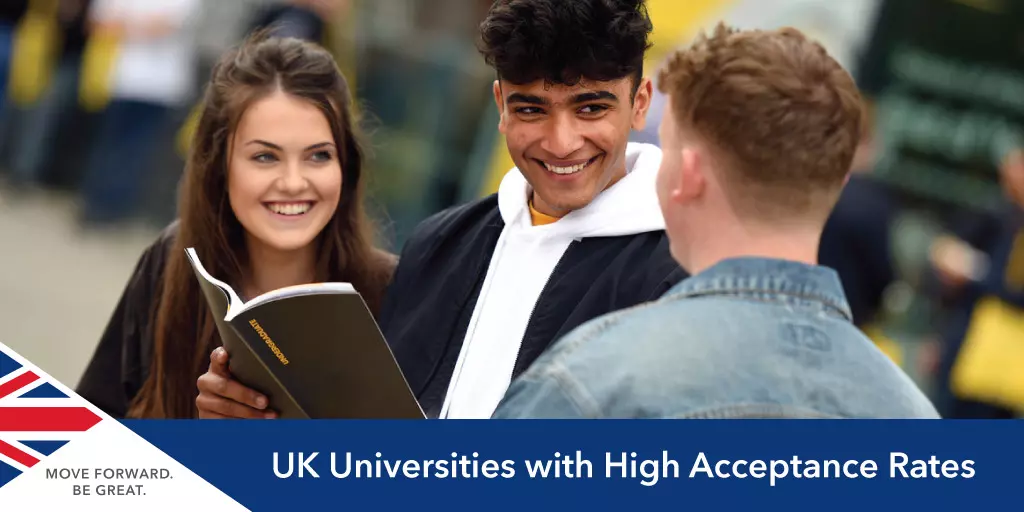 Top 10 UK Universities with High Acceptance Rates
1. Aberystwyth University – 96.1% (Offers extended to students who apply)
Aberystwyth University is a university in Wales and one of the best in the UK for teaching quality and student experience (Times Good University Guide). The university with the highest acceptance rate is located next to the vast expanse of Cardigan Bay, and 97% of Aberystwyth graduates are in employment or further education 6 months after graduation.
2. University of Roehampton – 93.9%
The University of Roehampton is centrally based in London and offers great academic and language support to international students, who make up 14% of the student population. Despite being based in London, tuition fees and on-campus accommodation is competitively priced and affordable for all, making it a very good university with a high acceptance rate in the UK.
3. Bishop Grosseteste University – 92.2%
Located in Lincoln's historic and beautiful city, Bishop Grosseteste University is one of the biggest providers of teacher education programmes in the UK. BGU was awarded Gold in the Teaching Excellence Framework, which is the highest possible rating given to UK universities based on their quality of teaching, the learning environment and student outcomes.
4. University of Portsmouth – 89.9%
One of the easiest universities to get into, the University of Portsmouth was awarded Gold in the Teaching Excellence Framework and, internationally, was ranked in the top 150 young universities and the top 500 universities in the world by the Times Higher Education World University Rankings 2022.
5. York St John University – 89.4%
York St John University, counted among UK universities with the highest acceptance rate, is located in the historic centre of York. According to Higher Education Graduate Outcomes Data, published in 2021, 95% of York St John students were in work or further study 15 months after graduating.
6. Leeds Trinity University – 89%
Leeds Trinity University is located on a beautiful campus just six miles from Leeds city centre. The University "pioneered the inclusion of professional work placements with every degree and is one of the UK's top universities for employability, with 97% of graduates in employment or further study 15 months after graduating (Graduate Outcomes, HESA, published 2022).
7. Nottingham Trent University – 88.9%
Many Nottingham Trent University subjects are rated in the top 20 UK universities (Guardian University Guide 2022) and every NTU course has opportunities to gain practical skills and experience. The University received a Gold award in the most recent Teaching Excellence Framework.
8. Newman University, Birmingham – 88.7%
Newman University Birmingham is one of the top UK universities with the highest acceptance rate (88.7 per cent). Newman is a small, intimate institution that hosts a friendly community of staff and students. Small class sizes mean that academic staff can give personal care and attention to each student.
9. University of Exeter – 88.7%
Located in the South West of England, the University of Exeter is a member of the prestigious Russell Group and is ranked amongst the UK's top universities. Exeter is among the best UK universities with high acceptance rates for international students and has a vibrant community of over 23,500 students from 130 different countries represented across six academic colleges.
10. St Mary's University, Twickenham – 88.3%
St Mary's University is located in West London on a safe and green friendly campus just 30 minutes from the city centre. Students enjoy all the advantages of a perfect location – a personal, self-contained campus community experience in a world renowned city - and the University was ranked as the best University in London and 5th in the UK for student satisfaction by The Complete University Guide in 2023.
Study in the UK
Are you ready to study at a UK university? Begin your UCAS application, or have any of your questions answered about studying in the UK, by arranging a free consultation with SI-UK India.