With their school years almost behind them, it's time for high school students to take one of the most important decisions of their lives - deciding their choice of university, college, course, and also location. The recent trends show more than 10% rise in students going to study abroad, especially to the UK and USA. But even if you decide to study in India, these are the courses after 12th every student must know about.
Read below to explore the various courses to study after 12th. If you want to speak to UK university representatives and consultants about studying in the UK, attend our UK University Fair happening in a city near you or book a free consultation with us today.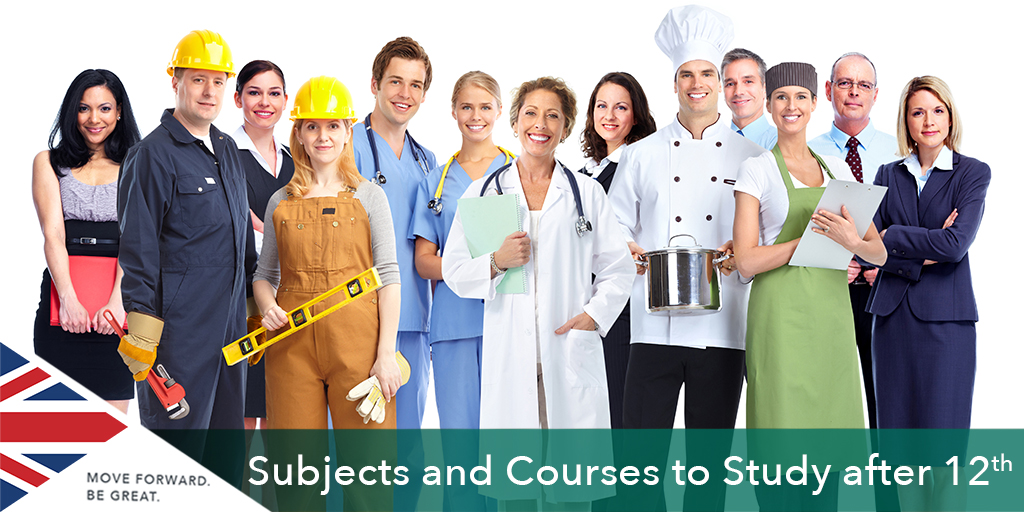 1. Bachelor of Architecture(B.Arch)
Bachelor of Architecture
Bachelor of Interior Design
Bachelor of Planning
2. Bachelor of Arts(B.A)
Bachelor of English
Bachelor of French
Bachelor of German
Bachelor of Spanish
Bachelor of History
Bachelor of Geography
Bachelor of Fine Arts
Bachelor of Political Science
Bachelor of Philosophy
Bachelor of Performing Arts
Bachelor of Social Work
Bachelor of Hindi
Bachelor of Sanskrit
3. Business and Management
Bachelor of Business Administration with specialisation in
Accounting
Banking
Construction Management
Entrepreneurship
Family Business
Finance
Healthcare Management
Insurance
International Business
Marketing/Digital Marketing
4. Chartered Accountant(C.A)
5. Bachelor of Commerce(B.Com)
6. Bachelor of Computer Applications(BCA)
7. Bachelor of Design
Architecture
Accessory
Fashion design
Game design
Graphic design
Industrial
Jewelry design
Multimedia design
Textile design
8. Bachelor of Engineering/Technology(B.E/B.Tech)
Aeronautical Engineering
Aerospace Engineering
Automobile Engineering
Avionics
Bioinformatics
Biotechnology
Biomedical
Chemical Engineering
Civil Engineering
Computer Science
Electrical Engineering
Electronics Engineering
Electronics & Communication Engineering
Electrical and Electronics Engineering
Energy and Environmental Engineering
Food Technology
Industrial Engineering
Information Technology
Mechanical Engineering
Mechanical and Automation Engineering
Nano Technology
Transport Engineering
9. Bachelor in Hospitality:
Culinary Arts
Hotel Management
Hospitality Management
Tourism and Travel Management
10. Bachelor in Films and Media
Acting
Film-making
Film studies
Music
Radio
Screenwriting
11. Bachelor of Mass Communication
Mass Communication
Journalism
12. Bachelor in Law(LL.B)
13. Bachelor in Medicine:
Ayurvedic Medicine and Surgery(B.A.M.S)
M.B.B.S(Bachelor of Medicine/Surgery)
Dental Surgery(B.D.S)
Homeopathy(B.H.M.S)
Nursing
Occupational Therapy
Optometry
Pharmacy(B.Pharma)
Physiotherapy
Bachelor in Science(B.Sc.)
Actuarial Science
Agriculture
Biology
Botany
Entomology
Forensic Science
Geography
Geology
History
Life Sciences
Mathematics
Philosophy
Psychology
Physics
Sociology
Zoology
Diploma Courses
Animation and multimedia
Astrology
Bartending
Banking
Beauty Culture and Hairdressing
Cosmetology
Language(German/French/Spanish/etc.)
Video Editing
Web Designing and Development
Yoga
We will keep adding more courses with time.
*There are subjects like Economics for which you could get BA degree as well as B.Sc., so do check the curriculum.
Apply to Study in the UK
There are several other courses available to study at undergraduate level in universities. Book your free consultation with us today to find out about them. If you are interested in studying at and applying to a UK university, do attend our UK University Fair happening in a city near you.