The West Midlands offers students and graduates an excellent opportunity to kick-start their careers. The region has a long history of being a hub for commerce and industry and, as such, has a robust local infrastructure. This makes it an attractive destination for those looking to start in the working world.
West Midland is becoming an increasingly popular choice for international students due to the number of advantages it has to offer.
Situated in the middle of the country, it benefits from excellent transport links to all major UK cities. In addition, it is also within easy reach of London - making it the perfect location for anyone wanting to study in the UK.
West Midlands Universities
Learn more about popular west midlands universities or book a free consultation with SI-UK India today. Arrange your free consultation online or at our India office today.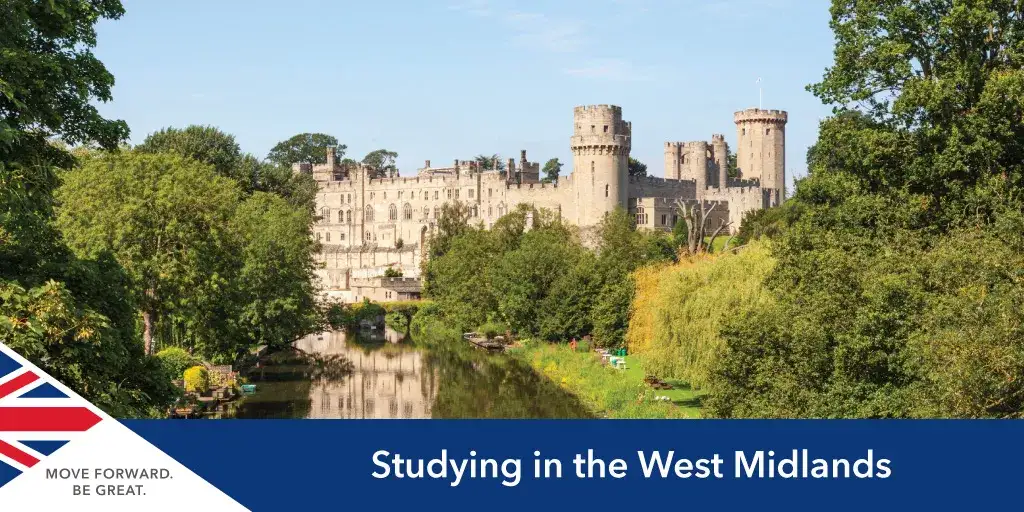 UK Universities in West Midlands
University of Warwick
With a student population of over 27,000 hailing from 150 different countries, Warwick is where you're bound to experience new cultures and perspectives daily. You'll learn from top-tier academics who are leaders in their field of study, whether you're looking for independent work, collaboration, or a buzzing atmosphere while you study.
The University's campus offers plenty of places to study and reflect so that you can find the perfect environment for your needs. Whether you prefer quiet independent work, a space to collaborate, or somewhere with a background buzz while you study, we've got you covered.
UK ranking: 9th
Warwick acceptance rate: 14%
University of Birmingham
As a member of the elite Russell Group of UK universities, the University of Birmingham is the first Russell Group and global top 100 universities to establish a campus in Dubai. With over 10,000 students from 150 countries, Birmingham has one of the largest international student communities in the UK.
UK ranking: 20th
Birmingham acceptance rate: 13.54%
Aston University
Aston University offers the perfect combination of award-winning teaching, world-class facilities, and a fantastic student experience. Students at the University will become part of a global village within one of the friendliest, most diverse and most multicultural campus communities in the UK.
UK ranking: 45th
Aston acceptance rate: 50%
Harper Adams University
Harper Adams University, located in central England, is a higher education institution specialising in agriculture, agribusiness, engineering, food, and rural studies.
With an enrollment of over 5,000 students, the University offers undergraduate and postgraduate programs in agriculture and crops, animal studies, business and management. Harper Adams is one of the UK's top universities for employability and student satisfaction, with an employment rate of 92% and student satisfaction of 89%.
UK ranking: 47th
Harper Adams acceptance rate: N/A
Coventry University
Coventry University is a renowned institution that provides its students with many opportunities to have international experiences. The University encourages its students to partake in new adventures, such as learning a new language or studying or working abroad. Coventry University strives to create a globally-minded community and offers its students unique opportunities to make the most of their time at the University.
UK ranking: 55th
Coventry acceptance rate: 32%
Keele University
Keele University is world-renowned for its research that tackles the world's most pressing problems. With a vast portfolio of study options and entry points, students can choose from various on-campus degrees.
UK ranking: 64th
Keele acceptance rate: 82%
Birmingham City University
Birmingham City University has been nationally recognised as a Centre for Excellence in Teaching and Learning for health and social care. The University has an on-site virtual operating suite for health students, the first in England.
UK ranking: 94th
Birmingham City acceptance rate: 53%
Staffordshire University
Staffordshire University is committed to teaching students the skills they need to succeed in their chosen field. The University has become famous for its vocational and academic teaching, innovative approach to the industry, and focus on student employability.
Staffordshire University offers excellent modern facilities in a thriving and diverse student population from 75+ countries. The University also provides English language support from its team on campus.
UK ranking: 106th
Staffordshire acceptance rate: 57%
University of Worcester
Many students are attracted to the University of Worcester for its excellent teaching, small class sizes, and state-of-the-art facilities. The University is also located in an ideal city - it is picturesque and has a lively atmosphere, yet it is also set in beautiful parkland.
UK ranking: 110th
Worcester acceptance rate: 89%
Newman University, Birmingham
Newman University College is recognised for its excellent courses and high graduate employment rates. Newman University is Catholic, but they welcome students of all religions and backgrounds. The University's superb facilities, passionate staff, and supportive environment make Newman the perfect place to further your education and start your career.
UK ranking: 118th
Newman University acceptance rate: 83.1
University of Wolverhampton
Wolverhampton University is a top choice for many students because of its superior technology, experienced and knowledgeable staff, and employer-friendly courses. It is centrally located in the West Midlands and easily accessible from anywhere in the UK or abroad. With over 23,000 students, you'll be sure to find others with similar interests and make friends easily.
UK ranking: 127th
Wolverhampton acceptance rate: 25%
Benefits of Studying in the West Midlands
1. Academic excellence
There are ten well-known universities in the West Midlands, with seven located in Birmingham and the remaining three in other towns and cities across the county.
2. Things to do
The Cotswolds is perfect if you love literature and the great outdoors. There are plenty of walking and cycling trails, as well as plenty of opportunities to spot wildlife and take in the beauty of the English countryside. Alton Towers in Staffordshire is an excellent option for a weekend trip if you're looking for a quick adventure.
3. Lower cost of living
The cost of living in the UK is generally between £1000 to £1600 per month, including rent. This will vary depending on where you are living. It's more expensive to live in London than it is in Birmingham.
Study in England
Contact SI-UK today to learn about the benefits of studying in different regions of England or to book a free consultation and begin your application for the upcoming intake.