Launched in September 2021 with a vision to create a world-leading business school, the UCL Global Business School for Health (UCL GBSH) focuses on health, healthcare management and leadership in the healthcare sector.
UCL GBSH aims to impart high-quality education to empower future healthcare management leaders and elevate the global impact of healthcare delivery, transform healthcare access, experience, and outcomes around the world.
The GBSH offers short courses, executive education programmes and master's programmes, including Health Policy and Practice, an MSc in Digital Health and Entrepreneurship, an MBA Health and many more courses alongside online programmes.
Nora Colton, Director of the UCL GBSH, said: "The launch of the UCL GBSH could not come at a better time. We have a labour force that's too small for the growing demand for healthcare. By 2030, it has been found that we will be 15 million health workers short of meeting demand in the global healthcare system."
Learn more about the UCL GBSH below and if you would like to begin your application, arrange a free consultation with SI-UK India today.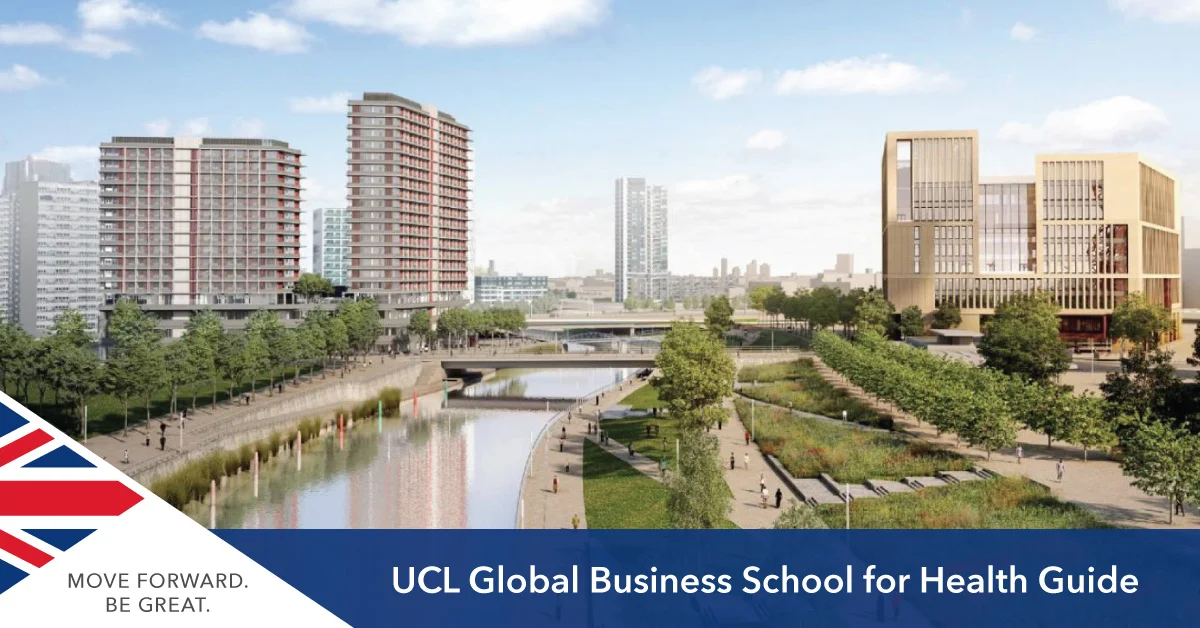 Five Reasons to Choose UCL Global Business School for Health
1. World's first global business school dedicated to health
The UCL GBSH is the world's first business school entirely dedicated to health, aiming to drive forward partnerships between the academia, health and business sector and improve global health outcomes.Highlights include:
More than 50 new undergraduate and postgraduate taught programmes
Will be home to 4,000 students and around 260 academic staff
Only 7 minutes on the fast train from St Pancras to Stratford International
Cutting-edge facilities designed for genuine collaboration across disciplines and communities
An innovative 'fluid zone' on the ground and first floors of our buildings, to welcome in visitors and the public, as well as UCL staff and students
2. Great courses
UCL's health programmes will drive forward your career progression, earning potential and employability.
Highlights include the Digital Health and Entrepreneurship MSc programme, which is ideal for students who want to get into the start-up market or work for companies in innovation, or the MBA Health, which is custom built for managers, clinicians, business specialists or medical consultants who are looking to elevate their career in the public or private health sector.
The MBA Health also has 10 scholarships worth £15,000 to be handed out to eligible applicants! Speak to an SI-UK consultant to learn more.
3. Scholarships for students of every background
The UCL GBSH have a variety of scholarships available to eligible students, ensuring the brightest minds from all over the world will have the access and opportunity to be able to study at University College London.
Roche MBA Health Scholarship - Up to £65,000 - " The aim of this scholarship is to increase opportunity for exceptional candidates in underrepresented groups who historically have been less likely to apply to MBA programmes."
MBA Health Future Impact Leaders Scholarships - Up to £15,000 - "We are looking for applicants who plan to take the knowledge and skills gained from their period of study and make a real difference in the society of their home country."
East London Healthcare Leaders Scholarship - Up to £5,000 - "The GBSH East London Healthcare Scholarships are for students who live or work in East London and are keen to make a difference for their local community."
Women Healthcare Leaders Scholarship - Up to £5,000 - "The GBSH Women Healthcare Leaders Scholarships are for female students who demonstrate leadership potential."
4. Fantastic location
UCL's brand new campus - UCL East - is located on Queen Elizabeth Olympic Park. The new state-of-the-art facility provides students with contextual and sector focused learning through a suite of bespoke health and healthcare management programmes. Around 60 innovative new UCL degree programmes will be provided to the first intake of students.
Professor Paola Lettieri, Director, UCL East, said of the new location: "At UCL East, we are creating an experiential and accessible learning environment in which transformative research, collaboration and engagement will create a better world."
5. Be part of the 9th best university in the world
University College London is a top global university ranked 9th in the world (QS World University Rankings 2024), home to 34 Nobel laureates, and offering more than 500 postgraduate courses for international students.
Your UCL GBSH Application
If you want to study at UCL's world-leading Global Business School for Health and learn more about its courses and entry requirements, arrange a free consultation with SI-UK India today.