The term "orthodontics" can be broken down into two Greek words: "orthos", meaning straight or correct and "dontics", meaning teeth. An orthodontics course, therefore, describes the study and practice of straightening misaligned teeth or malocclusions by manipulating the shape of your jaws, facial structures and even your skeletal structure if need be.
Learn more about studying orthodontist courses and orthodontics degrees in the UK below and book a free consultation with SI-UK India today to begin your application.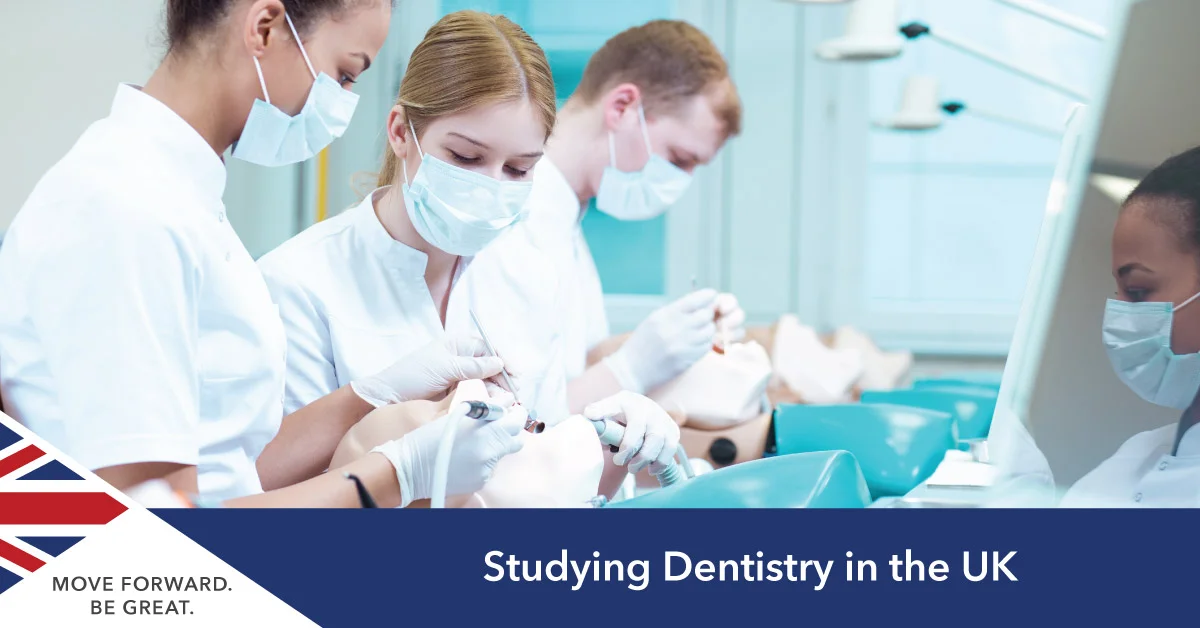 How to become an orthodontic therapist in the UK?
When completing orthodontist training in the UK, applicants must first have completed their Bachelor of Dental Surgery (BDS or BChD). They are then able to apply for speciality training once they have at least 24 months of experience post-BDS. At that point, eight of ten universities may also ask for a orthodontic certification courses certificate such as GMC Specialist Registration Certificate (formerly GPR certificate), which confirms that the applicant has met all the requirements necessary to gain specialist registration from the General Medical Council.
This position will involve rigorous dental training in order to eventually become a specialist in many areas of oral health and is available to those who are currently enrolled in a three-year program or have completed a one-year post-graduate program. Completion of this specialist training allows professionals the opportunity to continue further training for two more years, which is equivalent to the level achieved by trainee full dentists here in the UK before they can reach consultant status.
Dental consultants usually work in hospitals and deal with more complex orthodontic treatments such as orthognathic surgery, hypodontia, craniofacial Anomalies, sleep Apnoea and other types of treatment. Implants are another method for the attachment of dentures which is an alternative to simply attaching a dental prosthesis to existing teeth. Dental consultants may also give lectures and cooperate with universities both within hospitals but also in private practice limited by law.
Orthodontic Course Entry Requirements in the UK
Candidates need to have a primary dental qualification (BDS) from any recognised international institution with at least two years of continuous experience in general professional practice. The English language requirements for the course are as follows:
IELTS: 6.5 overall with no less than 6.0 in all components
TOEFL: 90 internet-based (Listening 20; Writing 20; Reading 20 and Speaking 20)
Orthodontics UK Rankings
The top UK universities for studying Orthodontic are:
UCL
The three-year full-time Masters Orthodontics course at University College London is designed specifically for international students who do not qualify to apply via the HEE National Recruitment Process.
This programme is designed to enable students to meet the requirements to sit the Royal College of Surgeons (RCS) Membership in Orthodontic (MOrth) examinations and eventually register with The General Dental Council (GDC) as a dentist.
University of Manchester
Through the University of Manchester's masters in orthodontics course, students will learn the contemporary orthodontic treatment techniques and understand current thinking relevant to the diagnosis, treatment planning and clinical management of patients.
Students will further gain practical experience through the attachments at hospitals in the northwest as well as the University Dental Hospital of Manchester.
University of Bristol
DDS Orthodontics at the University of Bristol is a doctorate ortho degree that equip students with the skills they need to enter the field of orthodontic practice and prepares them to become an eligible member of the Royal College of Surgeons membership.
Cardiff University
After studying MScD in Orthodontics at Cardiff University, students will learn to become a specialist in Orthodontics and gain useful skills that they can use in their role as an orthodontist. Students will get specialised training during this program, with emphasis on patient care and the theoretical and research aspects of their chosen speciality.
King's College London
King's College London's MSc Orthodontics course delivers academic, practical as well as clinical teaching in contemporary orthodontics, that includes normal development as well as growth of the craniofacial region, interceptive treatment, development of the dentition, treatment planning, orthodontic tooth movement, management of malocclusion, along with the use of contemporary appliance systems and treatment mechanics.
Study Orthodontic Course in the UK
If you want to learn more about studying orthodontic courses in the UK, arrange a free consultation with SI-UK India today.