Applied mathematics is the intelligent application of mathematical techniques and insights to solve a range of problems in the fields of science and engineering. Additionally, it can also develop application-based novel and useful mathematics. Thus, we can define applied mathematics as the amalgamation of mathematical science and specialised knowledge.
Applied Mathematics uses mathematical tools such as calculus, linear algebra, statistics, and optimisation to develop and analyse models that can be used to describe and predict real-world phenomena. It is often used in collaboration with computational tools and is commonly applied in areas such as mathematical physics, numerical analysis, operations research, and mathematical biology. This art of implementing numerical methods and algorithms has a number of applications in various spheres.
Graduates of Applied Mathematics programmes have been extremely successful in various fields of employment, including aerospace, artificial intelligence, business, and seismology. One of the reasons they are paid extremely well is their ability to solve complex problems through computational methods. Some popular job opportunities graduates get are bioinformatics specialist, computer security analyst, satellite communications specialist, and forensic expert.
Learn more about the best UK universities for MSC Applied Mathematics below (QS World University Rankings by Subject 2022) below. If you would like to begin your MSc Applied Mathematics application, arrange a free consultation with SI-UK today.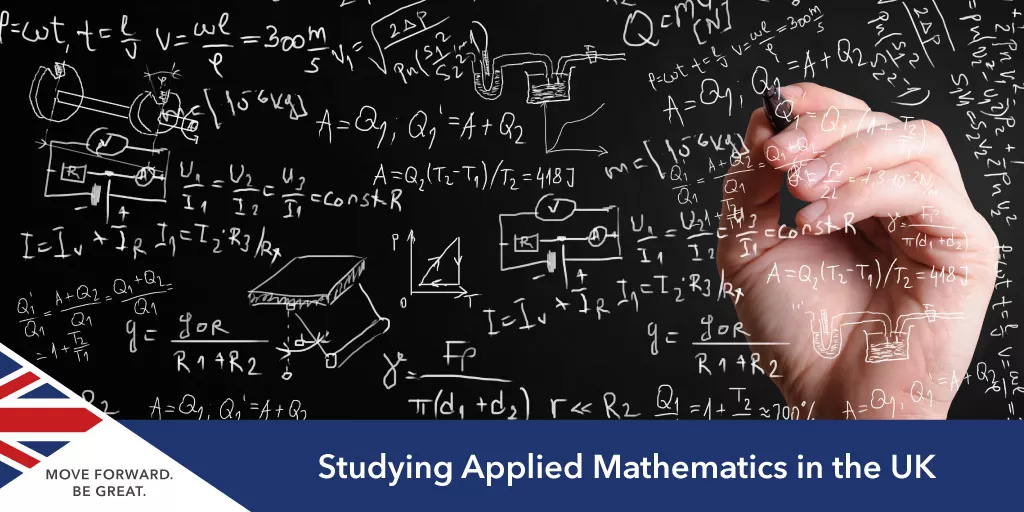 Best UK Universities for Masters Degrees in Applied Mathematics
MASt in Applied Mathematics at the University of Cambridge is among the most popular programme of its kind in the UK. The nine-month taught course teaches you advanced material in the mathematical sciences to help you develop the ability to study mathematics and problem-solving independently. The programme emphasises one-to-one supervision, during which students get additional academic support through example classes.
Offered by the collaboration of the Department of Mathematics and the Department of Applied Mathematics and Theoretical Physics, the course gives you the opportunity to work with international students and future researchers. It helps you develop research techniques and scientific communication skills.
The Oxford Master's in Mathematical Sciences (OMMS) provides students with detailed and flexible training in mathematical sciences. The course is an opportunity to study various topics in mathematics and/or statistics. They can use their knowledge to solve complex problems in the mathematical sciences and learn to develop research techniques and presentation and scientific communication skills.
Students are expected to attend at least six units, while two additional units are dedicated to dissertations. Independent study and research are encouraged in the third term. Graduates of this course have multiple opportunities in a range of industries, including finance, software engineering, education and scientific research. If you are planning for doctoral studies, this programme provides good preparation.
Through Imperial College London's world-class postgraduate programme in applied mathematics, students will learn to tackle state-of-the-art problems in applied mathematics on a substantial research project. The one-year full-time course equips you with various transferable skills in mathematical modelling, analysis and computation. Designed by internationally-renowned mathematicians and professionals, the programme curriculum includes advanced topics in partial differential equations, bifurcation theory, fluid dynamics, computational linear algebra, and asymptomatic methods.
During the programme, you will get acquainted with the theory of quantum mechanics and tensor calculus and engage with efficient algorithms to solve mathematical problems using computation. Exploring vorticity dynamics, students will learn stochastic differential equations in financial modelling and various techniques in dynamic systems theory.
The University of Warwick's MSc in Mathematics degree programme is an amazing opportunity to develop yourself as a research mathematician of the future. If you already have an undergraduate degree in mathematics, physics or statistics, this programme will help you develop your knowledge in the field at a better intensity. The course is an ideal amalgamation of lecture-based modules and independent research, offering students a chance to hone their skills in scientific communication, technical precision, and complex problem-solving.
Although a large part of the programme is dedicated to dissertations, there are several key components (modules) that it focuses on. These modules include dynamical systems, Ring Theory, Algebraic Geometry, Relativistic Quantum Mechanics, and Gauge Theories for Particle Physics.
Established in 1583, the University of Edinburgh is home to one of the UK's largest and most prestigious Departments of Mathematics. The Master's programme in Computational Applied Mathematics includes two semesters of taught courses and a dissertation project. Designed by industry professionals, the course curriculum teaches several key subjects, including applied dynamical systems, python programming, numerical linear algebra, and research skills for computational applied mathematics.
The one-year full-time course is also an opportunity to explore the theory of statistical programming, industrial mathematics, and bayesian data analysis in great detail. Edinburgh's excellent industry links have been tremendously helpful in giving students professional experience with an international perspective.
Study Applied Mathematics in the UK
Are you considering studying Applied Mathematics in the UK? Arrange a free consultation with SI-UK India to get all your questions answered regarding university selection, entry requirements, and scholarship opportunities.