Manchester, being one of the most business-friendly cities in the world, offers an ideal environment for studying a business or finance degree in the UK. The city is home to several leading companies in the world, providing excellent employment opportunities to graduates. While studying an MBA programme at a business school in Manchester, students get multiple opportunities for internships.
Getting an MBA degree, for many, is a way forward to advance in their career. However, the benefit of pursuing the programme is not limited to more career opportunities. Regardless of a professional's working industry, an MBA degree is of tremendous value, since it offers wide-ranging skills required to enjoy success in different fields. Whether you are planning to work in a managerial capacity or have entrepreneurial aspirations, pursuing an MBA degree is an invaluable decision one can make.
Learn more about studying an MBA in Manchester below and begin your application, or have any further questions answered, by arranging a free consultation with SI-UK India today.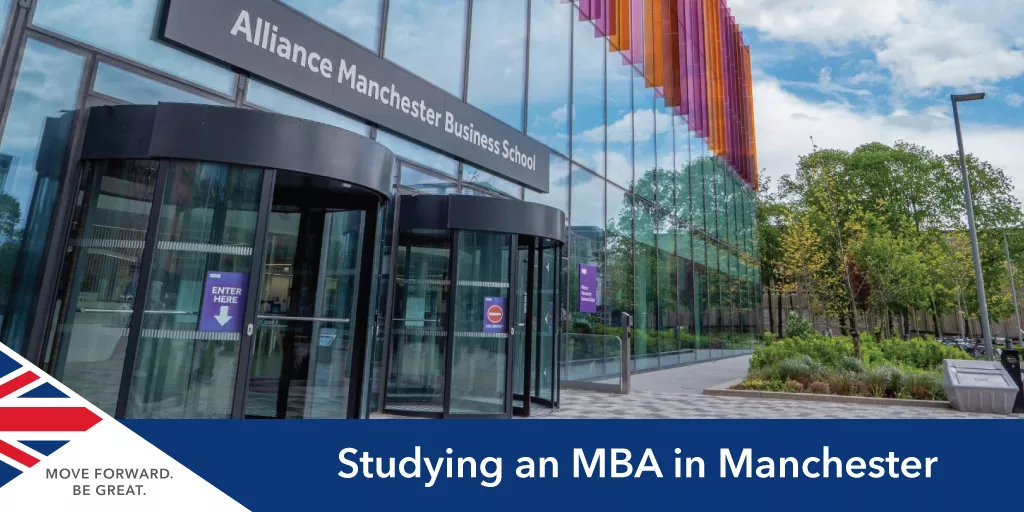 Top Business Schools in Manchester
Alliance Manchester Business School
One of the most prestigious business schools in Europe, Alliance Manchester Business School was established in 1918 as the Department of Industrial Administration of UMIST and is now famed for its incredible placement record. Part of the University of Manchester, the institute is the alma mater of some of the finest business people in the world, including Rijkman Groenink (CEO of the Dutch bank ABN AMRO), Terry Leahy (former CEO of Tesco), and Mansa Nettey (first female CEO of Standard Chartered Bank of Ghana).
The Masters of Business Administration (MBA) degree at Alliance Manchester Business School is ranked 5th in the UK (Financial Times 2022) and offers students an opportunity to be trained under the supervision of veteran professors and interact with prominent business leaders during workshops. The highly intensive course curriculum includes business accounting and finance, strategy and competition, and decision-making in management.
Alliance Manchester Business School MBA entry requirements:
An undergraduate degree or international equivalent

Satisfactory GMAT® or GRE® or MAT score

Minimum of three years' PG work experience

Proof of English competency (excludes nationals of anglosphere)
International fees:
Manchester Metropolitan University
The Master of Business Administration (MBA) at Manchester Metropolitan University is a global online programme where students relish the university's 25-year-old tradition of honing brilliant minds in the field of business management. The global online MBA in Manchester is designed to help sharpen your leadership acumen and equip you with wide-ranking practical skills to succeed in your career and boost your employability quotient.
Manchester Met Business School can trace its roots back to 1824, and over the years, it has been successful in establishing itself as a premier institute for business education. The MBA degree has become popular for its prestigious accreditations from globally-renowned organisations like EQUIS, AACSB and AMBA.
Manchester Metropolitan University MBA entry requirements:
A UK honours degree (2:2 or above) or an international equivalent
A minimum of 3 years relevant work experience
OR significant managerial experience (10 years or more) and leadership achievements
Proof of English competency (excludes nationals of english-speaking countries)
International fees:
Unit fee: £1,248 (based on 15 credits per unit)
Course fee: £14,976
Study an MBA in Manchester
Are you considering studying for an MBA in Manchester? Arrange a free consultation with SI-UK and get all the information related to business schools in Manchester and the UK.