The University of Bath is known for excellence in teaching and research; a welcoming community; and for providing students with outstanding preparation for the workplace. Recently ranked in the World's Top 100 universities for graduate prospects (QS Graduate Employability Rankings 2022), Bath offers opportunities to engage with companies across hundreds of courses.
Located 80 minutes from London by train and overlooking a UNESCO World Heritage city, Bath is a Triple Top Ten UK university (Guardian University Guide 2022, The Times and The Sunday Times Good University Guide 2022, and the Complete University Guide 2022), and ranked 7th by The Times and Sunday Times Good University Guide 2022.
We spoke to Nadia who is studying a Masters in Applied Clinical Psychology at the University about why she enjoys Bath so much and you can read her views below.
Want to learn more? Find out about studying at the University of Bath by joining our Postgraduate YT Live session with Bath on Wednesday 17th June 2022 at 16:00 - 17:00 IST!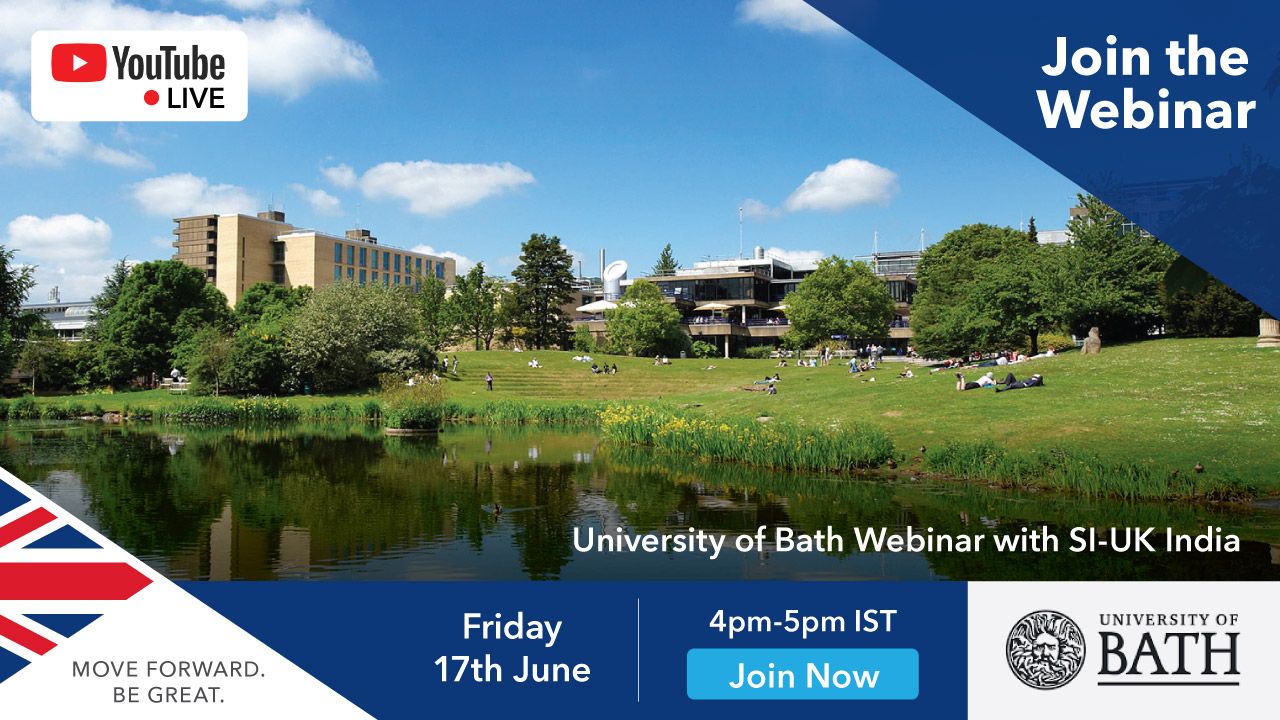 Four Reasons to Choose PG Study at Bath
1. Courses
"I chose Bath for PG study for a number of reasons, including the content for my course. Whilst in my third year studying for a degree in Psychology, I knew that I still wanted to further my knowledge, particularly in the field of Clinical Psychology. After taking a look at the website detailing what would be involved in the course, I felt it would really provide me with a deeper understanding of a topic that I was passionate about, as well as the research being conducted and the facilities available at the university being of interest to me. This, as well as Bath being highly ranked for Psychology, encouraged me to apply for this course."
2. Research
"As briefly mentioned, another reason I was interested in Bath, specifically, was because of the research being conducted within the Psychology department. Bath is known for its research excellence in general, as well as in Psychology, so I found this factor important as I wanted to study at a university where exciting studies were taking place. This research is also internationally-leading, which emphasised to me how renowned it is."
3. Facilities
"10 West, where the Psychology department is based, is not just aesthetically pleasing, it has a wide range of facilities available for students too. Virtual reality, psychobiology and eye-tracking spaces are a few examples of directions where research could go in the building itself. This means there is an expansive range of opportunities to both get involved in conducting research and volunteering as a participant to take part in it - I find doing either of these rewarding in their own way."
4. Campus
"When I visited the university campus, I found the services the university provides were conveniently located. This included the Students' Union (an added bonus was having a Starbucks situated inside), ATM machines, Fresh (a grocery store) and other food outlets, of which there are a wide range. I thought the availability of these and the rest of the layout of campus was really useful and beneficial.
"Alongside this, the lake and general greenery added an ambient nature to the whole area, which, especially during term-time, is busy with students. All of these aspects helped increase my interest in studying at Bath, as they can be quite important to consider, even as a postgraduate student."
Study at Bath
Begin your Bath journey by arranging a free consultation with SI-UK India today.